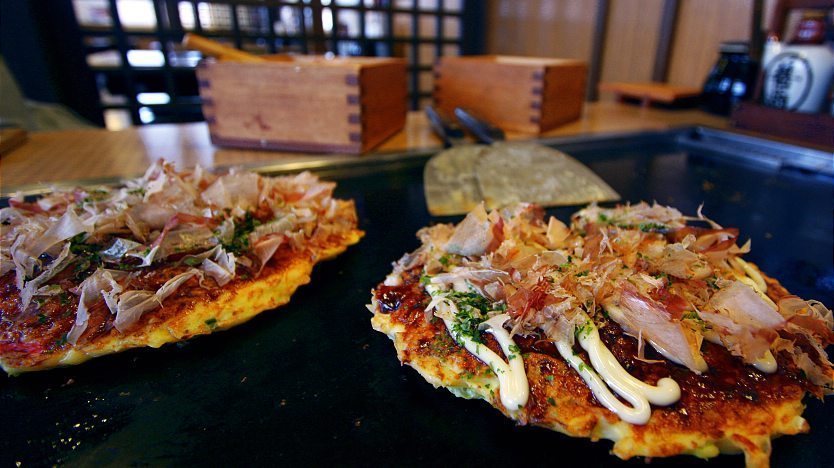 Okonomiyaki (お好み焼き) is a popular pan-fried dish that consists of batter and cabbage. Selected toppings and ingredients are added which can vary greatly (anything from meat and seafood to wasabi and cheese). This variability is reflected in the dish's name; "okonomi" literally means "to one's liking". The dish is available all over Japan, but is particularly popular in the cities of Hiroshima and Osaka.
Okonomiyaki is sometimes translated into English as "as-you-like-it pancake". However, this may be misleading. Though it does consist of batter cooked on a griddle, okonomiyaki has nothing of the sweetness or fluffiness of pancakes, not to mention that it is usually filled with octopus, shrimp, pork, yam or kimchi. A more accurate comparison, which is also made, is between okonomiyaki and pizza.
In Japan, people usually eat okonomiyaki at restaurants that specialize in the dish. At some of these restaurants the dining tables are each equipped with an iron griddle ("teppan"), and customers are given the ingredients to cook the meal themselves. As this can be rather daunting, the stages of cooking are enumerated below:
For people who prefer to enjoy okonomiyaki without getting involved in the cooking process, there are also traditional restaurants, where the okonomiyaki are prepared by the chef and served ready to eat. Okonomiyaki is also quite easy to make at home. The flour consists of flour, water, eggs and cabbage.
As mentioned earlier, there are two main variations of okonomiyaki: Kansai-style (also called Osaka-style) and Hiroshima-style. The cooking steps above are for the Kansai-style, which is the style of okonomiyaki most commonly found in Japan.
When making okonomiyaki in the Hiroshima-style, the ingredients are not mixed together. Instead, the batter is cooked like a thin crepe and the ingredients are cooked separately. When everything is done, the ingredients are placed on the crepe, the toppings are added, and the okonomiyaki is served on top of yakisoba noodles (fried noodles), a distinctive ingredient of Hiroshima-style okonomiyaki.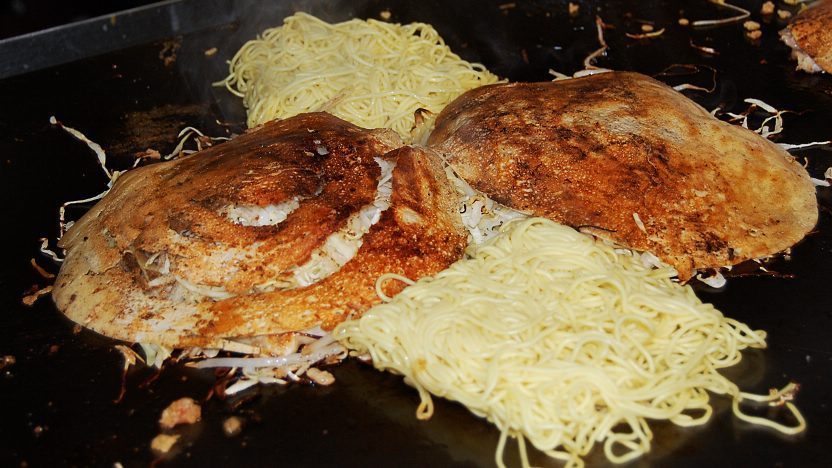 Questions? Ask in our forum.