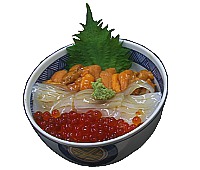 Seafood
Hokkaido is renowned for the high quality and freshness of its seafood, as the cold waters surrounding Japan's northernmost prefecture are ideal for fish and sea vegetation.
Within the prefecture some areas are particularly famous for a certain product, such as the uni (sea urchin) of Rishiri and Rebun. Some other highly celebrated seafood products are kani (crab), ika (squid), ikura (salmon roe) and hotate (scallops).
A popular way to sample the prefecture's famous seafood is visiting a fish market and having a donburi (rice bowl) breakfast. Typical toppings are fresh uni (sea urchin), ikura (salmon roe), ika (squid) or a combination thereof. Popular markets include Sapporo's Nijo Market, Hakodate's Morning Market and Kushiro's Washo Market.