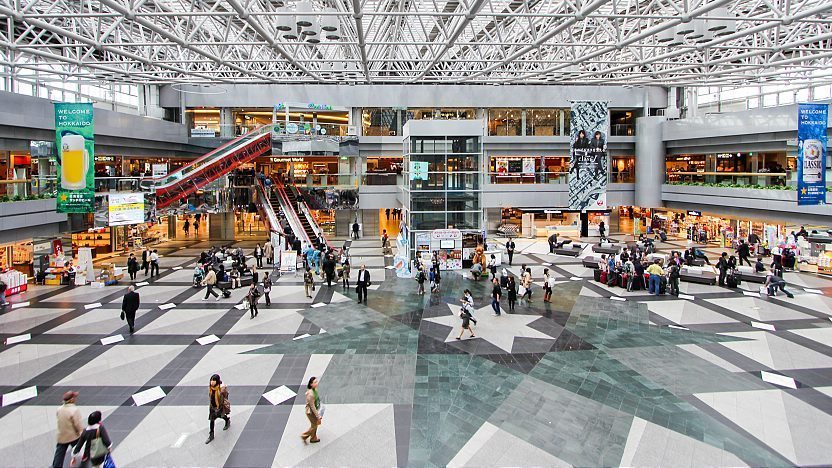 New Chitose Airport (新千歳空港, Shin-Chitose Kūkō, CTS) is the main airport of Sapporo, located about 50 kilometers south-east of the city center. It is one of the busiest airports in Japan and serves the world's most traveled air route between Tokyo and Sapporo in addition to many other domestic routes and a few international and chartered flights. Sapporo has another airport, Okadama Airport, in a more central location, but it serves only a small number of flights to locations within Hokkaido.
How to travel between New Chitose Airport and Sapporo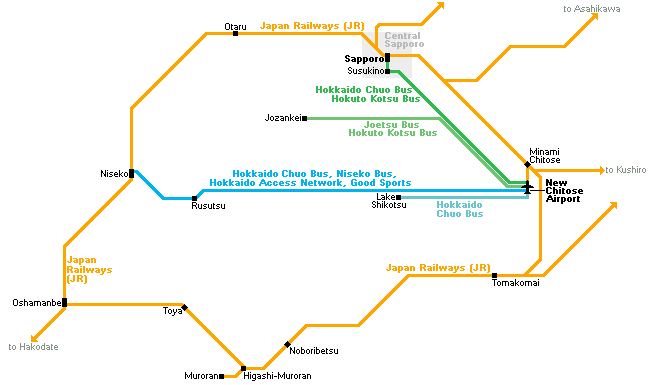 By train
New Chitose Airport and Sapporo Station are connected by frequently departing JR rapid trains (35 minutes, 1150 yen one way). Seat reservations are optional and cost an additional 840 yen. The trains are covered by the Japan Rail Pass and Hokkaido Rail Pass.
By bus
Airport buses operate every 15 minutes between the airport and various places in downtown Sapporo, including Susukino, Odori Park and Sapporo Station. Some of the buses also serve selected major hotels in the city. The one way trip takes about 70-90 minutes and costs 1100 yen.
Above fees and schedules are subject to change. For the current yen exchange rate, click here.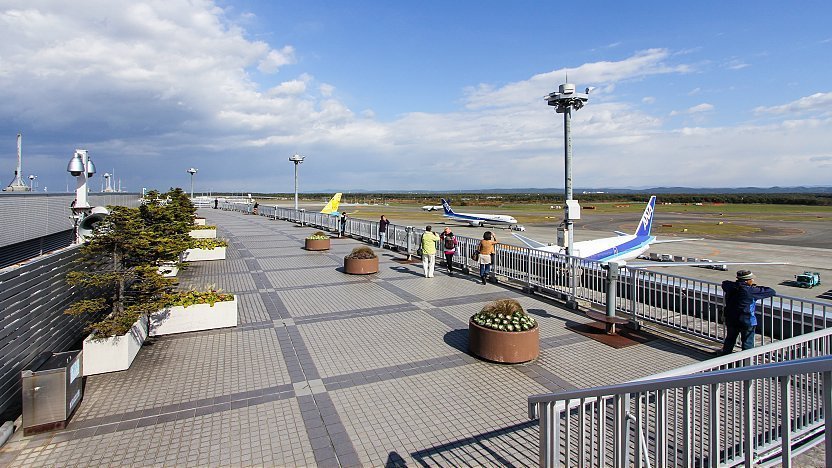 What to see at the airport
The airport was recently renovated and expanded. Its newly added complex offers many attractive shopping, dining and entertainment facilities, making it one of the most pleasant airports in Japan.
One unique feature is the New Chitose Airport Onsen, a hot spring bathhouse situated in the terminal building itself, albeit without views of the airplanes. Instead, the planes can be observed from a free observation deck. Two hotels inside the airport, the Air Terminal Hotel and Portom International Hokkaido, offer convenient accommodation for those with early departures or late arrivals.
The Doraemon Wakuwaku Skypark features a kids' playground, an amusement corner with game machines, a cafe and a souvenir shop, all under the theme of the world renowned animation character Doraemon. At Royce' Chocolate World, visitors are able to observe the mechanized making of chocolates from the popular confectioner and shop from its wide selection of products.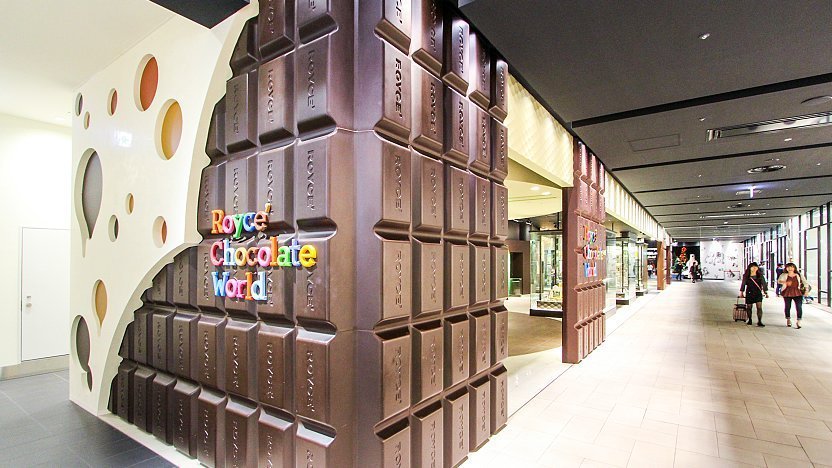 Airport visitors also have a wide range of dining choices. In addition to a food court there are two themed food zones: the Hokkaido Ramen Dojo where diners can select ramen dishes from multiple shops across Hokkaido, and the Streetcar Dining District, which is nostalgically themed after the Sapporo of past decades and features various Hokkaido specialties. Multiple souvenir shops provide ample opportunities for some last-minute shopping.
And even more shopping is found just outside of the airport complex at the Rera Chitose Outlet Mall with hundreds of international and local brands on sale. The outlet mall can be reached in a ten minute ride by free shuttle bus or in a short walk from Minami-Chitose Station.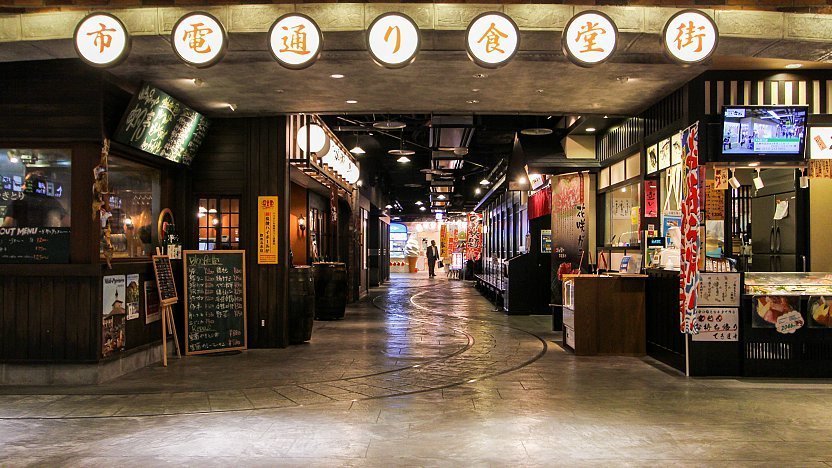 Questions? Ask in our forum.