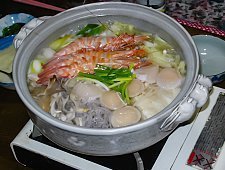 Yose-
nabe
Yose-nabe is the most common and most basic type of hot pot dishes, served at homes across Japan.
Vegetables
,
mushrooms
, meat and seafood are cooked in a pot of flavorful broth. The broth typically contains water,
sake
,
soy sauce
, mirin and dashi soup stock. A common way to end a yose-nabe meal is to add raw eggs and cooked
rice
into the remaining broth, which would have become richer and more flavorful, to create zosui, a rice dish that has a thicker consistency than rice porridge..