Hiroshima: Getting there and around
How to travel between Hiroshima and Tokyo
By shinkansen
0-1 transfer, 4-5 hours, about 19,000 yen one way, multiple connections per hour
Tokyo and Hiroshima are connected with each other by the JR Tokaido/Sanyo Shinkansen. Direct Nozomi trains require about four hours to reach Hiroshima from Tokyo. By Hikari and Sakura trains, the trip takes about five hours with a transfer of trains at Shin-Osaka Station.
The regular one way fare from Tokyo to Hiroshima is 18,380 yen for a non-reserved seat on any train, around 19,000 yen for a reserved seat on Hikari and Sakura trains and around 19,500 yen for a reserved seat on a Nozomi train. The Japan Rail Pass is valid on Hikari and Sakura trains, but not on Nozomi trains, and pays off for a round trip between the two cities within seven days.
By highway bus
Direct, 12 hours, 6,000 to 13,000 yen one way, multiple overnight connections per day
Multiple companies, including Willer Express, operate overnight buses between Tokyo and Hiroshima. One way fares vary greatly based on travel date and bus type between around 6,000 and 13,000 yen. If used effectively, the Japan Bus Pass can reduce the cost for the bus trip to around 3000 yen. Online reservations can be made through Willer and Japan Bus Online.
By air
2-3 transfers, 4 hours, 12,000 to 32,000 yen one way, multiple flights per day
JAL and ANA operate several flights per day between Hiroshima and Tokyo's Haneda Airport. The regular one way fare is around 35,000 yen, but discounts tickets can bring the cost down to between 12,000 to 16,000 yen. With an air pass you can make the journey for even less. Flight duration is about 90 minutes. Hiroshima Airport is a 50 minute, 1370 yen bus ride outside of the city center.
By local trains
6 transfers, 15 hours, 11,880 yen one way
By local trains, the one way trip from Tokyo to Hiroshima takes about 15 hours and typically involves about six transfers of trains. The regular fare is a relatively expensive 11,880 yen, however, with a Seishun 18 Kippu you could theoretically do the trip for as little as 2410 yen.
Above fees and schedules are subject to change. For the current yen exchange rate, click here.
Getting around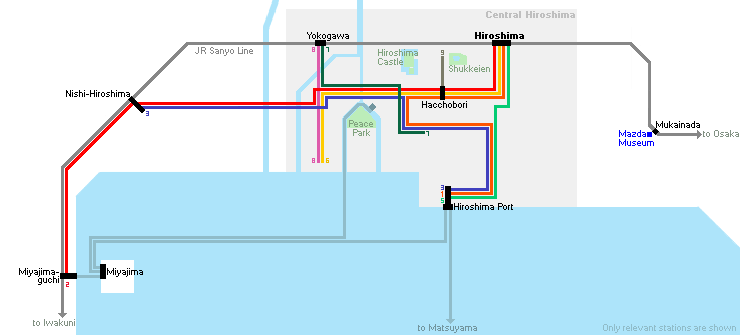 Hiroshima has Japan's largest tram network with eight tram lines connecting Hiroshima Station with most of the city's attractions. Tram line number 2 goes as far as Miyajima-guchi, from where ferries depart to Miyajima. The fare for a single tram ride within central Hiroshima is a flat 190 yen. Outside the city center, the fare increases with distance traveled. The Japan Rail Pass is not valid on the trams.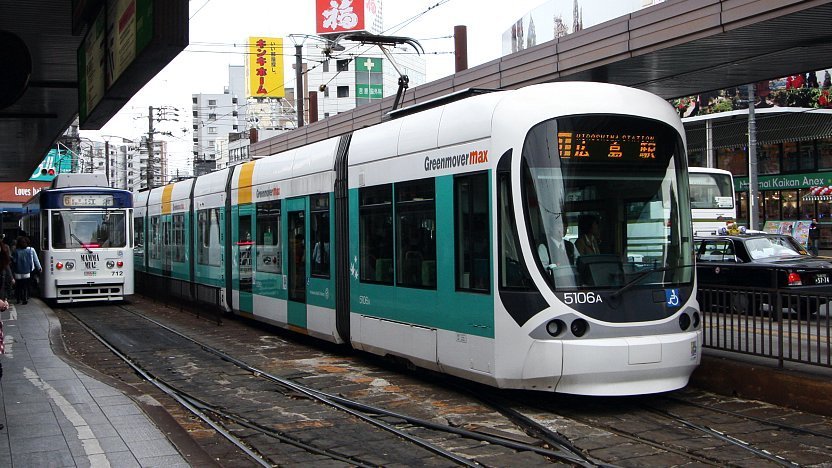 The local Paspy IC card and other major IC cards, including Suica and Icoca, can be used to pay the fare on trams and buses in Hiroshima and on the ferries to Miyajima (both companies). On JR trains, the local Paspy card is not accepted, but the other major IC cards are.
Alternatively, a one-day pass for unlimited use of all trams on one calendar day is available for 700 yen. For an additional 200 yen, you get a one-day pass that also includes the ferry ride to Miyajima by Matsudai ferry (but not by JR ferry) and back. Holders of these one-day passes, furthermore, qualify for a discount on the Miyajima Ropeway (1350 yen instead of 1840 yen for a round trip ticket).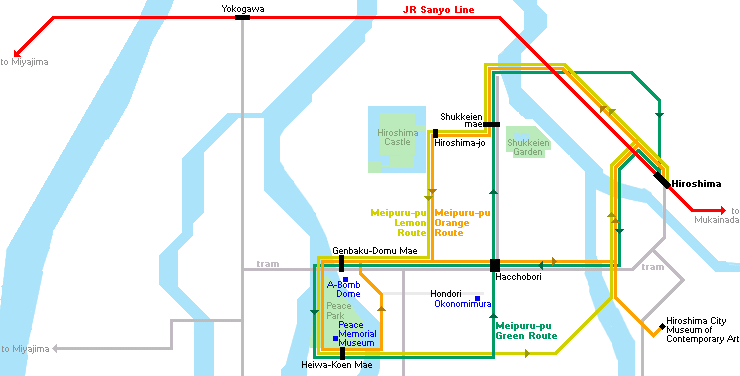 In addition to the tram network, there are the JR-operated Hiroshima Sightseeing Loop Buses, called Meipuru-pu (combination of Maple and Loop), which serve all of central Hiroshima's major sightseeing attractions (see map above). There are three routes: the orange, green and lemon routes with 1-3 buses per hour each. The buses are covered by the Japan Rail Pass and several regional JR passes. Travelers without a rail pass pay 200 yen per ride or 400 yen for a 1-day pass.
Good walkers will also be able to cover the roughly three kilometers from Hiroshima Station via Shukkeien and Hiroshima Castle to the Peace Memorial Park on foot.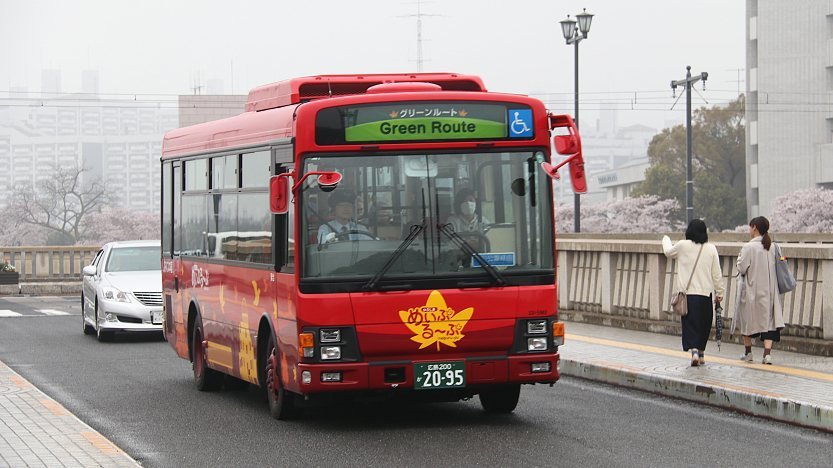 Questions? Ask in our forum.