Aomori: Getting there and around
How to travel between Aomori and Tokyo
By air
JAL operates multiple flights per day between Tokyo's Haneda Airport and Aomori Airport. Flight duration is 80 minutes, and the regular one way fare is about 34,000 yen; however, discount tickets are usually available for around 15,000 yen. With an air pass you can fly for even less. From the airport JR buses travel to JR Aomori Station (35 minutes, 710 yen one way, covered by the Japan Rail Pass but not by any other JR passes).
By train
Take a Hayabusa train on the JR Tohoku Shinkansen from Tokyo to Shin-Aomori (3.5 hours) and transfer to a local or limited express train for Aomori Station (5 minutes). The entire one way trip takes around four hours, costs about 17,500 yen and is fully covered by the Japan Rail Pass, JR East Tohoku Area Pass and JR East South Hokkaido Pass. Seat reservations are mandatory on Hayabusa trains. There is about one connection per hour.
By bus
Konan Bus operates daytime and overnight highway buses between Tokyo (Ueno Station) and Aomori. The one way journey takes 11 hours and costs 4000-6500 yen. Additional, more expensive overnight buses leave for Aomori from Tokyo and Shinjuku Station. They are operated by Konan Bus, JR Tohoku Bus and Keikyu Bus, cost 8000-9500 yen one way and offer more comfortable seats. Online reservations can be made through Japan Bus Online.
Above fees and schedules are subject to change. For the current yen exchange rate, click here.
Getting around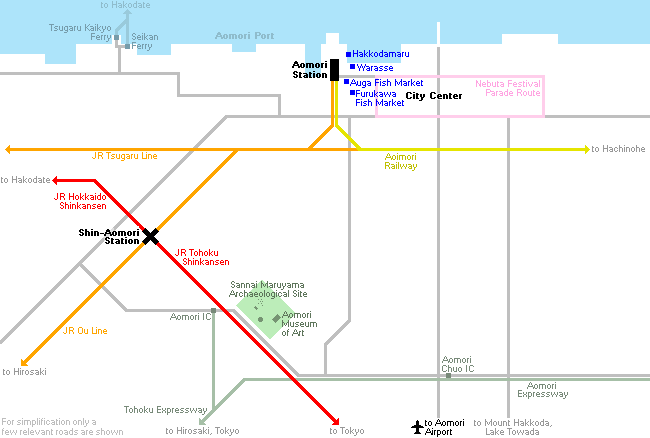 Aomori Station is located next to Aomori Port in the city center. Most of the city's attractions are within walking distance from the station. A bus network, centered at Aomori Station, provides access around the city and to the less centrally located Aomori Museum of Art and Sannai Maruyama Jomon Sites. Buses also travel to destinations further away such as Mount Hakkoda and Lake Towada.
The shinkansen station, Shin-Aomori Station, is located a 6-7 minute train ride from Aomori Station in the outskirts of the city. Local and limited express trains operate relatively frequently between the two stations, and a special rule allows travelers to use limited express trains without a limited express supplement when riding between just the two stations in the unreserved section of the train.
Aomori Airport is served by JAL, providing domestic flights to various airports around the country, and Korean Air providing connections to Seoul. A JR bus connects the airport to JR Aomori Station (35 minutes, 710 yen one way, fully covered by the Japan Rail Pass and JR East Tohoku Area Pass, but not by the JR East South Hokkaido Pass and JR Tohoku South Hokkaido Rail Pass).
Questions? Ask in our forum.