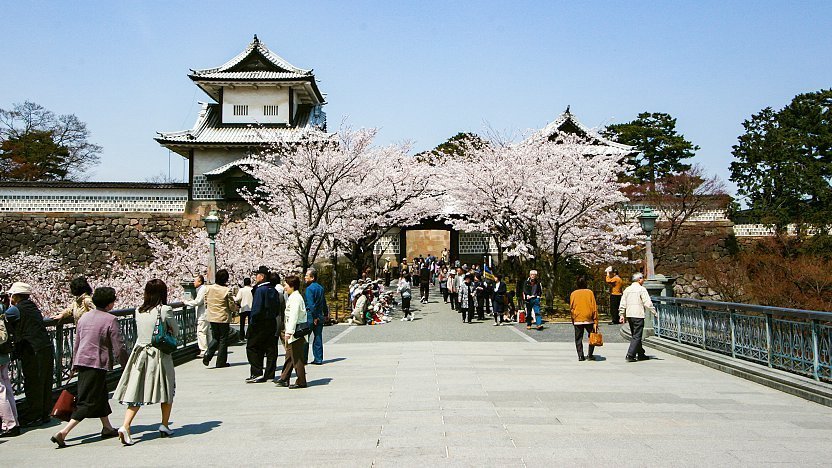 From 1583 to the end of the Edo Period, Kanazawa Castle (金沢城, Kanazawajō) was the seat of the powerful Maeda Clan, lords of Kaga, a feudal domain ranking second only to the Tokugawa possesions in terms of size and wealth.
The castle burnt down several times over the centuries, and the most recent fires of 1881 were survived only by two storehouses and the Ishikawa-mon Gate. The gate dates from 1788 and faces Kenrokuen. For several decades, Kanazawa University occupied the former castle grounds until the campus was moved to the city's outskirts in the early 1990s. Since then, a project is underway to rebuild the castle's former buildings. In the meantime, most central structures are standing again and make a visit more interesting.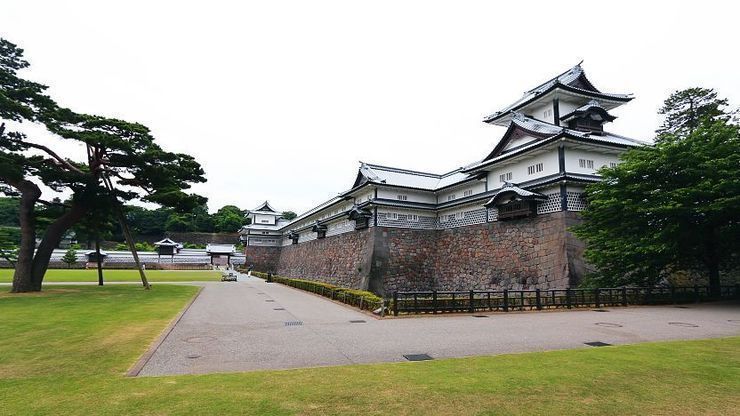 The first buildings to be reconstructed were the two turrets (Hishi and Tsuzuki Yagura) and a long storehouse (Gojukken Nagaya) that connects the two turrets. The buildings were rebuilt to their original 1850s appearance using traditional techniques and materials. They were opened to the public in 2001 and contain excellent displays on traditional carpentry. It is the only part of the castle where an admission fee is charged.
Reconstruction of the castle's former main entrance gate, the Kahoku-mon Gate, was completed in spring 2010. Its upper floor can be entered free of charge and contains some displays about the gate's history and construction. In 2015, the Hashizume-mon Gate and the Gyokuseninmaru Garden were added. The pretty garden features a central pond and circular walking path.
Kanazawa Castle's main keep was lost in a fire in 1602 and has never been rebuilt ever since.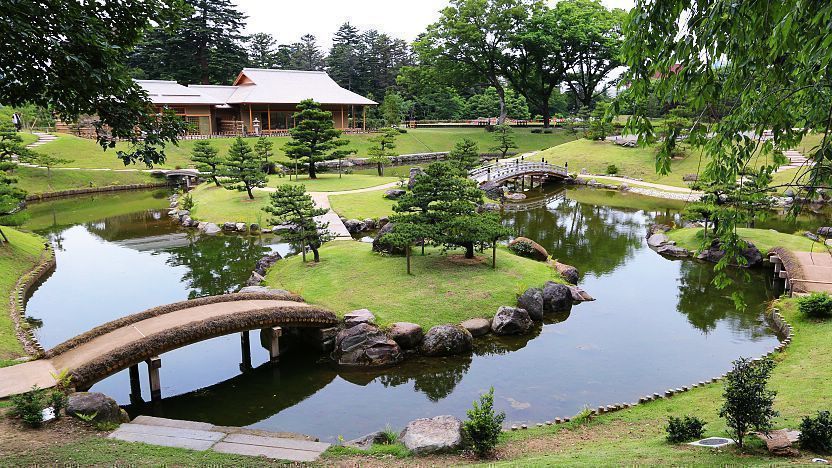 Kanazawa Castle Park is a large park in the center of Kanazawa and is accessible from many different sides. The most popular approach is through the Ishikawa-mon Gate, which is located only a few meters from the main entrance of Kenrokuen.
Kenrokuen and the castle park are a stop along the tourist oriented Kanazawa Loop Bus (stop numbers LL9 and RL8) and the Kenrokuen Shuttle Bus (stop number S8). The one way ride from Kanazawa Station takes about 20 minutes and costs 200 yen (100 yen on weekends/holidays in the case of the Kenrokuen Shuttle Bus).
Alternatively, frequent Hokutetsu buses run between Kanazawa Station (East Exit bus stop number 3) and Kenrokuen (15 minutes, 200 yen one way). Get off at Kenrokuen-shita bus stop, which is a short walk from the castle park. Furthermore, there are 1-3 JR buses per hour from Kanazawa Station (East Exit bus stop number 4), which are covered by the Japan Rail Pass.
How to get to and around Kanazawa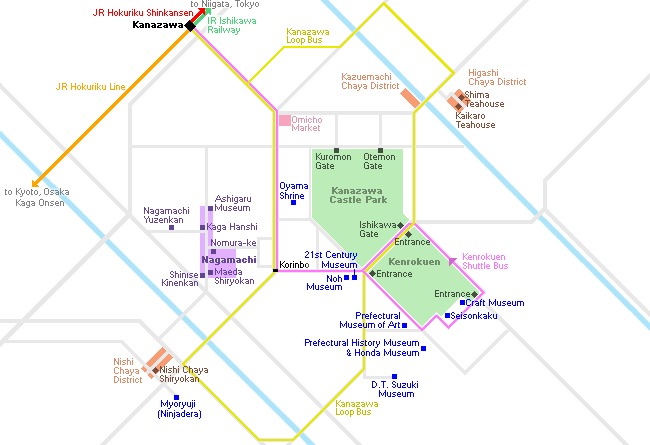 Castle Grounds
Hours
7:00 to 18:00 (March 1 to October 15)
8:00 to 17:00 (October 16 through February)
Gojukken Nagaya Storehouse and Turrets
Hours
9:00 to 16:30 (entry until 16:00)
External Links and Resources