Kongobuji Temple
Head monastery of the Shingon sect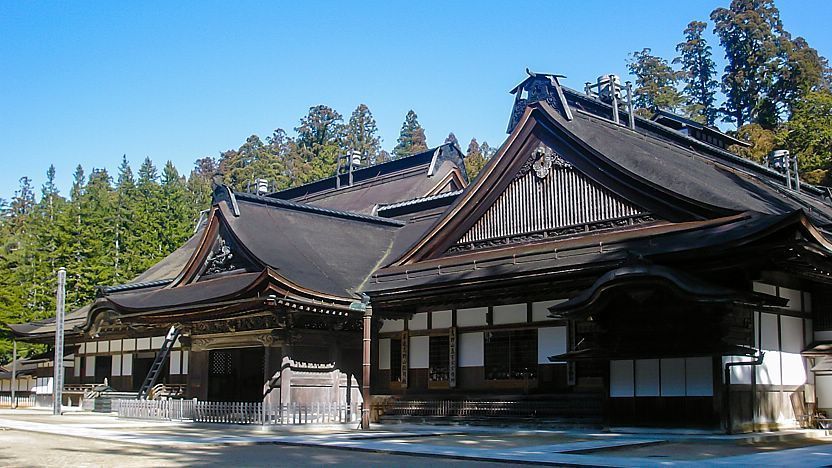 Kongobuji (金剛峯寺, Kongōbuji) was originally constructed in 1593 by Toyotomi Hideyoshi to commemorate the death of his mother. Later it was merged with a neighboring temple and reorganized into the head temple of Shingon Buddhism, the sect introduced to Japan by Kobo Daishi in 805 and headquartered on Koyasan.
After entering the building, taking off their shoes and paying the admission fee, visitors will first come across the Ohiroma Room which was used for important rituals and religious ceremonies. The room's gilded sliding doors (fusuma) are adorned with cranes painted by Kano Tanyu. Next to the Ohiroma Room are the Plum and Willow Rooms, named after the paintings on their sliding doors. Toyotomi Hidetsugu committed ritual suicide in the Willow Room as ordered by his uncle Hideyoshi.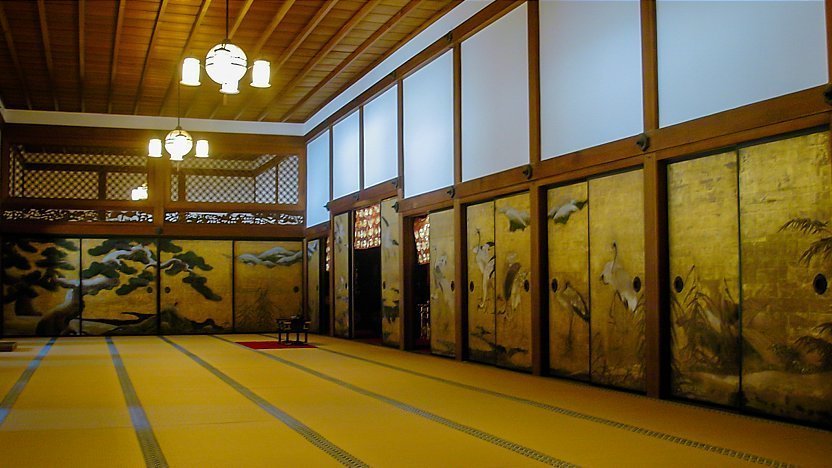 A long corridor then leads to a more recently added wing of the temple complex, where visitors are invited to enjoy some tea and a cookie in a large tatami hall. An adjacent building features rooms whose sliding doors (fusuma) are decorated by 20th century paintings of seasonal flowers and the story of Kobo Daishi, his journey to China and his founding of Koyasan. Behind the building is the Banryutei Rock Garden, the largest rock garden in Japan. Built in 1984, its large rocks from Shikoku, the birthplace of Kobo Daishi, represent a pair of dragons emerging from a sea of clouds.
Upon returning to Kongobuji's main building, visitors pass by the extravagant Jodannoma Audience Room which was used for receiving visiting dignitaries. The room's walls and sliding doors are gilded in gold and the ceilings feature carved flowers. The visit ends in Kongobuji's kitchen with its enormous hearth and kamado stoves large enough to feed up to 2000 people.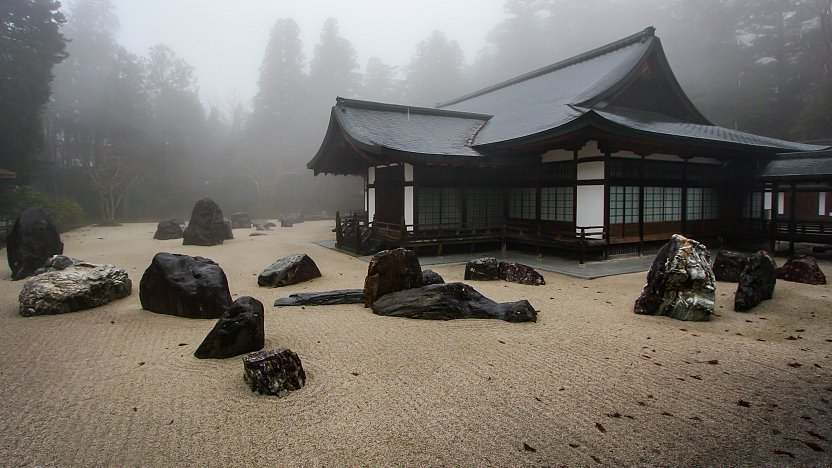 Hours
8:30 to 17:00 (entry until 16:30)
Admission
500 yen (Kongobuji only)
2500 yen (
combination ticket
that includes admission to other sights on Koyasan)
English
Good (audio guide available at the Koyasan Tourist Information Center for 500 yen)
Questions? Ask in our forum.