Pilgrimage Trails
Hiking and walking trails to and around Koyasan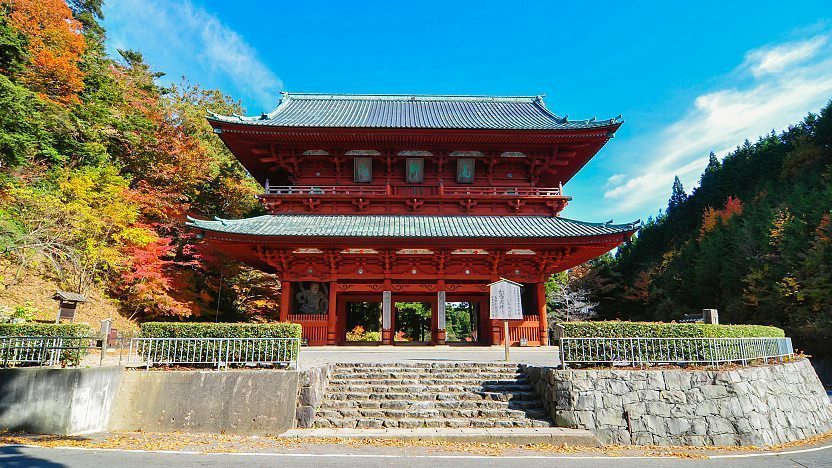 As a popular pilgrimage destination for centuries, Koyasan has been connected to the outside world by a network of pilgrimage trails. While most visitors enter the mountain by cablecar these days, many of the pilgrimage trails still exist and remain in use by hikers who prefer the traditional approach.
The original main approach to Koyasan is along the Koyasan Choishi Michi trail, which begins at Kudoyama Station on the Nankai Koya Line. The trail is marked by stone signposts (choishi) which stand every few hundred meters along the path so that pilgrims can find their way. The markers are numbered (in kanji) in descending order with number one at Koyasan and are formed to represent the five Buddhist elements: earth, water, fire, air and void.
The entire Choishi Michi trail is about 23.5 kilometers long and takes around seven hours to hike. The trip may be shortened by two hours and four hours respectively by starting from the alternate trailheads at Kami-Kosawa or Kii-Hosokawa Stations. The hiking trail ends at the Daimon Gate, a two story tall, crimson gate that marks the traditional entrance to Koyasan, but the markers continue on to the Garan.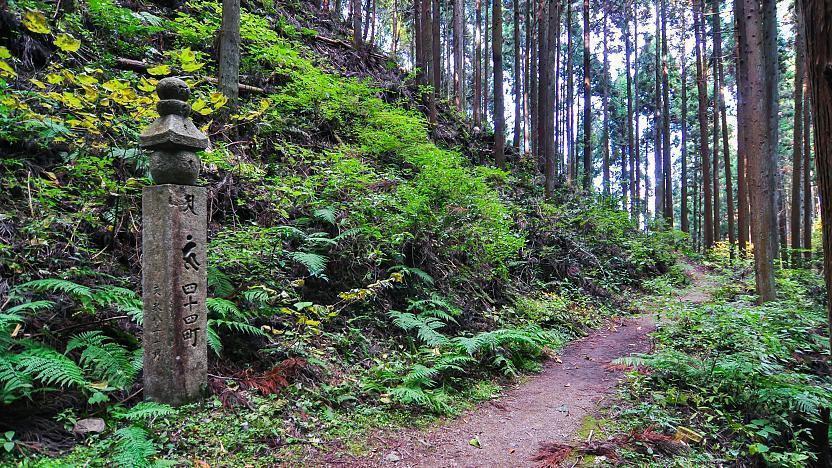 A less historic approach, the Fudozaka Trail, leads to Koyasan from Gokurakubashi Station, the lower station of the Koyasan Cablecar. The steep, paved trail is 2.5 kilometers long and takes about an hour to ascend. Considerably less to descend. The trail ends at the Fudozaka-guchi Nyonindo temple hall.
The Fudozaka-guchi Nyonindo is the only surviving of a total of seven Nyonindo (lit. "woman halls") built around Koyasan's perimeter. The halls used to cater to female visitors who were banned from entering the temple town before 1872. A trail, called the Women Pilgrims Course, leads around the perimeter of Koyasan from the Fudozaka-guchi Nyonindo past the ruins of the other Nyonindo to the entrance of Okunoin. It is about seven kilometers long and takes about 2.5 hours to hike.
A more challenging pilgrimage trail is the Kohechi Trail, part of the Kumano Kodo trail network, which connects Koyasan to the sacred shrines of Kumano. Be aware that it is a long and remote mountainous route that takes nearly a week to hike and requires proper planning and equipment to undertake.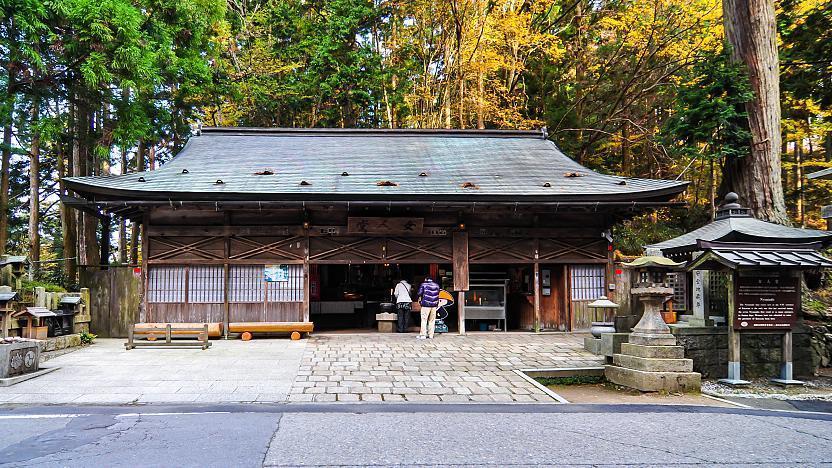 Daimon Gate stands at the western end of the town of Koyasan, about a 10-15 minute walk or short bus ride from the town center. Nyonindo is a 15-20 minute walk or five minute bus ride from the town center in direction of the cablecar station.
How to get to and around Koyasan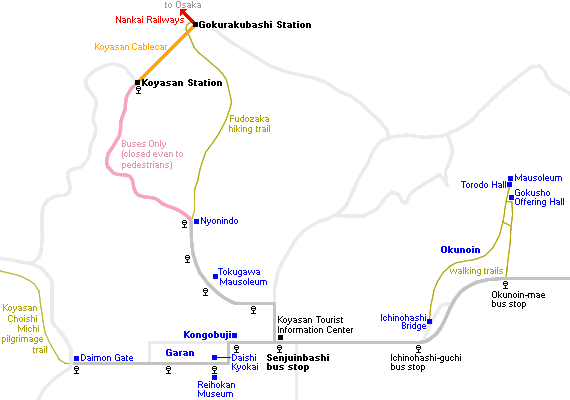 Questions? Ask in our forum.