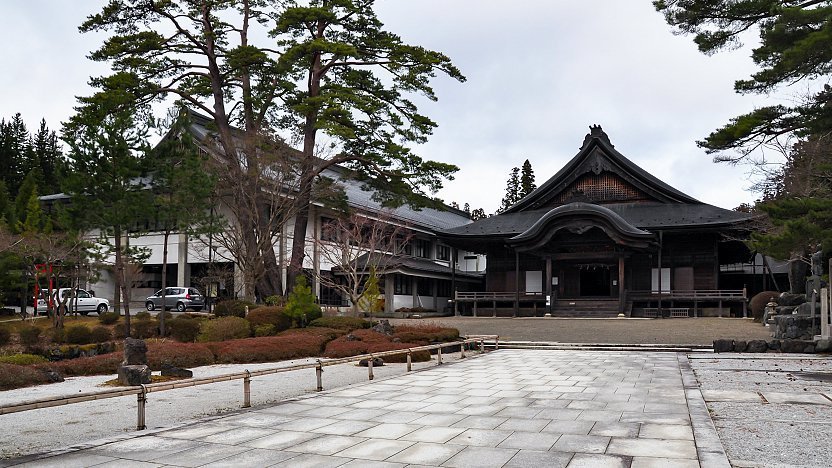 Daishi Kyokai (大師教会, Daishi Kyōkai) is the administrative center of Shingon Buddhism, and is responsible for spreading the teachings of Kobo Daishi, the sect's founder. The complex consists of two buildings: Henjoden, a traditional temple hall, that was built in 1915 and is dedicated to Kobo Daishi, and a modern building for administration, lectures and training. An English information desk is available in this building.
Visitors can participate in a few activities at Daishi Kyokai, such as receiving Buddhist precepts (jukai) or copying Buddhist scriptures (shakyo). No advance reservations are required.
Jukai is a formal ceremony administered to Buddhist laypeople; however, anyone may receive jukai and participation does not make you Buddhist unless you wish to become so. Jukai takes place in a very dark room adjacent to the Henjoden's main hall, where participants sit on the tatami floor and recite after a priest. During the ceremony they repent all their past misdeeds, take refuge in the Buddha, and repeat the Ten Wholesome Precepts, a Buddhist moral code. The whole ceremony takes about 30 minutes and visitors receive a certificate at the end acknowledging their participation.
Daishi Kyokai also offers sutra copying (shakyo) which has long been practiced as a form of meditation and devotional act. Participants are given a sheet of paper with the popular Heart Sutra lightly printed on it. You trace over the kanji characters with a brush pen and when complete you may take it home as a souvenir or dedicate it to Okunoin for a small fee.
Hours
8:30 to 17:00 (entry until 16:30)
Jukai (Receiving Buddhist Precepts)
Hours
Held hourly from 9:00 to 16:00 except at 12:00
Admission
500 yen (jukai service only)
1500 yen (
combination ticket
that includes jukai and admission to various other sights on Koyasan)
English
Moderate (English information desk and pamphlet)
The service itself is in Japanese only.