Takamatsu: Getting there and around
How to travel between Takamatsu and Tokyo
By air
JAL and ANA operate multiple flights per day between Tokyo's Haneda Airport and Takamatsu Airport. Travel duration is 80 minutes. The regular one way fare is around 34,000 yen, but discount tickets are usually available for around 13,000 to 26,000 yen. Furthermore, Jetstar Japan is operating flights between Tokyo's Narita Airport and Takamatsu at considerably lower fares, that typically start around 4000 yen one way. Takamatsu Airport is a 40 minute, 780 yen bus ride outside central Takamatsu.
By daytime trains
Take the JR Tokaido/Sanyo Shinkansen from Tokyo to Okayama Station and transfer to the JR Marine Liner rapid train to Takamatsu. The entire journey costs around 18,000 yen one way. It takes about 4.5 hours if using a Nozomi train along the Tokaido/Sanyo Shinkansen or about 30-60 minutes longer if using Hikari trains. The journey is fully covered by the Japan Rail Pass if you using Hikari and Sakura trains along the Tokaido/Sanyo Shinkansen, but the pass is not valid on Nozomi and Mizuho trains.
By night train
The Sunrise Seto night train connects Tokyo with Takamatsu. It operates daily and requires 9.5 hours for the one way journey. The train carries private compartments (from 21,000 yen per person one way), and carpeted "nobi nobi" floor space compartments (from 15,000 yen per person one way). Advance reservations are required for this train. Japan Rail Pass holders need to pay a supplement of around 10,000 yen for using a private compartment on board of the Sunrise Seto. The "nobi nobi" compartments, however, are fully covered by the pass.
By bus
Several highway bus companies operate night buses between Tokyo (Tokyo and Shinjuku Stations) and Takamatsu Station. The one way trip takes about ten hours and costs between 6,000 and 14,000 yen depending on the date of travel. Online reservations can be made through Willer and Japan Bus Online.
Above fees and schedules are subject to change. For the current yen exchange rate, click here.
Getting around
The area around JR Takamatsu Station, known as Sunport Takamatsu, is the entry point to Takamatsu and one of the area's main sites of interest. The district was recently redeveloped and also features Takamatsu Castle nearby. Shopping arcades run south from the castle through the older city center to Ritsurin Koen. Yashima and Shikoku Mura are just outside of the city center to the east.
Central Takamatsu is easily explored on foot and by the local Kotoden and JR train lines. City buses serve the sites of interest as well, but trains are easier to use.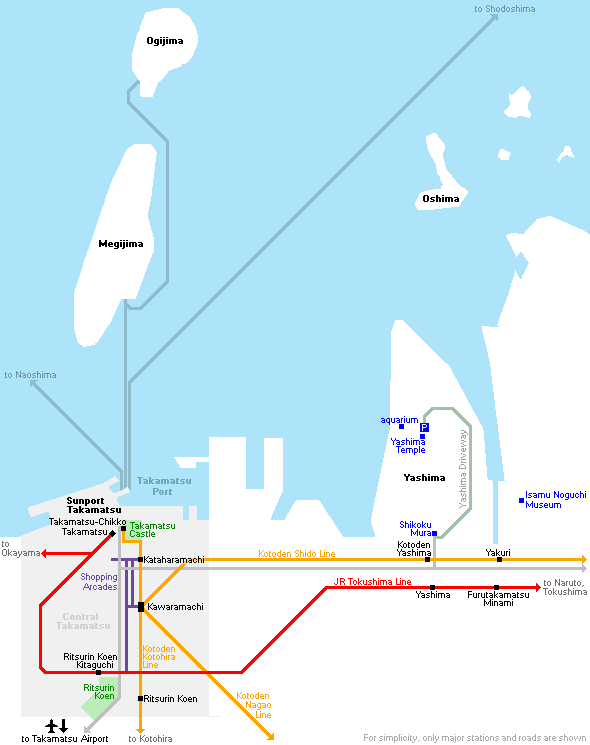 Kotoden Railways connects Takamatsu with nearby Kotohira and other destinations in Kagawa Prefecture. Its lines runs through the city center and provide connections to most of the city's central and outlying sights. Its terminal station, Takamatsu-Chikko Station, is located a short walk away from JR Takamatsu Station.
The JR Tokushima Line, which connects Takamatsu with Tokushima, is less convenient for transportation within the city, but provides an alternative to Kotoden for access to Ritsurin Koen and Yashima. Unlike Kotoden, it is covered by the Japan Rail Pass.
Suica, Icoca and the other eight nationwide IC cards can be used on Kotoden trains and buses, including the airport buses, and on JR trains between Takamatsu, Okayama and Tadotsu. The locally available Iruca card is valid on Kotoden trains and buses but not on JR trains.
Takamatsu Airport lies south of the city center and is accessible by airport limousine bus (40 minutes, 780 yen). The airport has many flights to Tokyo's Haneda Airport alongside less frequent flights to Tokyo's Narita Airport, Okinawa and some international destinations in Eastern Asia.
Questions? Ask in our forum.