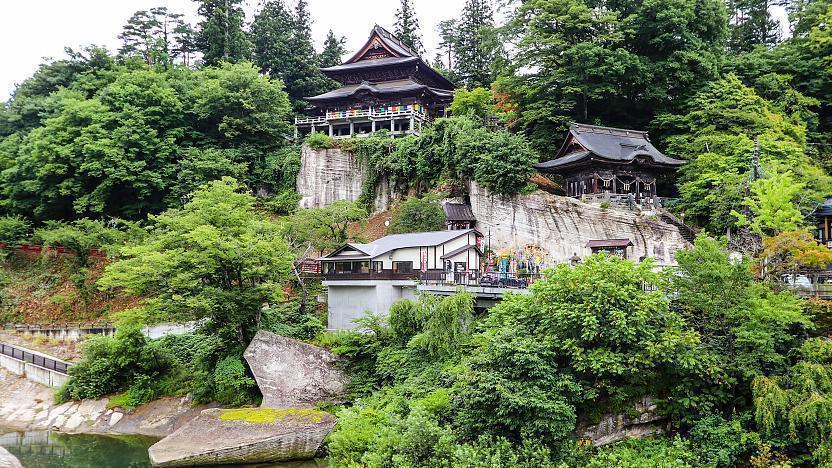 Enzoji Temple (ÜóĹáÄŤ, Enzōji) is a Buddhist temple in the small town of Yanaizu, about a one hour train ride from Aizu Wakamatsu. The temple has a history stretching back 1200 years and is considered one of the three main temples in Japan dedicated to the Kokuzo Bosatsu, a bodhisattva whose wisdom is said to be as great as the universe.
The hillside temple's main hall is constructed in a similar style as Kiyomizudera's in Kyoto with a large balcony. Although Enzoji's balcony also used to be wooden in the past, it was replaced by a concrete one in the postwar era. The rest of the main hall is wooden and dates from the Edo Period.
The traditional approach to the temple starts at the bottom of the hill, and visitors have to climb about a hundred steps to the main hall. A less tiring approach is driving to the parking lot at the top of the grounds and walking a few steps down. The temple grounds are among the largest in Fukushima Prefecture, featuring numerous other temple buildings and monuments.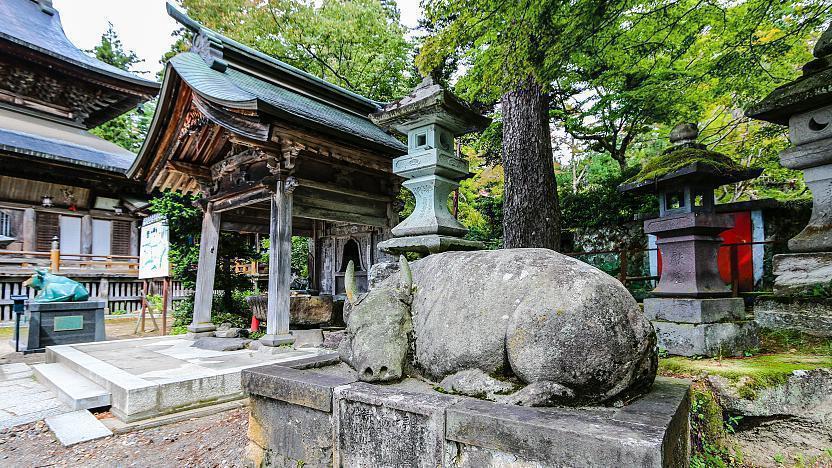 Enzoji Temple is also the birthplace of akabeko, the highly popular red cow that is sold in large numbers as paper-mache toy in the Aizu region. According to the legends, a mythical red bull helped to build Enzoji's original temple buildings, hauling the heavy materials up the hill. There are two bull statues near the main hall, the original one made of stone and a newer, metallic one. Many visitors rub the spots on the bull where they themselves wish for improvement, resulting in exceptionally smooth or worn out areas around the trouble areas afflicting many people.
Despite having its roots at Enzoji Temple, akabeko figures have been mainly produced in the neighboring castle town of Aizu Wakamatsu rather than in the local town of Yanaizu. This is because the decorative bulls were originally used as gifts from the local lord to the shogun and other dignitaries. The toy's bobbing head is a post-feudal invention and quickly overtook the stiff akabeko in popularity when it first came out.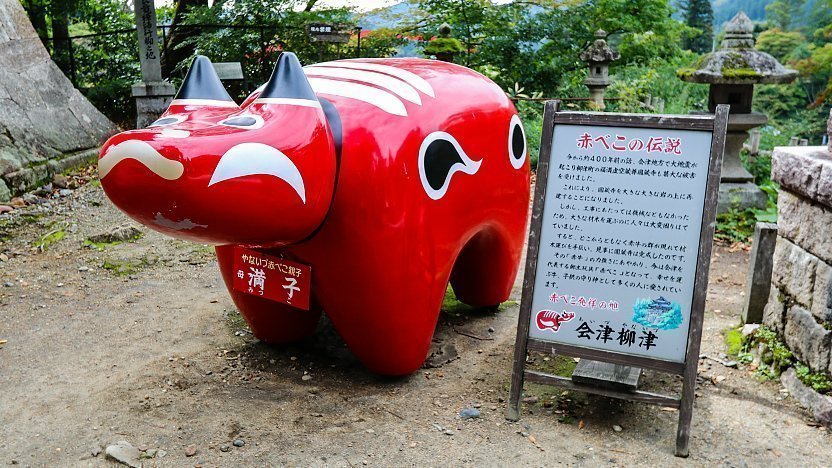 Enzoji Temple can be reached in a ten minute walk from Aizu-Yanaizu Station. From Aizu-Wakamatsu, Aizu-Yanaizu Station can be reached in about a one hour train ride by infrequent trains along the JR Tadami Line (680 yen one way).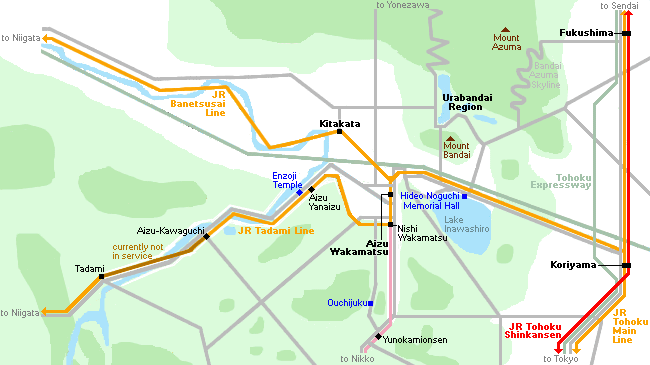 Hours
6:30 to 17:00 (April to November)
7:00 to 16:30 (December to March)
Questions? Ask in our forum.