Enoshima Kamakura Free Pass
The Enoshima Kamakura Free Pass by Odakyu Railway is a rail pass consisting of a round trip from Tokyo to Fujisawa by Odakyu Railway and unlimited use of the Enoden and Odakyu Railway in the Kamakura/Enoshima free area on one calendar day.
Enoshima Kamakura Free Pass

From Shinjuku (Tokyo)

1,640 yen

Reduced rates (50% off) apply for children aged 6-11.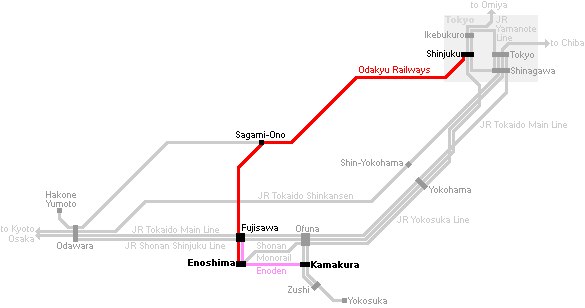 Validity
One round trip by Odakyu Railway to Fujisawa and back. Odakyu's main station in Tokyo is Shinjuku Station, but the free pass can also be bought and used from other Odakyu stations.
A supplement fee has to be paid if you use a Romance Car train.
Unlimited use of Enoden trains along the entire line (Fujisawa - Kamakura).
Unlimited use of Odakyu Railway between Fujisawa and Enoshima.
The ticket is valid on one calendar day.
Points of sale
The pass can be purchased at Odakyu railway stations, such as Shinjuku Station in central Tokyo, or as a digital pass online to be used on a smartphone.
Assessment
This pass is the cheapest option for a one day trip from Tokyo (Shinjuku) to Kamakura by train. However, the trip to Kamakura is more time-consuming than some alternatives, due to the slow but scenic ride on the Enoden train.
Questions? Ask in our forum.