Meigetsuin Temple
Also known as the Hydrangea Temple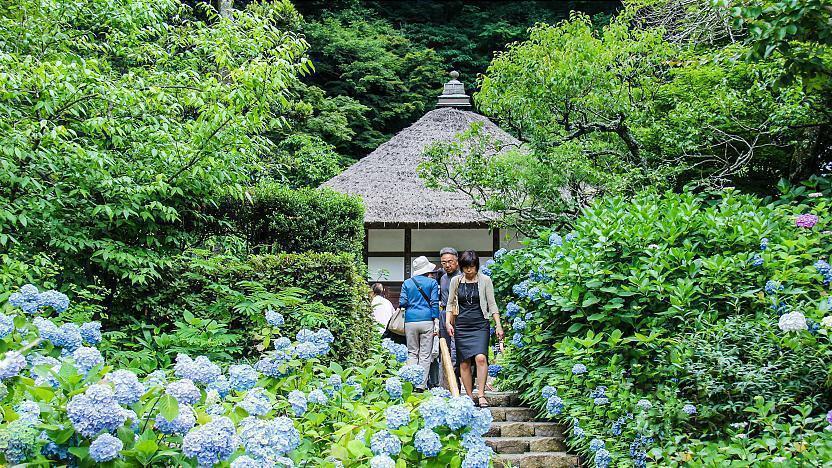 Meigetsuin Temple (明月院) is a temple of the Rinzai Zen Sect founded in 1160 in Kamakura. It is also known as Ajisaidera ("Hydrangea Temple") because hydrangeas bloom in abundance on the temple grounds during the rainy season around June. 95% of the hydrangeas here are of the Hime Ajisai ("Princess Hydrangea") variety, which are colored blue.
The temple was originally a repose built by a son in memory of his father who had died in the struggle for power between the Taira and Minamoto clans in the late Heian Period (710-1185). It later became part of a larger temple complex called Zenkoji, which was abolished during anti-Buddhist movements soon after the Meiji Restoration of 1868, leaving only Meigetsuin to remain as an individual temple today.
In the back of Meigetsuin's lush temple grounds stands the main hall (Hojo). The building features a nice circular window, which frames the scenery of the inner garden behind it. The inner garden is known for its irises and is open to visitors only during two periods of about two weeks per year: in June when the irises are in bloom, and in late November/early December when the autumn colors are at their best. An additional admission fee applies.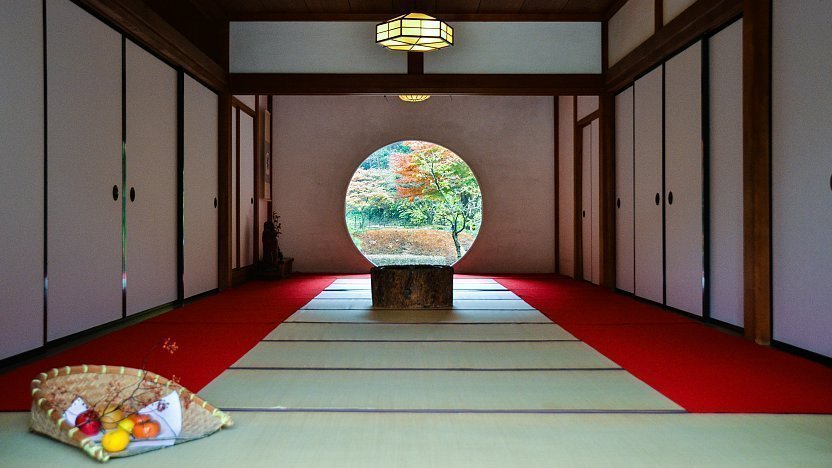 Also of interest is the founder's hall (Soyudo), a thatched roof building that enshrines the temple's founder and stores mortuary tablets of the succeeding head priests. Next to the hall is a cave (yagura) that was dug into the side of the hill many centuries ago. The cave served as a tomb and is among the largest of multiple such caves found in the hills around Kamakura.
Due to the temple's connection to the moon (Meigetsu literally means "bright moon"; and phonetically can also mean "harvest moon"), rabbits are associated with it in relation to the Japanese folklore of a rabbit pounding a rice cake on the moon. Accordingly, rabbit designs are found on some of the temple's decorations, while a few real rabbits are kept in cages.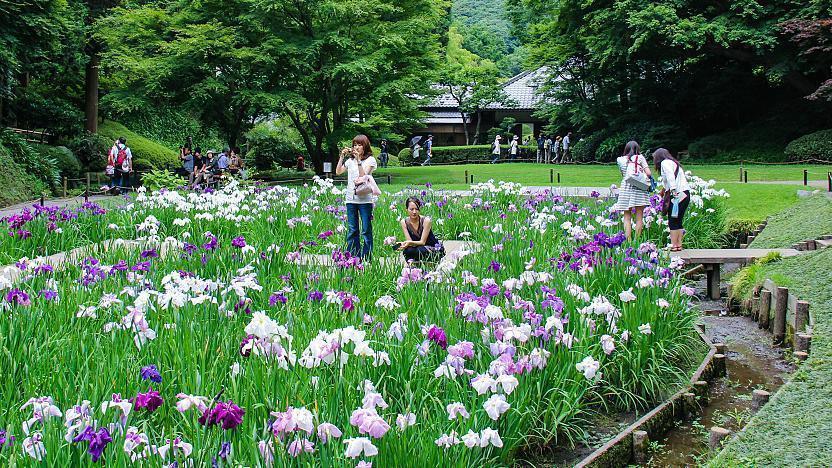 Hours
9:00 to 16:00 (July to May)
8:30 to 17:00 (June)
Admission
500 yen (additional 500 yen for inner garden during temporary openings)
Questions? Ask in our forum.