The Sendai Area Pass is a rail pass for exclusive use by foreign tourists. It provides pass holders with one day of unlimited travel on designated trains, buses and the subway lines in and around Sendai.
Sendai Area Pass

1 day

1,320 yen

Reduced rates apply to children aged 6-11 (50% off).
Validity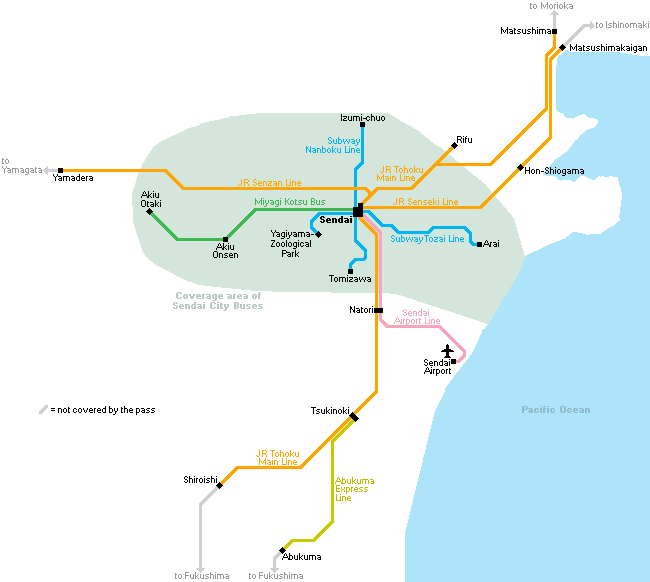 Unlimited use of JR lines shown on the map above.
Unlimited use of the Sendai Airport Access Line between Sendai and Sendai Airport.
Unlimited use of the Sendai subway network.
Unlimited use of the Abukuma Express between Tsukinoki and Abukuma.
Unlimited use of Sendai City buses, including the Loople Sendai bus.
Unlimited use of the Miyagi Kotsu buses between Sendai Station and Akiu Otaki.
The pass provides discounts on admission to a number of tourist attractions in the area.
The pass is valid on one calendar day (midnight to midnight).
Only foreign visitors to Japan (with temporary visitor status) can use the Sendai Area Pass. It cannot be used by residents of Japan.
The pass can only be used by a single person. It cannot be transferred between multiple persons. The pass holder has to carry his/her passport at all times.
Points of sale
The Sendai Area Pass can only be purchased at the JR East Travel Service Center on the second floor of JR Sendai Station. The pass can be purchased up to one month prior to the date of use, which cannot thereafter be changed.
Assessment
The pass pays off for a return trip to one of the locations far outside of central Sendai or for a return trip to one of the closer locations (e.g. Matsushima) in addition to a couple of subway rides within the city. In particular, the pass is good value for those who visit Yamadera in a side trip from Sendai. The pass does not pay off for getting around central Sendai alone.
Questions? Ask in our forum.