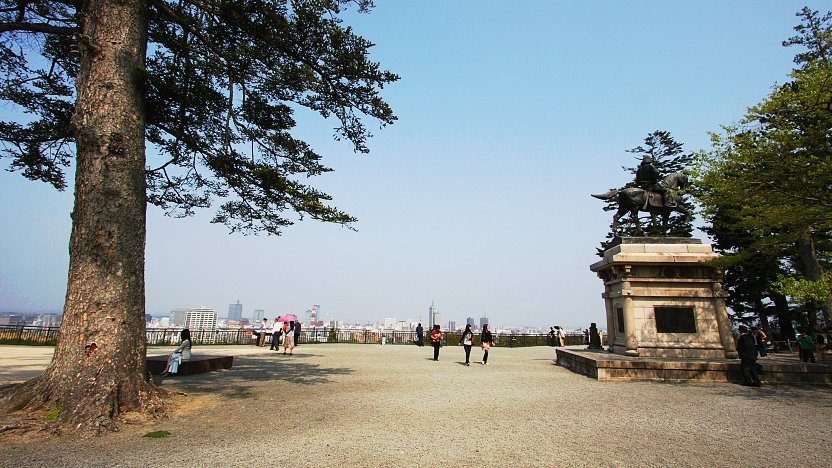 Aoba Castle (青葉城, Aobajō) was built in 1600 by the powerful feudal lord Date Masamune. Because of considerations for the castle's defense, Masamune chose to locate his fortifications on Mount Aoba, 100 meters above the town below.
In the last 400 years the castle endured the anti-feudal fervor of the Meiji Period, a giant fire in 1882 and the carpet bombing of 1945. Now all that is left of the castle are remnants of the outer stone walls and a guard tower. The location's lookout onto the city below presently serves an aesthetic rather than military role, though a statue of Masamune, armor-clad and horseback, recalls the site's origins.
A museum commemorating Aoba Castle's history can be viewed on the site. It features models of the castle as it stood in the Edo Period, artifacts from the castle, and a theater that shows a short movie, in Japanese, on the castle.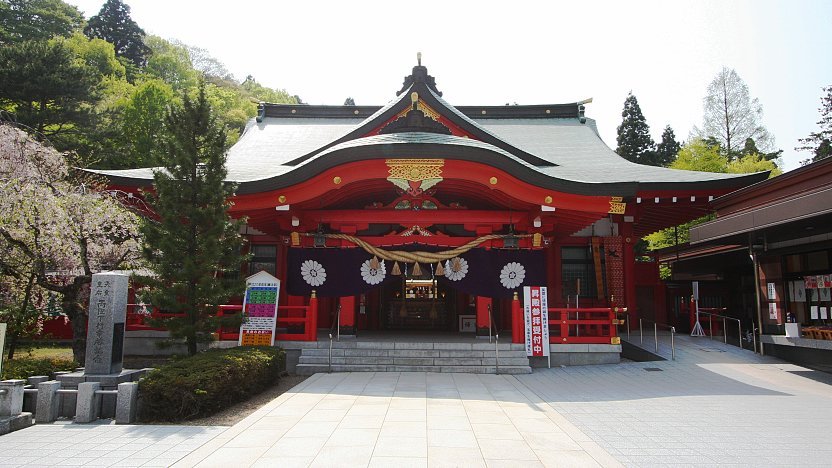 The prefectural branch shrine of Tokyo's Yasukuni Shrine, called Gokoku Shrine, is also located on the castle's former foundations. The shrine also has a museum, but does not offer any information in English. The museum focuses on Japan's modern military history.
Within walking distance from the castle are a few other sites of interest. A short walk down Mount Aoba's northern slope leads to the Sendai City Museum. The museum features relics of the Date clan, and presents varying temporary exhibitions.
About a kilometer and a half walk south-west from the castle lies Sendai Yagiyama Zoo. The selection of animals at Yagiyama is impressive for a small zoo, and the tourist to Japan will surely appreciate the section dedicated to local animals. Unfortunately, some may consider the facilities a bit wanting. Across from the zoo is the Yagiyama Benyland amusement park.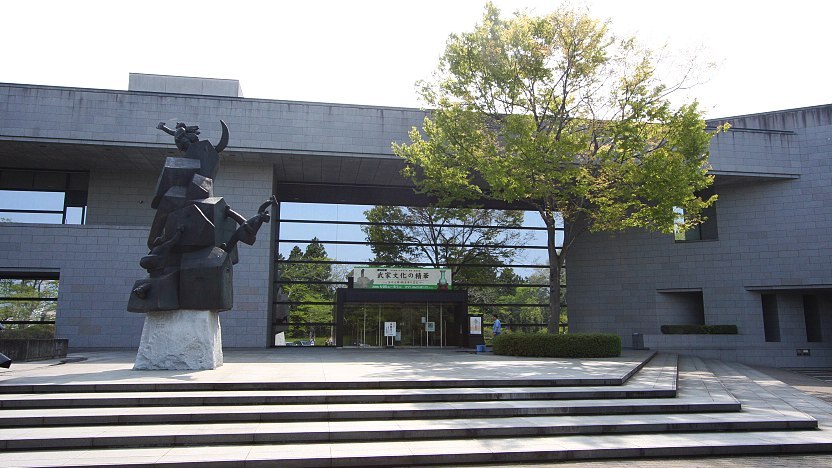 Aoba Castle can be reached in about 20 minutes from Sendai Station by the Loople Sendai bus. Get off at bus stop #5 for the Sendai City Museum or bus stop #6 for the former castle grounds. A day pass for the Loople bus costs 630 yen, otherwise one ride costs 260 yen. It takes about 10-15 minutes to walk between the city museum and the castle's former grounds.
Alternatively, take the Tozai Subway Line from Sendai Station to International Center (Kokusai Center) at the base of Aoba Castle (5 minutes, 210 yen one way). From the station, it is a five minute walk to Sendai City Museum or a 20 minute uphill walk to the former castle grounds.
Sendai Yagiyama Zoo and Yagiyama Benyland are about a 20-30 minute walk from Aoba Castle or a short walk from Yagiyama Zoological Garden (Yagiyama Dobutsuen), the final station of the Tozai Subway Line (12 minutes, 310 yen one way from Sendai Station).
How to get to and around Sendai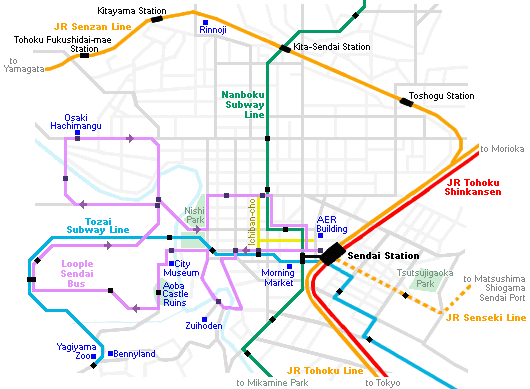 Aoba Castle Museum
Hours
9:00 to 17:00 (until 16:00 from early November to March); admission ends 30 minutes before closing time
Sendai City Museum
Hours
9:00 to 16:45 (entry until 16:15)
Closed
Mondays and days following
national holidays
(but open on national holidays and weekends), December 28 to January 4
Admission
460 yen (permanent collection)
Sendai Yagiyama Zoo
Hours
9:00 to 16:45 (until 16:00 from early November to February); admission ends about 45 minutes before closing time
Closed
Mondays (or following day if Monday is a
national holiday
), December 28 to January 4
External Links and Resources