Downtown Sendai
About attractions in the downtown area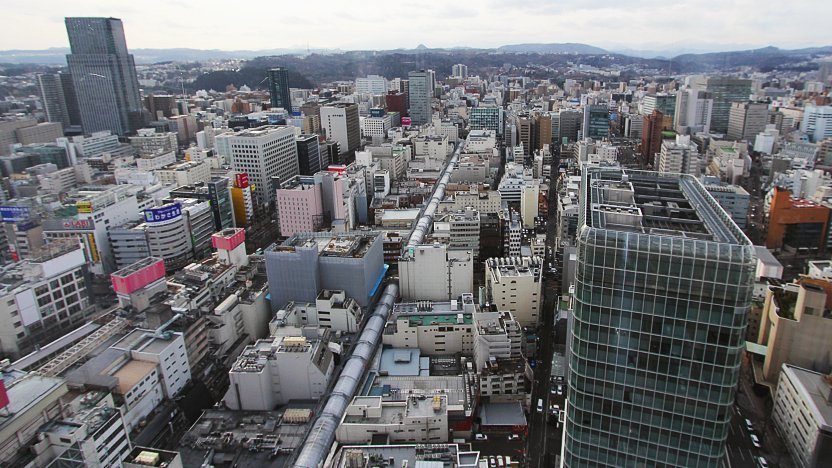 Sendai has a compact downtown which is generally centered to the west of JR Sendai Station. An aerial view of the entire city is available for free from the observation deck of the AER Building next to the station.
The broad streets and abundance of greenery have resulted in Sendai's nickname, "the city of trees". Many parks and public spaces contribute to the greenery.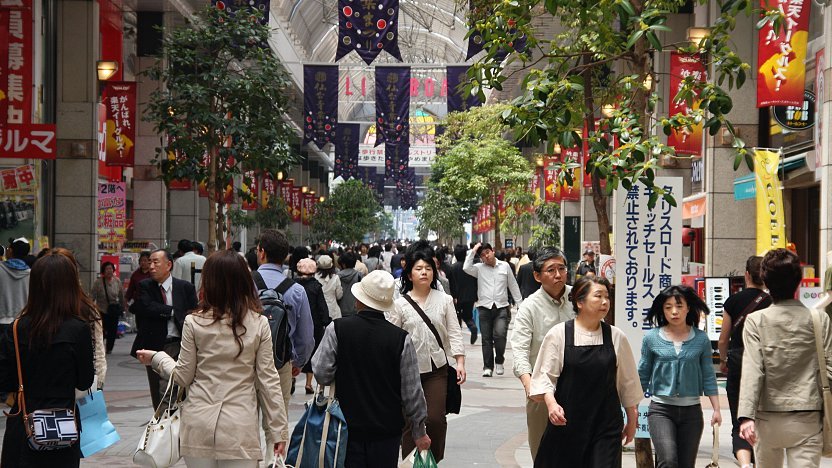 Trees can even be found in the covered shopping area, Ichibancho Arcade. This covered mall connects several streets together in the downtown area to create the largest arcade in the Tohoku region. The shopping area includes several different arcade malls and covers a T-shaped area along Ichibancho and Chuo dori.
Shops along the arcades range from the budget 100 yen chains to high-end fashion boutiques, with the full range of restaurants, clothing and souvenir stores in between.
Asaichi ("morning market") is another shopping option that offers visitors a look at local, seasonal fish and produce. A few stalls sell prepared foods such as onigiri, while flower vendors have seasonal plants and cut flowers. The market is located just to the west of Sendai Station on a small street, only about 100 meters in length.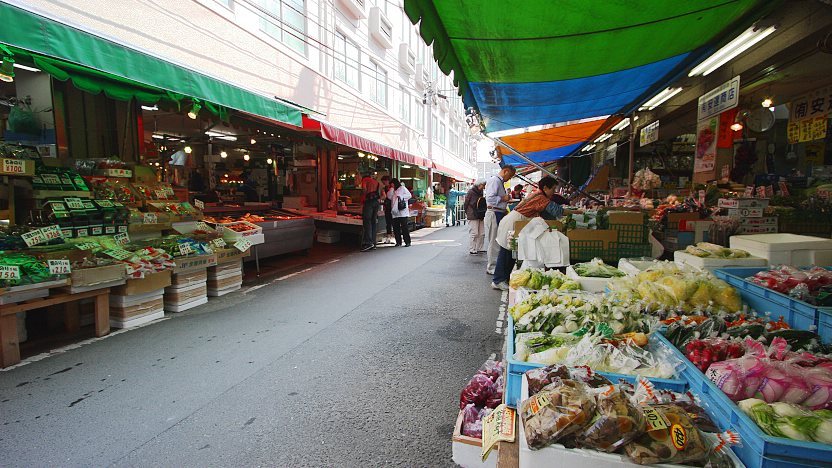 AER Building
The building is a two minute walk north of Sendai Station's west exit across the street from the Hapina Nakakecho shopping arcade. The observation deck is located on the 31st floor.
Asaichi Market
From the west exit of Sendai Station, walk across the elevated walkway towards the E Beans building. The morning market is located along a street behind the E Beans building. The walk takes about five minutes.
Ichibancho Shopping Arcade
Just across from the AER building to the north of Sendai station, follow the covered shopping arcade (known as Hapina Nakakecho, Clis Road and Marble Road Omachi) for about 15 minutes until you meet the perpendicularly running Ichibancho Shopping Arcade.
How to get to and around Sendai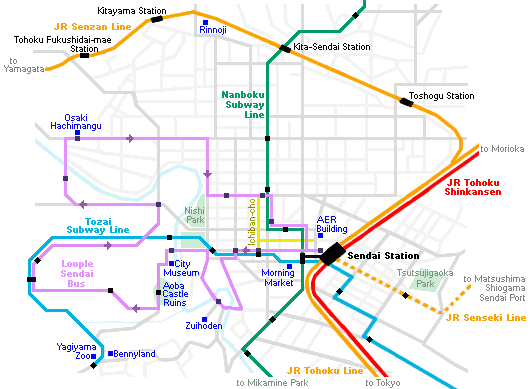 Asaichi Market
Hours
Shops typically open between 7:00 and 9:00 and close around 17:00
Ichibancho Shopping Arcade
Hours
Shops typically open between 10:00 and 11:00 and close between 19:00 and 21:00
Closed
Varies depending on the store but many are open year round
Questions? Ask in our forum.