Kanazawa: Getting there and around
How to travel between Kanazawa and Kyoto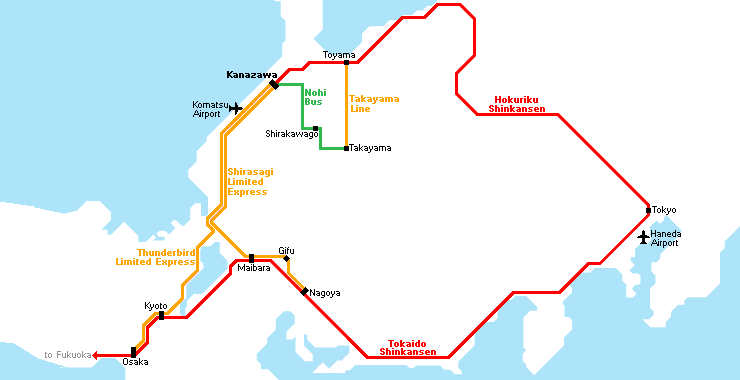 By limited express train
JR Thunderbird limited express trains provide one or two direct connections per hour between Kyoto and Kanazawa. The one way journey takes two hours and costs 6490 yen for a non-reserved seat or about 7000 yen for a reserved seat. It is fully covered by the Japan Rail Pass.
By local trains
The journey by local JR trains takes about 4-5 hours and typically involves 2-3 transfers of trains along the way. The one way fare is 4070 yen and is fully covered by the Japan Rail Pass. Alternatively, with a Seishun 18 Kippu you can do the trip for as little as 2410 yen.
By bus
The one way ride between Kyoto and Kanazawa by highway bus takes about four hours and costs around 3000 to 5000 yen depending on the bus and date of travel. There are daytime and overnight buses, operated by Hokutetsu and Nishinihon JR Bus. The Japan Rail Pass is not valid on these buses.
Above fees and schedules are subject to change. Be sure to check current yen exchange rates.
Getting around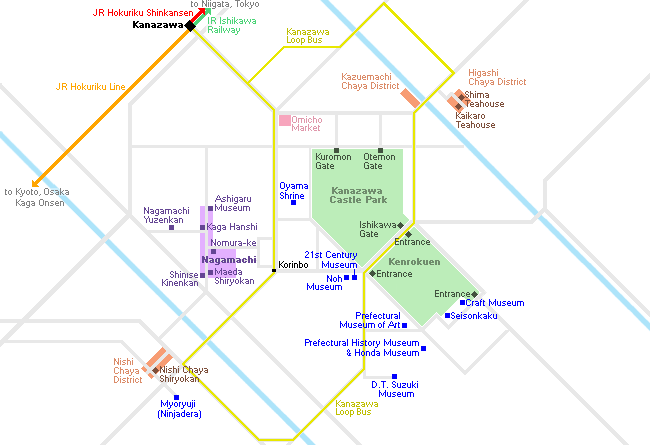 Kanazawa's city center is defined by Kanazawa Castle Park. All of the city's main attractions are located within a two kilometer radius of the castle park, making it possible for good walkers to explore most of the city on foot. Buses and taxis are also readily available.
Kanazawa Station is not located centrally, about two kilometers or a ten minute bus ride northwest of the city center. A dense network of buses, operated by the local Hokutetsu train and bus company, connects the station with the city center and all of Kanazawa's main tourist attractions. Regular city buses cost a flat fare of 200 yen per ride in central Kanazawa.
A useful bus line for tourists is the Kanazawa Loop Bus, which connects Kanazawa Station with most sights of interests. Buses travel the loop every 15 minutes in both directions and cost 200 yen per ride. A 1-day bus pass for 600 yen allows for unlimited use of the loop buses as well as regular Hokutetsu buses in central Kanazawa. In addition, the day pass also provides discounted admission to several designated local tourist attractions.
Furthermore, there is also a JR bus line that connects Kanazawa Station via Korinbo with Kenrokuen and is covered by the Japan Rail Pass, JR Kansai Hokuriku Area Pass and JR Hokuriku Area Pass. There are 1-3 connections per hour, and the one way ride takes about 12 minutes and costs 200 yen without the rail pass. The JR bus is not covered by the above-mentioned 1-day bus pass.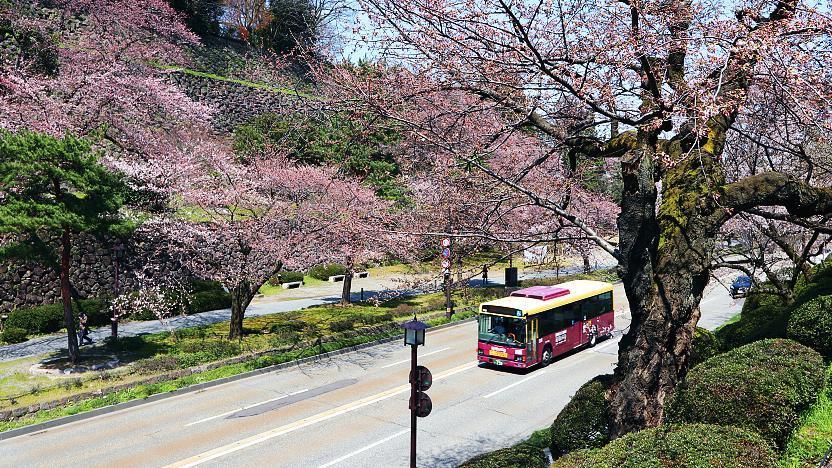 Questions? Ask in our forum.