Mount Koya: Getting there and around
How to travel between Koyasan and Osaka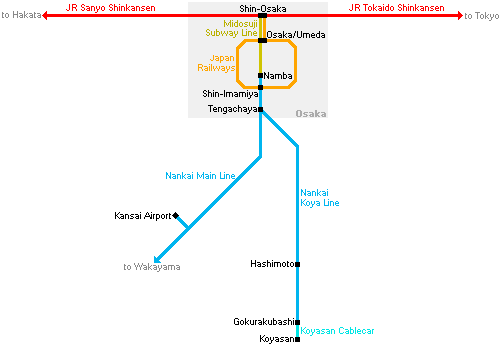 Koyasan is most conveniently accessed by Nankai Railways from Osaka's Namba or Shin-Imamiya Stations. Take the Nankai Koya Line from either station to the Gokurakubashi terminal station. A few limited express trains operate directly to Gokurakubashi (80 minutes, 1680 yen, five trains per day). Otherwise take an express or rapid express train (100 minutes, 890 yen, departs every 20-30 minutes), most of which require a transfer at Hashimoto Station along the way.
At Gokurakubashi, transfer to the cablecar which travels up the mountain to Koyasan. The ride takes about five minutes and costs 500 yen. From the top station, it is a ten minute bus ride into the town center (300 yen to Senjuinbashi bus stop). Note that it is not permitted to walk along the street which connects the cablecar station with the town center.
To save money consider using a Koyasan World Heritage Ticket or Kansai Thru Pass.
Above fees and schedules are subject to change. Be sure to check current yen exchange rates.
Getting around
The temples of Koyasan form a small town on the wooded mountain, about 1000 meters above sea level. Most visitors arrive by cablecar to Koyasan Station, which is a ten minute bus or taxi ride from Koyasan's town center. Note that it is not permitted to walk along the street between the cablecar station and the town center.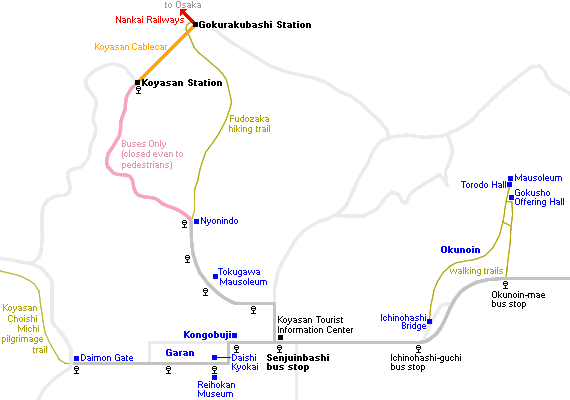 The town of Koyasan is relatively flat and many of its attractions are easily explored on foot. Most of the sites, including the Garan, Kongobuji and the Reihokan Museum are located in the town center, a short walk away from the Senjuinbashi intersection. Among the main attractions, only Okunoin stands outside of the town center at the eastern end of the town. At the western end of the town stands Daimon Gate, the traditional point of entry to Koyasan.
Three bus routes serve the town: the main line connects Koyasan Station with Okunoin, a second line connects Koyasan Station with Daimon Gate, and a third line connects Daimon Gate with Okunoin. All bus lines pass the Senjuinbashi intersection at the center of town, where the Koyasan Tourist Information Center is located.
Koyasan Bus Network: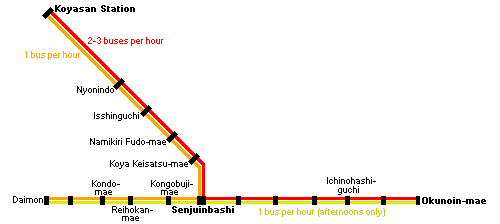 An excellent audio guide is available from the Koyasan Central Tourist Information Center for a 500 yen rental fee. The audio guide is provided in five languages (English, Japanese, Korean, Chinese and French) and may be checked out between 8:30 and 16:30 to be returned by the following morning. It offers detailed explanations about almost all the sites of interest on Koyasan.
Passes and Tickets
The following discount tickets are available for visitors to Koyasan. Note that the Japan Rail Pass does not cover access to Koyasan or transportation inside Koyasan.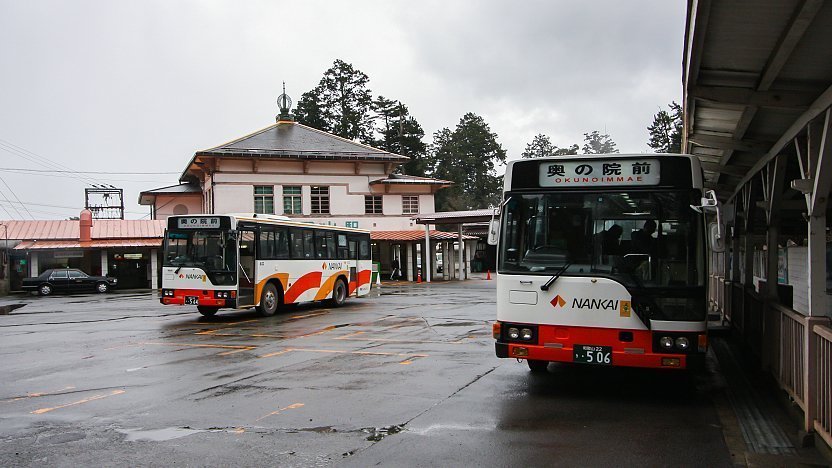 Questions? Ask in our forum.