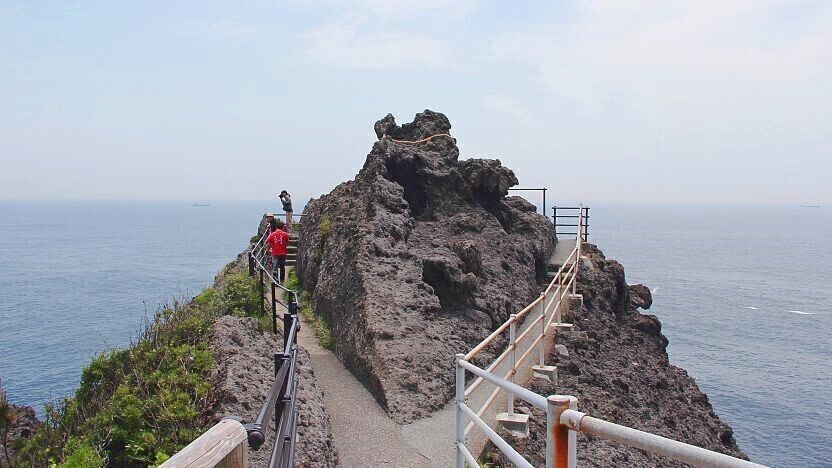 Cape Irozaki (石廊崎, Irōzaki) lies along the southern coastline of the Izu Peninsula at the peninsula's southernmost tip. The Irozaki lighthouse and Iro Shrine can be found at the cape; the shrine is built into the rocks at the very tip of the cape and offers beautiful views of the craggy coast.
The coast around Cape Irozaki is rugged and relatively unspoiled, and can be viewed from sightseeing cruises which last about 25 minutes. There are also other nice capes along the southern coastline with rocky shorelines, craggy terrain and some of the Izu Peninsula's best beaches.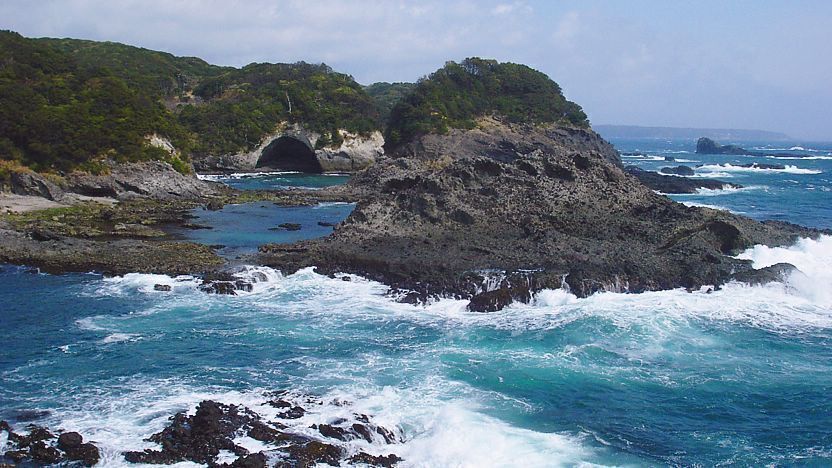 The other capes and beaches along the southern coast of Izu are less touristically developed, but nevertheless pleasant. One of the nicest is Cape Tarai, eight kilometers east of Cape Irozaki. The cape has a stony beach and nature trails which lead through the forest.
Another three kilometers east of Cape Tarai is Toji, a tiny beach town with other attractions such as the naturally formed Ryugu Sea Cave that looks like a heart when seen from above. There is also a natural sand ski ground a few steps away from the sea cave. Visitors can rent boards from nearby accommodations and use them to slide down the sandy slope.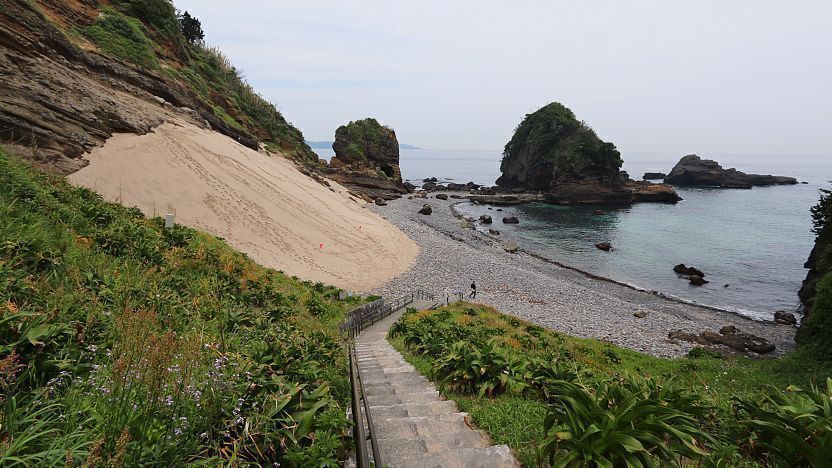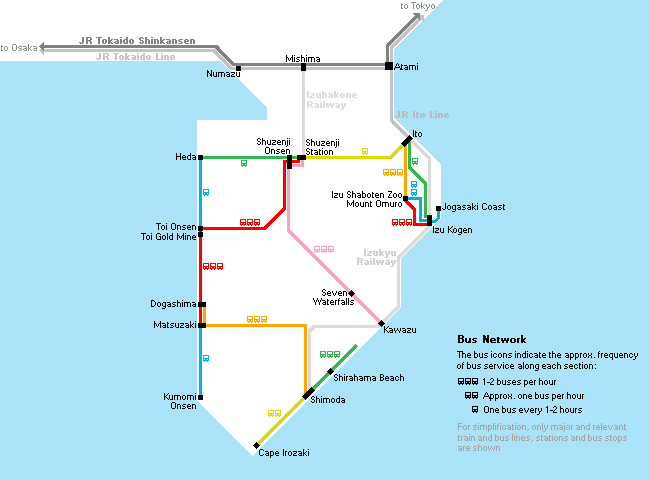 Tokai Bus operates hourly buses between Izukyu-Shimoda Station and Cape Irozaki. Take an Irozaki Oceanpark (石廊崎オーシャンパーク) bound bus from Izukyu-Shimoda Station and get off at the final stop (45 minutes, 1020 yen one way). From the bus stop, it is a few hundred meters on foot to the lighthouse and cape.
Cape Tarai is about a 30 minute walk east of Kyukamura (休暇村) bus stop, which can be reached in about 25 minutes from Izukyu-Shimoda Station by an Irozaki Oceanpark (石廊崎オーシャンパーク) bound bus (630 yen one way).
The sea cave and the sand ski ground in Toji are a five minute walk from the Ryugukutsu (龍宮窟) bus stop, about 20 minutes from Izukyu-Shimoda Station via a Toji (田牛) bound bus (20 minutes, 450 yen one way, about one bus/hour).
Tokai Bus offers a 2-day Minami Izu Free Pass for 2790 yen for unlimited use of buses in the southern Izu Peninsula. The buses between Izukyu-Shimoda Station and Irozaki, including those to Cape Tarai and Toji, are fully covered by the pass.
How to get to and around the Izu Peninsula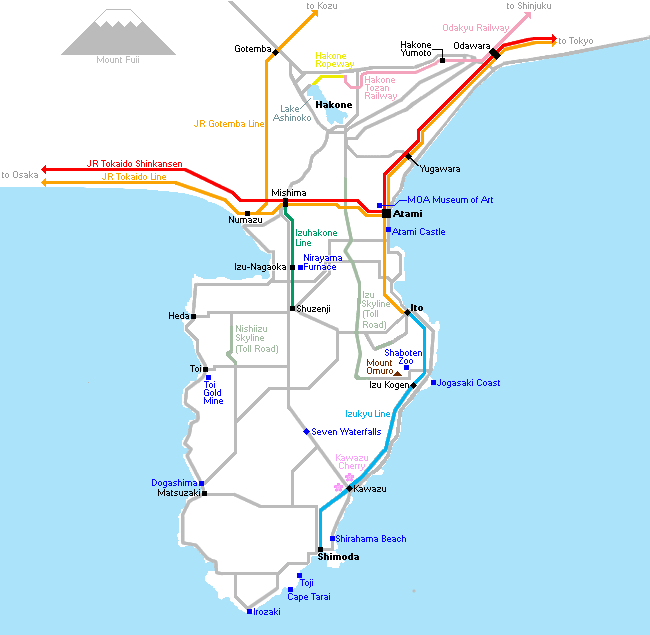 Irozaki Sightseeing Cruises
Closed
During very bad weather or when waves are too high
Questions? Ask in our forum.
Hotels around Izu Peninsula
Top rated on the Izu Peninsula
powered

by