Kawazu Cherry Blossom Festival
Festival of a very early blooming tree variety
In 2023, the festival was held from February 1 to March 5.
The Kawazu Cherry Blossom Festival (河津桜祭り, Kawazuzakura Matsuri) is held yearly from early February to early March in the city of Kawazu, located on the Izu Peninsula.
The popular event celebrates the flowering of the Kawazu Cherry Trees (Kawazuzakura) and attracts almost two million visitors annually as one of the earliest opportunities in the year to see large numbers of cherry blossoms near Tokyo.
Kawazuzakura are an early flowering variety of cherry tree. The trees usually start opening around the beginning of February, but do so at an uncharacteristically slow pace compared to most other cherry tree varieties. Consequently, visitors have a longer time frame (about a month) to enjoy the trees' beautiful flowers. The best viewing time usually last for about two weeks around late February and early March, although this can vary quite a bit from year to year depending on the temperatures.
As their name suggests, Kawazu Cherry Trees were first discovered in Kawazu in the 1950s. They were then systematically planted across the city by the various neighborhoods of the city, mostly along the Kawazu River, which flows west of Kawazu Station. A short walk from the river, the original Kawazuzakura tree that led to the fame of this sakura variety stands in a residential district. Visitors can see the over 60 year old tree up close.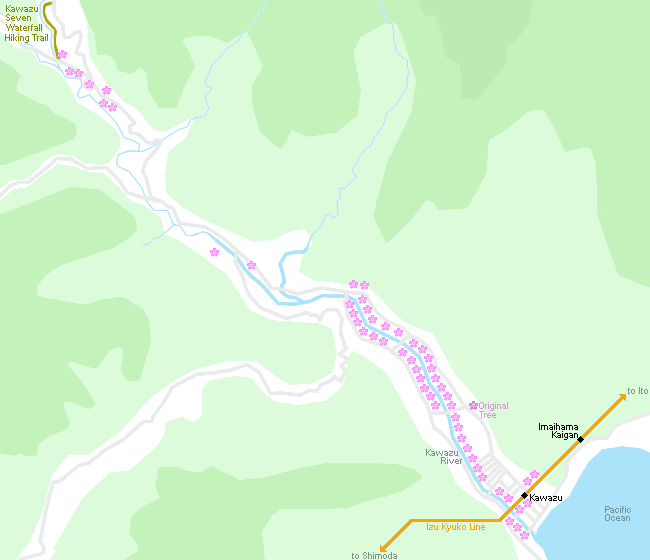 Fittingly, the festival takes place along the banks of the Kawazu River, which is lined by seemingly never-ending rows of Kawazu Cherry Trees stretching approximately four kilometers. Typically, the trees in the town center start to open their cherry blossoms first, before the season gradually spreads upriver towards the Kawazu Seven Waterfalls.
Almost equally numerous are festival stalls that line the walking path along the river, offering a wide selection of cooked food, dried foodstuff, locally produced citrus fruits, souvenirs, and small Kawazuzakura trees that can be taken home and planted. Yellow rape blossoms which open at about the same time as the Kawazuzakura add to the lovely scenery. Night illuminations are held during the festival from 18:00 to 21:00.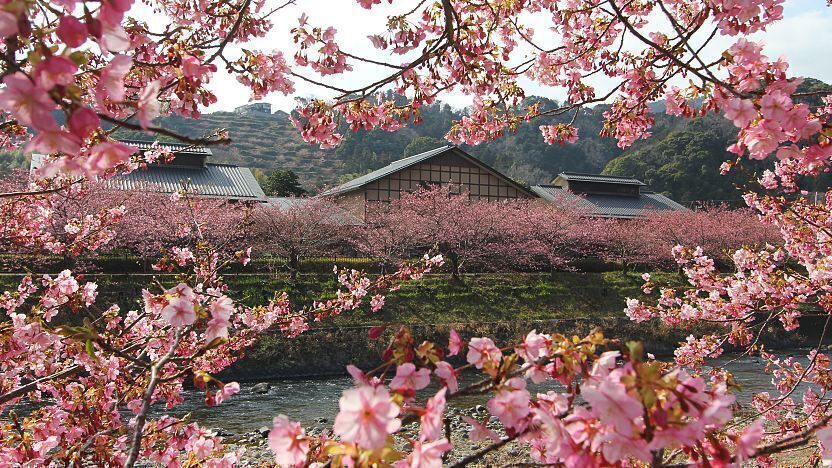 The festival venue is most easily accessed from Kawazu Station on the Izukyu Railway Line. Immediately upon exiting the station you will come across the festival stalls and Kawazuzakura trees. It takes less than five minutes to walk to the Kawazu River from the station.
How to get to and around the Izu Peninsula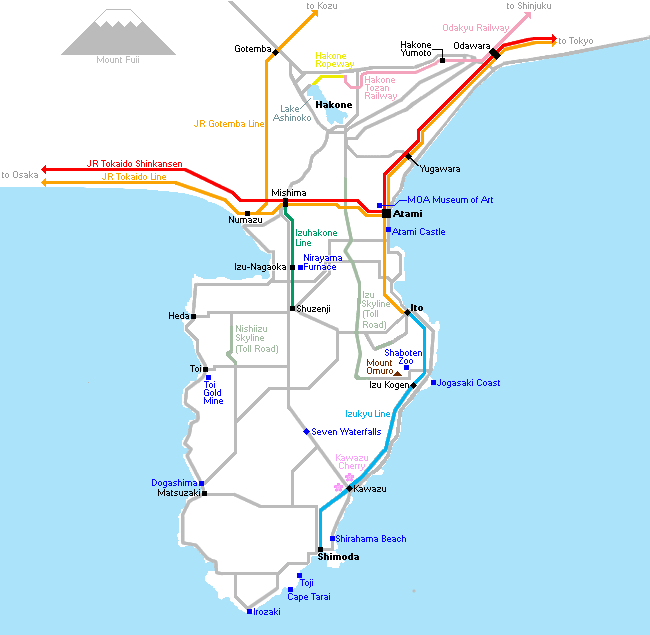 Questions? Ask in our forum.
Hotels around Izu Peninsula
Top rated on the Izu Peninsula
powered

by