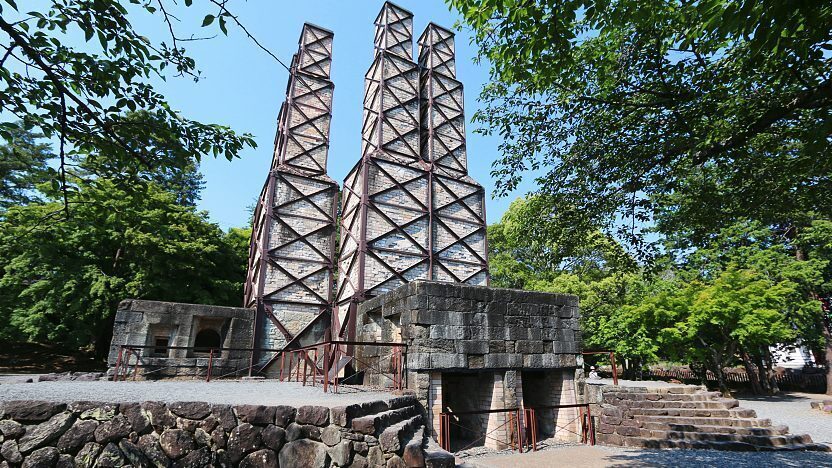 The Nirayama Reverberatory Furnace ("BŽR"½ŽΛ˜F, Nirayama Hansharo) is a well preserved iron smelting facility on the Izu Peninsula. Built by the Tokugawa government in 1857, the furnace represents the start of modern iron production in Japan. The Nirayama Furnace is the most complete reverberatory furnaces still standing, and the site received world heritage status in summer 2015 among the Sites of Japan's Meiji Industrial Revolution.
Originally part of a larger factory complex, the furnace was constructed of local stones and bricks. It represented the most advanced technology of the time, and iron produced there was processed on site and cast into cannons, which were desperately needed to shore up the country's coastal defenses in response to the arrival of Commodore Perry and his black ships. Visitors can approach the furnace bodies and four, 15.7 meter high chimneys, which stand encased in protective steel frames. A few cannons are also on display around the furnace, while a small information center and a few shops and restaurants are located nearby.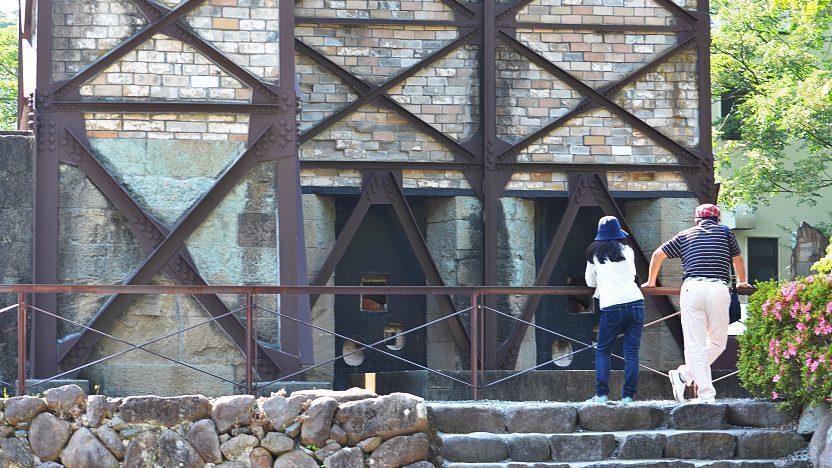 The Nirayama Reverberatory Furnace is located a 30 minute walk from Izu-Nagaoka Station on the Izuhakone Railway Line (20 minutes, 330 yen from Mishima Station or 15 minutes, 280 yen from Shuzenji Station; multiple departures per hour). An hourly loop bus connects the station with the furnace (300 yen for a 1-day pass) on selected days. Alternatively, the furnace is a 10 minute, 1000 yen taxi ride from the station.
Hours
9:00 to 17:00 (until 16:30 from October to February)
Closed
3rd Wednesday of each month (or following day if Wednesday is a
national holiday
)
Questions? Ask in our forum.
Hotels around Izu Peninsula
Top rated on the Izu Peninsula
powered

by