Nagoya Port
Recently redeveloped leisure district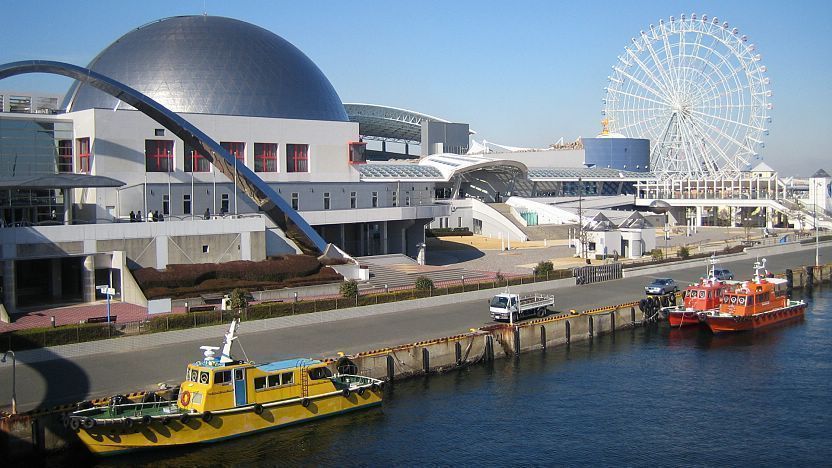 Nagoya Port (名古屋港, Nagoyakō), south of Nagoya's city center, is one of Japan's largest ports. One part of the port, the Garden Pier, has been redeveloped as a leisure district and offers an aquarium, shopping mall, amusement park, museums and green space.
The port area is conveniently connected to central Nagoya by subway.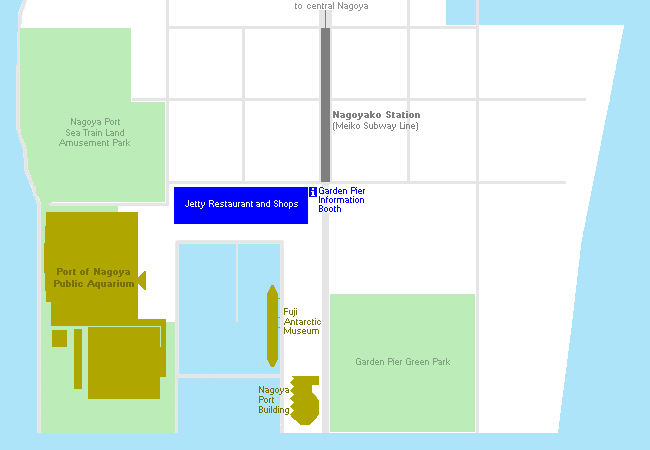 The Port of Nagoya Public Aquarium is one of Japan's larger and better aquaria. Spread across two buildings are exhibits featuring marine mammals including dolphins, orca and beluga whales, and other marine creatures from five aquatic regions between Japan and the Antarctic Ocean. In addition to feeding and training shows, there are also three scheduled dolphin shows per day that are very popular with visitors.
Moored in the harbor is the Fuji Icebreaker, the ship Japan used to explore the Antarctic Ocean from the 1960s to the 1980s. It is now accessible to the public as the Antarctic Museum. Directly in front of the bridge to the aquarium is the Nagoya Port Building, which houses a 53 meter high observatory and the Nagoya Maritime Museum. For the young at heart, there is Nagoya Port Sea Train Land, an amusement park with the biggest ferris wheel in the Chubu Region, north of the aquarium.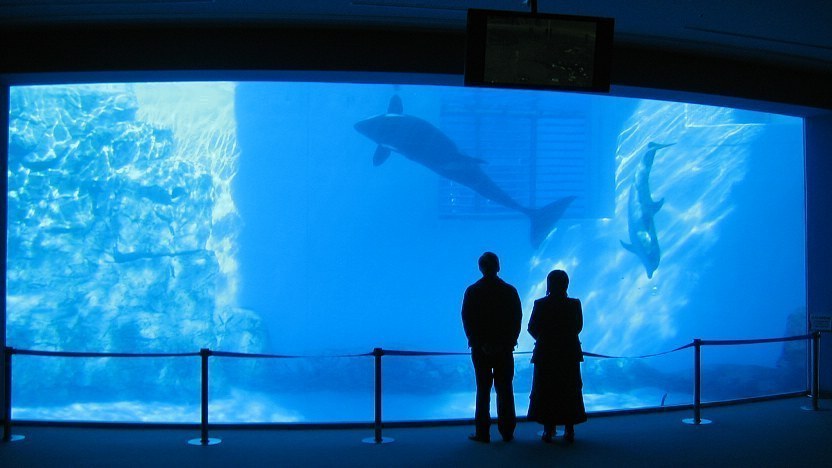 Nagoya Port is best accessed by the Meiko Subway Line. The port's attractions are within walking distance of Nagoyako Station, the subway line's terminal station.
From Nagoya Station, the fastest way to the port is to take a JR train to Kanayama Station (3 minutes, 170 yen) and transfer to the Meiko Subway Line for Nagoyako Station (10 minutes, 240 yen). The cheaper but slower approach is to take the Higashiyama and Meijo/Meiko Subway Lines via Sakae (25 minutes, 270 yen).
From Sakae Station, the one way ride on the Meijo/Meiko Line Subway Line to Nagoyako Station via Kanayama Station takes 15 minutes and costs 270 yen. Roughly every other train on the Meijo Line operates on the Meiko Line from Kanayama to Nagoyako Stations instead of continuing on the loop of the Meijo Line.
How to get to and around Nagoya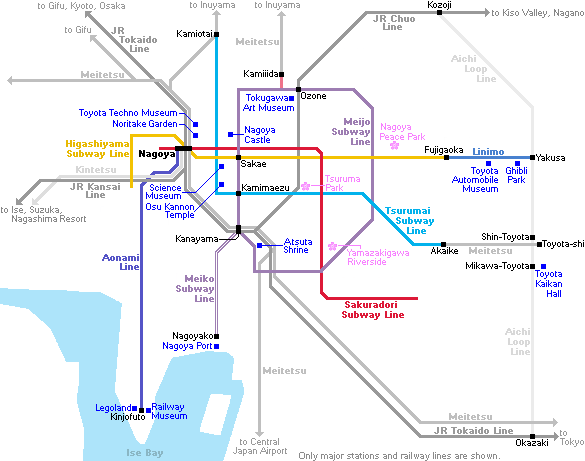 Port of Nagoya Public Aquarium
Hours
9:30 to 17:30 (mid March through November)
9:30 to 17:00 (December to mid March)
9:30 to 20:00 (during
Golden Week
and summer holidays)
Admission ends one hour before closing time.
Closed
Mondays (or the following day if Monday is a
national holiday
)
Occasional, irregular closing days for maintenance
Admission
2030 yen (aquarium only)
2440 yen (combo ticket including aquarium and other facilities)
Buy ticket online
Fuji Antarctic Museum
Hours
9:30 to 17:00 (entry until 16:30)
Closed
Mondays (or the following day if Monday is a
national holiday
)
Irregular closing days for maintenance
Admission
300 yen (museum only)
710 yen (entry to the observatory, Fuji museum and maritime museum)
2440 yen (entry to aquarium, both museums and the observatory)
Questions? Ask in our forum.