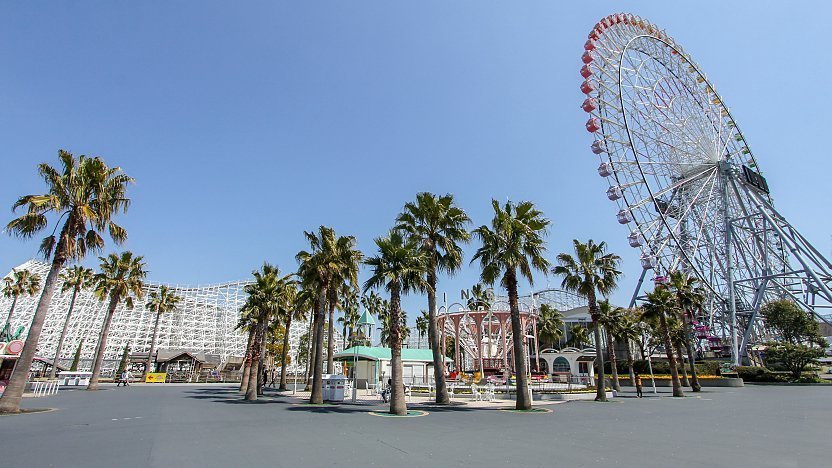 Nagashima Resort is a major vacation destination just outside Nagoya. It is comprised of five main leisure facilities: the Nagashima Spaland amusement park, a water park, a hot spring complex, an outlet shopping mall and a flower park named Nabana no Sato. The resort is located on a long piece of land that is surrounded by rivers and the sea; fittingly, it is called Nagashima or "long island".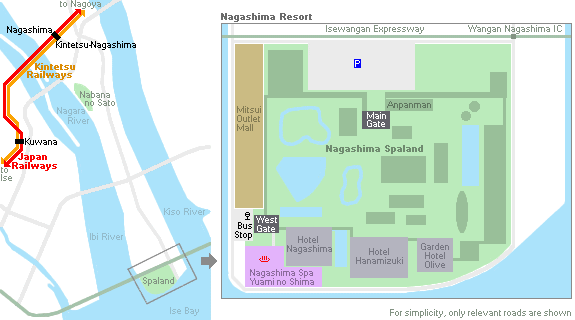 Nagashima Spaland, reputed to be the best amusement park for roller coasters in western Japan, is the main attraction of the resort. The park is filled with over forty rides, ranging from gentle ones suitable for children to outrageous ones for those looking to spend some exhilarating moments. Immediately noticeable even before entering the main gate is the Steel Dragon 2000, a gigantic roller coaster ride which spans the entire length of the park.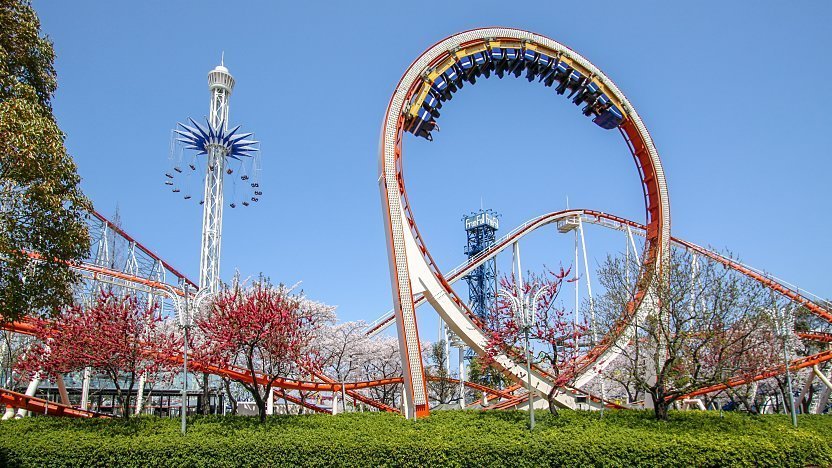 Also within the Nagashima Spaland grounds is a full-featured water park, named Joyful Waterpark. The water park is densely packed with water slides and swimming pools (including a wave pool), but is open only in the summer. Aside from the attractions themselves, Nagashima Spaland is tastefully designed such that the structures fit in well with their surroundings.
At the south-western corner of the resort lies Nagashima Spa Yuami no Shima, an outstanding hot spring bath complex which offers a wide array of indoor and outdoor baths set in man-made nature. The baths are divided into two large sections for each gender with beautifully recreated scenery from the Kurobe Gorge (usually designated as the men's bath) and Oirase Stream (usually the women's bath). Also available are jacuzzis, saunas, massage services and restaurants.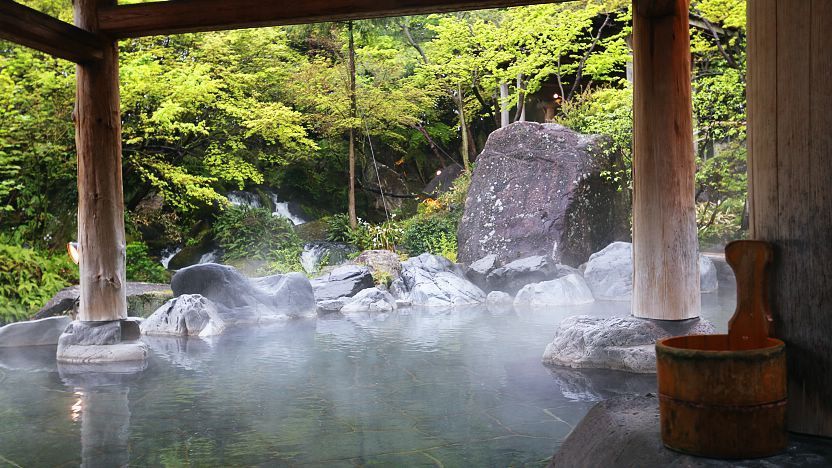 Next to the main entrance to the amusement park is the Anpanman Museum, based on the popular animation. The museum caters to younger kids with displays and exhibitions of the characters.
Mitsui Outlet Park Jazz Dream Nagashima is a large outlet mall located just beside Nagashima Spaland. It claims to offer over 300 stores, the most among outlet malls in Japan. The shops include famous foreign and domestic boutiques, stores carrying world-renowned brand names, popular sporting goods, and a plethora of other shopping options.
Located at a distance apart from the other attractions (about 15 minutes by bus from Nagashima Spaland) is the Nabana no Sato flower park. The park hosts one of the largest flower festivals in Japan during the warmer seasons. Equally outstanding are the park's winter illuminations from October to May. Of interest is Island Fuji, a unique, moving observation deck, which offers good views over the park.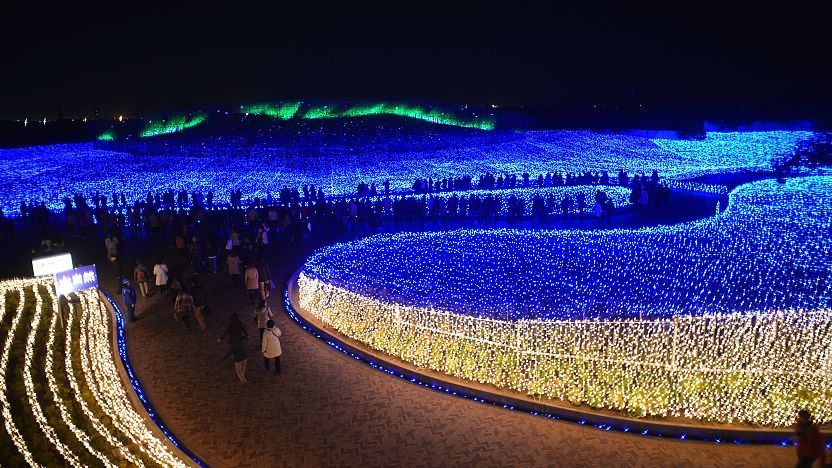 From Nagoya
From the Meitetsu Bus Center next to Nagoya Station, take a bus bound for Nagashima Onsen and get off at either Nabana no Sato (950 yen, 35 minutes) or Nagashima Onsen (1100 yen, 50 minutes). Buses depart every 20 to 30 minutes. The one way trip between Nabana no Sato and Nagashima Onsen costs 460 yen and takes about 15 minutes.
Alternatively, buses depart every half hour in the morning from the Sakae Bus Terminal in central Nagoya to Nagashima Onsen (1100 yen, 55 minutes). In the afternoon, they operate every half hour in the opposite direction. These buses do not serve Nabana no Sato.
From Kuwana (or Nagashima) Station
Kuwana Station and Nagashima Spaland are connected by 1-3 buses per hour (540 yen, 20 minutes). A different bus connects the station with Nabana no Sato (260 yen, 10 minutes, 1-2 buses/hour). During the winter illuminations from late October to late May (October 23, 2021 to May 31, 2022), the bus to Nabana no Sato departs from Nagashima Station instead of Kuwana Station. These buses take about 10 minutes and cost 220 yen one way.
How to get to and around Nagoya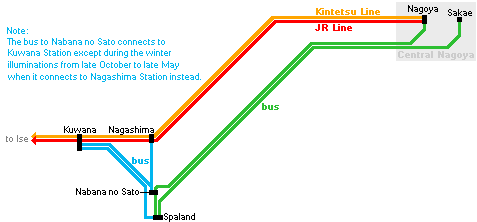 Nagashima Spaland
Hours
Varying hours, typically from 9:30 to 17:00 during low season and from 9:30 to 19:30 during peak season (see the
official website
for details).
Admission ends one hour before closing time.
Closed
Irregular closing days (typically five days each in January and June)
The waterpark is closed from late September to late June.
Admission
6500 yen (admission + unlimited rides at Spaland and waterpark)
5200 yen (admission + unlimited rides at Spaland)
3800 yen (admission + unlimited rides at waterpark)
1600 yen (admission only)
Fees for individual rides range from 300 yen to 1000 yen per ride.
Nagashima Spa Yuami no Shima
Hours
9:30 to 23:00 (from 10:00 on weekdays during winter)
Admission ends at 22:00
Closed
Irregular closing days, typically five days around late January and late June
Admission
2100 yen (including admission to Spaland)
Mitsui Outlet Park Jazz Dream Nagashima
Hours
10:00 to 20:00 (restaurants close later)
Closed
Irregular closing days
Anpanman Museum
Hours
10:00 to 17:00 (entry until 16:00)
Admission
2000 yen (museum only)
2800 yen (museum + Spaland admission)
5700 yen (museum + Spaland admission and unlimited rides)
Nabana no Sato
Hours
9:00 to 21:00 (until 22:00 on weekends during winter illumination)
Closed
Irregular closing days, typically five days in mid July
Admission
1600 yen (spring and autumn)
1000 yen (summer)
2300 yen (winter illumination)
Fee includes a 1000 yen gift certificate to be used inside Nabana no Sato.
Questions? Ask in our forum.