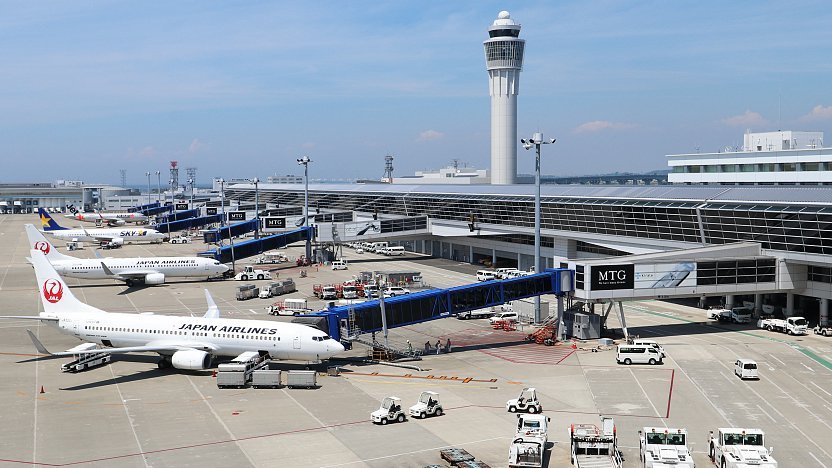 Central Japan International Airport Centrair ('†•"‹ó`, Chūbu Kūkō, airport code: NGO), just outside Nagoya, is Japan's fourth most important international airport after Tokyo's Narita Airport and Haneda Airport and Osaka's Kansai Airport.
Constructed on a man-made island in the Bay of Ise, Central Japan Airport was opened in February 2005 in time for the Expo 2005 Aichi, taking over all international and most domestic air traffic formerly handled by Nagoya's Komaki Airport. It is one of Japan's most convenient and pleasant airports, offering a wide range of shopping and dining opportunities that even include a public bath and a Boeing museum.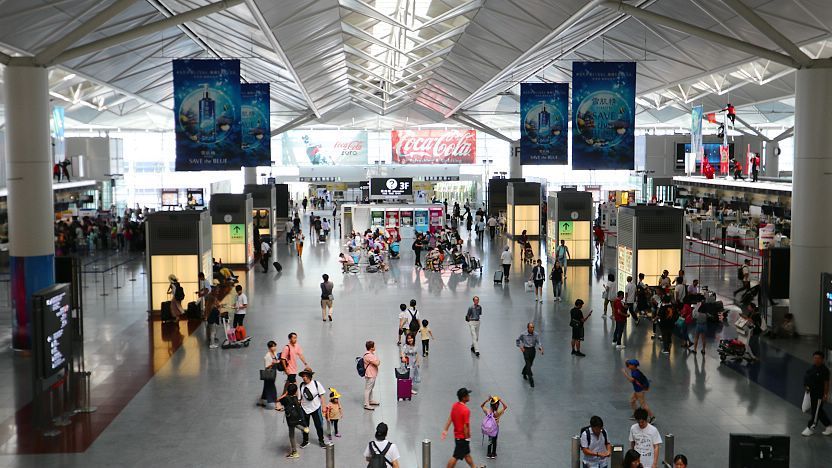 The airport consists of a two terminal buildings. Terminal 1 is the main terminal for domestic and international flights by most airlines, while terminal 2 is a smaller terminal for use by discount airlines. It takes 5-10 minutes to walk between the two terminals.
Just next to terminal 2 stands the Flight of Dreams shopping and dining complex which exhibits the first-ever manufactured Boeing 787 airplane and is themed after Seattle where the headquarters of Boeing were originally located. Besides Seattle-themed shops and restaurants, the complex contains a children-friendly museum about (Boeing) airplanes. Japanese companies contributed greatly towards the development of the Boeing 787 aircraft.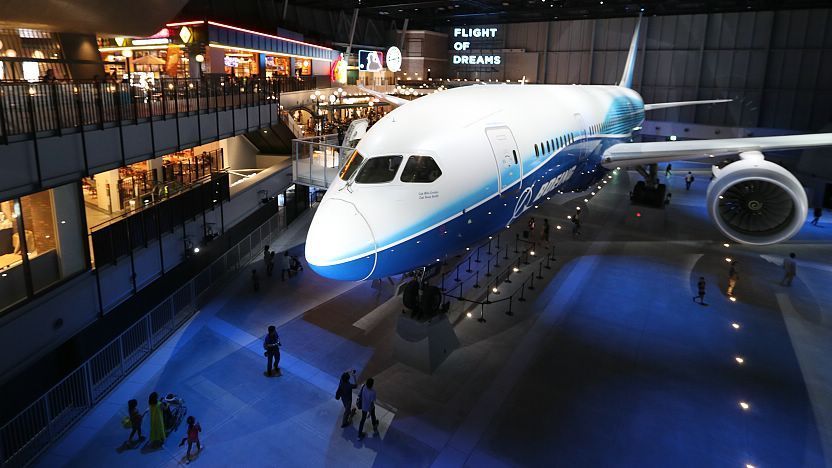 Central Japan Airport is located about 40 kilometers south of Nagoya. It is conveniently connected with Nagoya and various places across central Japan by public transportation. For access to Nagoya Station, the train is the fastest and cheapest option.
Most transportation options arrive at and depart from the Access Plaza which is located adjacent to Terminal 1 or a 5-10 minute walk from Terminal 2.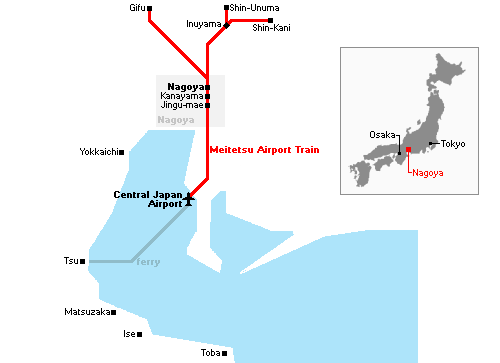 By train
The one way journey between Nagoya Station and Central Japan Airport by Meitetsu Railway takes 30 minutes and costs 890 yen by non-reserved seat and 1250 yen by reserved seat. The airport trains also provide direct connections to Inuyama and Gifu City. To reach Toyohashi, a transfer of trains is required at Jingu-mae Station.
Several types of trains run between the airport and central Nagoya: Myu Sky limited express trains carry only reserved seats while limited express trains carry both reserved and non-reserved seats. All other types of trains, such as express and local trains, carry only non-reserved seats and are distinctly slower than the limited express trains (about 45 minutes). There are multiple departures every hour.
The Japan Rail Pass is not valid on Meitetsu trains.
By bus
Meitetsu Bus operates buses between the airport and several locations around Nagoya, Aichi Prefecture and surrounding prefectures. In particular, there is a bus service connecting the airport with several hotels in central Nagoya, the bus terminal in Sakae and the Meitetsu Bus Center next to Nagoya Station once every two hours (however, this bus service is currently out of service due to the coronavirus outbreak). The one way ride costs 1300 yen and takes between 45 and 85 minutes depending on the bus stop.
By taxi
A taxi ride into central Nagoya costs about 15,000 yen.
By boat to Tsu
High-speed boats connect the airport with the city of Tsu in Mie Prefecture across the Bay of Ise roughly every 2-4 hours. The one way ride takes 45 minutes and costs 2520 yen.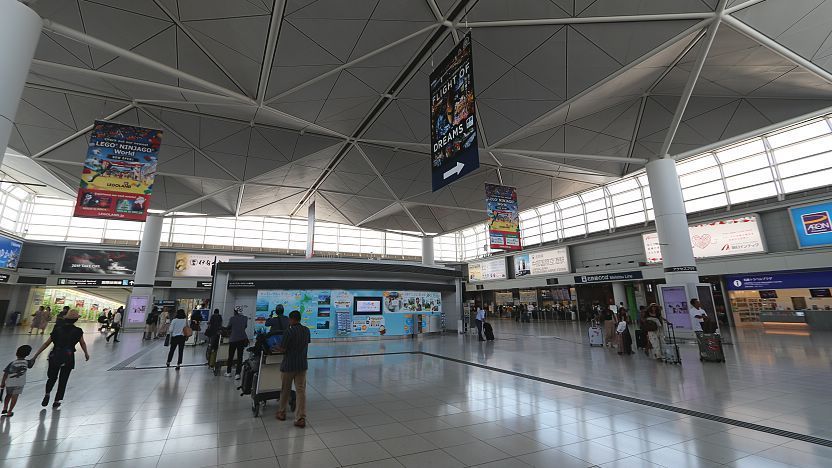 Flight of Dreams
Hours
Most shops and restaurants: 10:00 to 18:00
Flight Park (museum): 10:00 to 17:00
Admission
Free (except some activities at the museum)
Questions? Ask in our forum.