Kobe Beef
World famous local brand of wagyu meet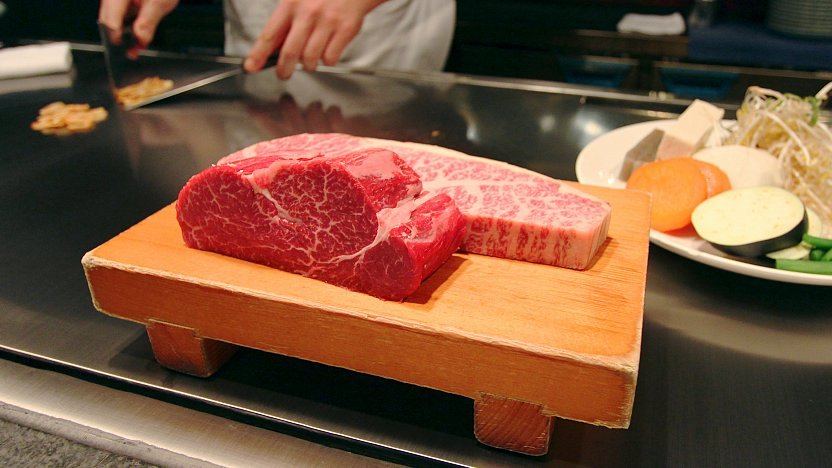 Kobe Beef is a prized Japanese delicacy and probably the most widely-known regional specialty food in Japan. It is one of several breeds of Wagyu, or Japanese cattle, which are bred throughout the country and often associated with the area where they are raised. While Kobe Beef is probably the best known type of wagyu outside of Japan, there are many other breeds, such as Matsuzaka and Yonezawa Beef, that are equally or even more famous among Japanese gourmets.
Kobe Beef is distinguished as a tender, flavorful meat that is well marbled with fat. It is produced from pedigreed Tajima breed cattle which were born and slaughtered in Hyogo Prefecture. Despite popular rumor, the cows are not usually fed beer or massaged with sake. Once slaughtered, the meat must pass a series of requirements and only the highest grades of meat with exceptionally high levels of fat marbling earn the Kobe Beef label, which is a strictly-guarded trademark.
Kobe Beef is usually served as steaks, shabu shabu (thin slices of meat quickly boiled in a broth) or sukiyaki (meat slices simmered in a hot pot). One of the best ways to enjoy Kobe Beef is at a teppanyaki restaurant, where a chef grills the meat on an iron plate in front of his guests. Prices vary on the establishment, but you can expect to pay a few thousand yen per hundred grams of beef, while a full meal at a teppanyaki restaurant typically costs between 8,000 and 30,000 yen per person.
Questions? Ask in our forum.