Kobe: Getting there and around
How to travel between Kobe and Tokyo
By shinkansen
Direct, 160-195 minutes, 14,420-15,580 yen one way, multiple trains per hour
Tokyo and Kobe are connected with each other by the JR Tokaido/Sanyo Shinkansen. Nozomi trains require about 160 minutes to reach Shin-Kobe Station from Tokyo, while direct Hikari trains require roughly 195 minutes. The regular one way fare from Tokyo to Shin-Kobe is 14,420 yen for a non-reserved seat or around 15,000 yen for a reserved seat. The Japan Rail Pass is valid on Hikari trains, but not on Nozomi trains.
By local trains
4 transfers, 10 hours, 9,460 yen one way, multiple connections per hour
By local trains, the one way trip from Tokyo to Kobe takes about ten hours and typically involves about four transfers of trains. The regular fare is a relatively expensive 9460 yen, however, with a Seishun 18 Kippu you can do the trip for as little as 2410 yen.
By air
2-3 transfers, 3 hours, 10,000-24,000 yen one way, multiple flights per day
Multiple flights are operated each day between Tokyo's Haneda Airport and Kobe Airport by ANA and Skymark Airlines. The regular one way fare by ANA is about 25,000 yen, while discount tickets are typically available from around 10,000 yen. The regular one way fare by Skymark Airlines is around 15,000 yen, while discount fares are usually available for below 10,000 yen.
By bus
Direct, 8-9 hours, 3,000-8,500 yen one way, multiple buses per night
The one way trip from Tokyo to Kobe by overnight bus takes about 8-9 hours. The competition between bus companies on the Tokyo - Osaka - Kobe route is fierce and has produced various discount offers. Fares by discount bus operators, such as Willer Express, start from around 5000 yen, and if used effectively, the Japan Bus Pass can reduce the cost for the bus trip to around 3000 yen. Buses on this price level are usually standard buses, which offer little comfort. The one way trip on more comfortable buses costs around 8500 yen. Online Reservations can be made through Willer and Japan Bus Online.
Above fees and schedules are subject to change. Be sure to check current yen exchange rates.
Getting around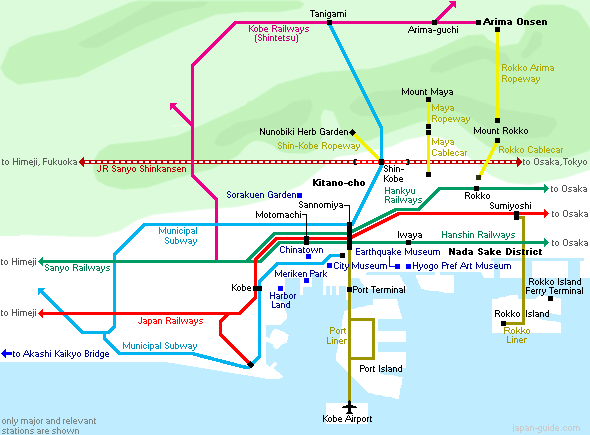 Kobe's busiest railway station is not Kobe Station but Sannomiya Station at the city center. Sannomiya Station is served by multiple railway companies, including Japan Railways (JR). The shinkansen (bullet train) stops at Shin-Kobe Station, a short subway ride north of Sannomiya Station.
Distances between the attractions in central Kobe are relatively short, and good walkers can cover many of them on foot. There is also a tourist-oriented loop bus, which connects sites such as Kitano-cho, Nankinmachi, Meriken Park and Harborland with Shin-Kobe and Sannomiya Stations. The bus costs 260 yen per ride, while a day pass is available for 680 yen.
Kobe Airport is located on a man made island just off the coast of central Kobe and can be reached by the Port Liner from Sannomiya Station in less than 20 minutes for 340 yen.
Special Tickets
Kobe Meguri 1 Day Coupon (1000 yen)
Unlimited use of subways, non-JR trains and some buses around Kobe on one calendar day plus a 750 yen coupon to be used on admission to selected tourist sites. Available at non-JR train stations. There are also extended versions of this ticket that include access to Kobe, e.g. the Hanshin version for 1650 yen that includes unlimited use of Hanshin trains from Osaka or the Hankyu version for 1800 yen which can be used to access Kobe from as far as Kyoto by Hankyu trains.
City Loop - Day Pass (700 yen)
Unlimited rides on the Kobe City Loop bus on one calendar day. A 2-day pass is available for 1000 yen.
Subway and Bus Day Pass (1040 yen)
Unlimited usage of Kobe's two subway lines and Kobe city buses (not including the City Loop) on one calendar day.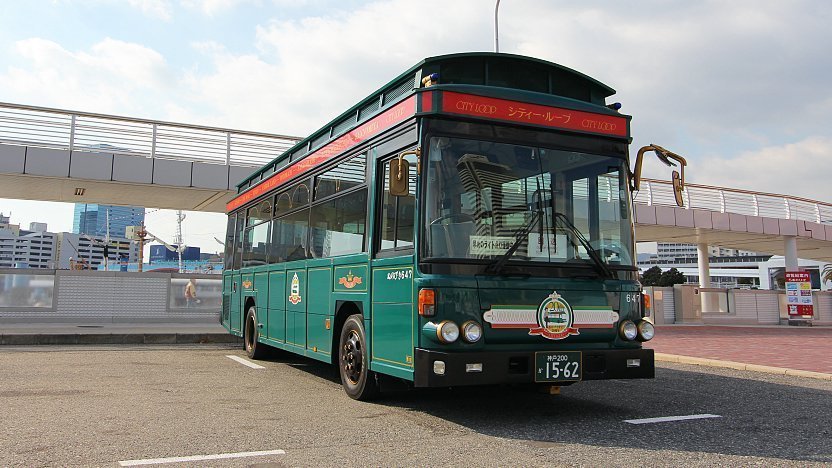 Questions? Ask in our forum.