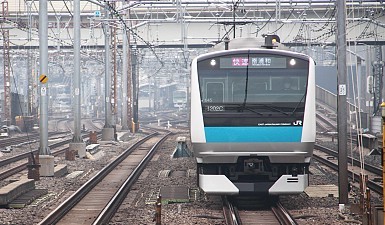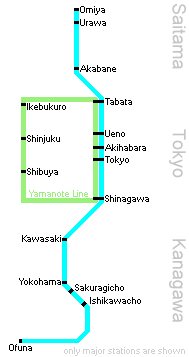 The Keihin-Tohoku Line (京浜東北線, Keihin-Tōhoku-sen) is a local train line serving central Tokyo and the neighboring prefectures of Saitama and Kanagawa, including Saitama City in the north and Kawasaki and Yokohama in the south.
In central Tokyo between Tabata and Shinagawa, the Keihin-Tohoku Line runs parallel to the Yamanote Line. Some trains on the Keihin-Tohoku Line operate as rapid trains (kaisoku), which stop only at Ueno, Akihabara, Kanda and Tokyo between Tabata and Hamamatsucho.
South of Yokohama Station, the Keihin-Tohoku Line is also known as the Negishi Line, serving central and southern Yokohama before terminating at Ofuna, a large station on the border to Kamakura. Note that there are faster connections between Tokyo and Yokohama than the Keihin-Tohoku Line.
Below are more details about the stations of the Keihin-Tohoku Line in their actual order. Stations not served by rapid trains are colored lighter than the stations served by all trains.
| | |
| --- | --- |
| Further connecting to Saitama | |
| | Akabane is a busy train station in northern Tokyo just at the border to Saitama Prefecture. |
| | |
| | |
| | |
| | |
| | |
| | Convenient connections to the Keisei trains to/from Narita Airport is possible at this station. |
| | |
| | The shinkansen trains to northern Japan stop at Ueno Station. Ueno Park and the Ameyoko shopping street are located next to the station. Several suburban train lines commence at Ueno Station. |
| | The Ameyoko shopping street starts at Okachimachi Station. |
| | Akihabara Station is located in the center of Akihabara Electric Town, a large shopping area for electronics and otaku goods. |
| | |
| | Tokyo Station is the terminal station of all shinkansen lines. It is located in the prestigious Marunouchi business district, close to the Imperial Palace and the Imperial Palace East Gardens. Several suburban train lines pass through or commence at Tokyo Station. |
| | Yurakucho Station is the closest JR station to the Sakuradamon entrance gate of the Imperial Palace and to the famous Ginza shopping and entertainment district. Dozens of interesting dining establishments can be found below the train tracks north and south of the station. |
| | Shimbashi is a large business area and the closest JR station to the Tsukiji Outer Market, Shiodome Shiosite and Hama Rikyu Gardens. |
| | Hamamatsucho is the closest JR station to the Tokyo Tower and Zojoji Temple. It is also the terminal station of the Tokyo Monorail, which connects central Tokyo with the domestic Haneda Airport. |
| | |
| | Opened in March 2020, Takanawa Gateway is the closest JR station to Sengakuji Temple. The station building was designed by star-architect Kuma Kengo. |
| | Shinagawa is a stop along the Tokaido Shinkansen and will become the terminal station of the Chuo Shinkansen which is scheduled to connect Tokyo and Nagoya with maglev trains in 2027. |
| | |
| | |
| | This is the main station of Kawasaki, one of Japan's top ten most populated cities. |
| | |
| | This is the main station of Yokohama, Japan's second most populated city. |
| | Sakuragicho Station stands next to Minato Mirai 21 where the Landmark Tower is located. |
| | The Yokohama Stadium, home of the city's professional baseball team is located next to Kannai Station. |
| | Ishikawacho Station is the closest JR station to Yokohama Chinatown and the Motomachi Shopping Street. |
| | Despite its name, Yamate Station is not the closest station to Yokohama's Yamate area. Ishikawacho Station is closer. |
| | This is the station closest to Sankeien, a beautiful Japanese style garden. |
| | |
| | Ofuna is a large station on the border between Yokohama and Kamakura. The city center of Kamakura with its many historical attractions, is located two stations south of Ofuna by the JR Yokosuka Line. |
Tours and Travel Services