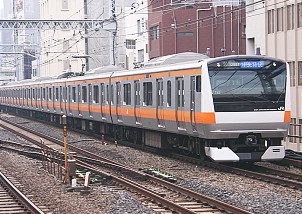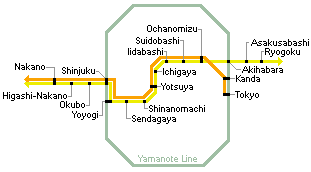 The Chuo Line (中央線, Chūō-sen) is the only JR line to cross the circle of the Yamanote Line.
Two types of trains run on the Chuo Line in central Tokyo: orange colored rapid trains (kaisoku) and yellow colored local trains (futsu).
The rapid trains stop only at Shinjuku, Yotsuya, Ochanomizu, Kanda and Tokyo Station, while the local trains stop at all stations between Shinjuku and Ochanomizu and then continue to operate on the Sobu Line to Chiba.
West of Shinjuku, the Chuo Line serves the city wards of Nakano and Suginami and the Tama Region (Tachikawa, Hachioji, etc.). The yellow local trains stop at every station and operate only as far as Mitaka, while the orange trains stop only at selected stations and operate further into the Tama Region.
Beyond the borders of Tokyo, the Chuo Line leads through Yamanashi and Nagano Prefectures, before terminating in Nagoya, almost 400 kilometers west of Tokyo. No trains run along the entire line.
Below are more details about the stations of the Chuo Line in central Tokyo in their actual order:
| | |
| --- | --- |
| Further connecting the Tama Region | |
| | |
| | |
| | |
| | Shinjuku Station is Japan's busiest train station. It is located in the middle of the large Shinjuku business, entertainment and shopping district. Many suburban train lines commence at Shinjuku Station. |
| | The north entrance of the Meiji Shrine can be accessed from Yoyogi Station. |
| | The Sendagaya entrance of Shinjuku Gyoen is nearby. |
| | |
| | |
| | Yasukuni Shrine is located a ten minute walk from Ichigaya Station. |
| | Yasukuni Shrine is located a ten minute walk from Iidabashi Station. |
| | Tokyo Dome City and the Koishikawa Korakuen landscape garden are located close to Suidobashi Station. |
| | At Ochanomizu, the yellow and orange trains separate. The yellow trains continue on the Sobu Line in direction of Chiba, while the orange trains continue to Tokyo Station. |
| | |
| | Tokyo Station is the terminal station of all shinkansen lines. It is located in the prestigious Marunouchi business district, close to the Imperial Palace and the Imperial Palace East Gardens. Several suburban train lines pass through or commence at Tokyo Station. |
| | Akihabara Station is located in the center of Akihabara Electric Town, a large shopping area for electronics and otaku goods. |
| | |
| | The sumo stadium and sumo related attractions are located in Ryogoku. |
| | |
| Further connecting some eastern city wards and Chiba Prefecture | |
Tours and Travel Services