How to travel between Kobe and Osaka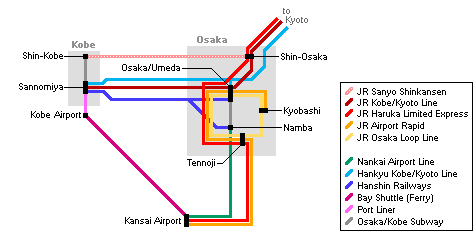 Three railway companies, Japan Railways (JR), Hankyu and Hanshin, operate railway lines between Osaka and Kobe's Sannomiya Station:
By Japan Railways (JR)
Direct, 20 minutes, 410 yen one way, frequent departures
JR special rapid trains require 20 minutes and cost 410 yen for the one way trip from Osaka Station to Kobe's Sannomiya Station. You can also travel between the two cities by Sanyo Shinkansen in less than 15 minutes, however, the shinkansen stations in both Osaka (Shin-Osaka Station) and Kobe (Shin-Kobe Station) are not centrally located. The one way trip by shinkansen costs 1500 yen for a non-reserved seat.
By Hankyu Railways
Direct, 25 minutes, 320 yen one way, frequent departures
Limited express trains on the Hankyu Kobe Line take 25 minutes and cost 320 yen from Umeda Station to Kobe-Sannomiya Station. Hankyu Umeda Station is located just next to JR Osaka Station.
By Hanshin Railways
Direct, 30 minutes, 320 yen one way, frequent departures
Hanshin operates direct trains from Osaka's Umeda Station (30 minutes, 320 yen) and Osaka-Namba Station (45 minutes, 410 yen) to Kobe-Sannomiya Station.
Above fees and schedules are subject to change. For the current yen exchange rate, click here.
Orientation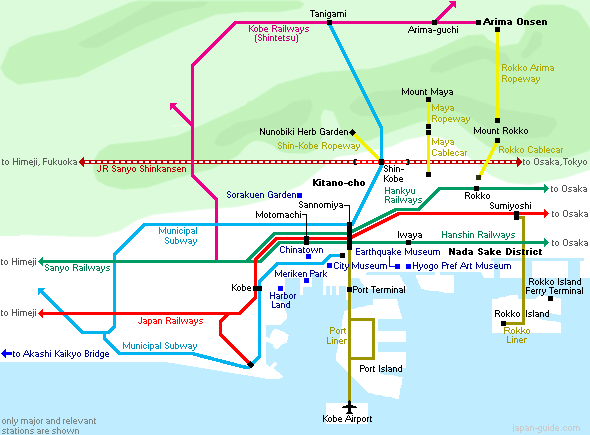 Kobe's busiest railway station is not Kobe Station but Sannomiya Station at the city center. Sannomiya Station is served by multiple railway companies, including Japan Railways (JR). The shinkansen (bullet train) stops at Shin-Kobe Station, a short subway ride north of Sannomiya Station.
Distances between the attractions in central Kobe are relatively short, and good walkers can cover many of them on foot. There is also a tourist-oriented loop bus, which connects sites such as Kitano-cho, Nankinmachi, Meriken Park and Harborland with Shin-Kobe and Sannomiya Stations. The bus costs 260 yen per ride, while a day pass is available for 660 yen.
Kobe Airport is located on a man made island just off the coast of central Kobe and can be reached by the Port Liner from Sannomiya Station in less than 20 minutes for 330 yen.
Special Tickets
Kobe Meguri 1 Day Coupon (950 yen)
Unlimited use of subways, non-JR trains and some buses around Kobe on one calendar day plus a 700 yen coupon to be used on admission to selected tourist sites. Available at non-JR train stations. There are also extended versions of this ticket that include access to Kobe, e.g. the Hanshin version for 1580 yen that includes unlimited use of Hanshin trains from Osaka or the Hankyu version for 1750 yen which can be used to access Kobe from as far as Kyoto by Hankyu trains.
City Loop - Day Pass (660 yen)
Unlimited rides on the Kobe City Loop bus on one calendar day.
Subway and Bus Day Pass (1030 yen)
Unlimited usage of Kobe's two subway lines and Kobe city buses (not including the City Loop) on one calendar day.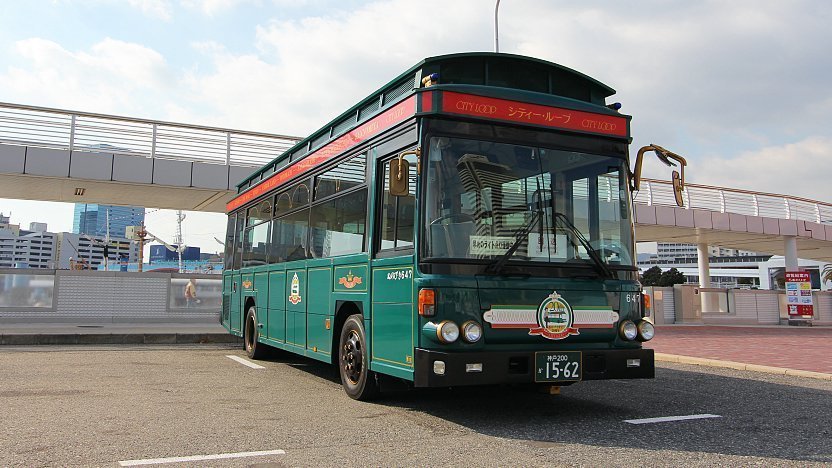 External Links and Resources