Fujisan World Heritage Center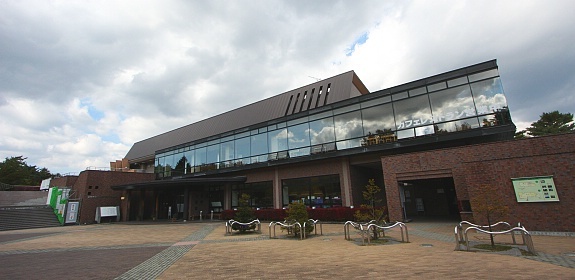 The Fujisan World Heritage Center (富士世界遺産センター, Fuji Sekiisan Center, formerly known as Fuji Visitor Center) is an information center for travelers to Mount Fuji and the Fuji Five Lakes. It consists of two halls, the North Hall and the South Hall.
The South Hall requires an admission fee and visually introduces visitors to Mount Fuji with movies and a 15 meter wide model of Mount Fuji made of washi paper. Meanwhile, the North Hall is free to enter and features an information desk with details about climbing and weather conditions, as well as about tourist attractions around the mountain and Yamanashi Prefecture in general.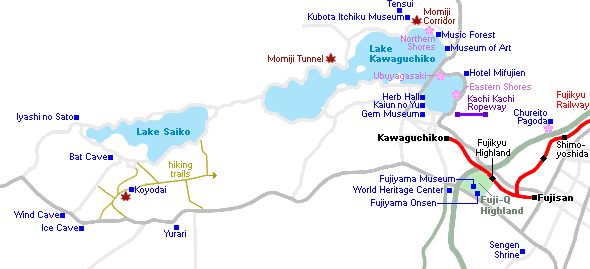 The Fujisan World Heritage Center is located at the entrance of the Subaru Line toll road which leads to Fuji Subaru Line 5th Station on Mount Fuji.
Retro buses along the Kawaguchiko Line connect Kawaguchiko Station with the Fuji Visitor Center in about 15 minutes. Alternatively, the visitor center can be reached in a 30 minute walk from Kawaguchiko Station.
How to get to and around the Fuji Five Lakes
Bus Network Map: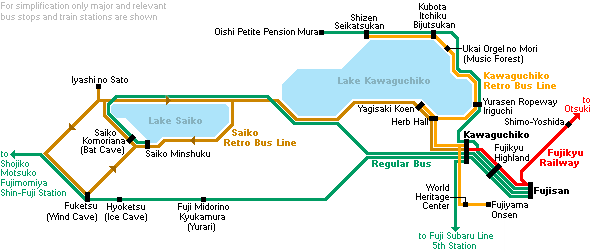 Hours
8:30 to 17:00 (until 18:00 from July to September; until 19:00 during summer holidays); admission ends 30 minutes before closing time.
Closed
South Hall: 4th Tuesday of every month
North Hall: No closing days
Admission
South Hall: 420 yen
North Hall: Free
Hotels
around Fuji Five Lakes
Tours and Travel Services