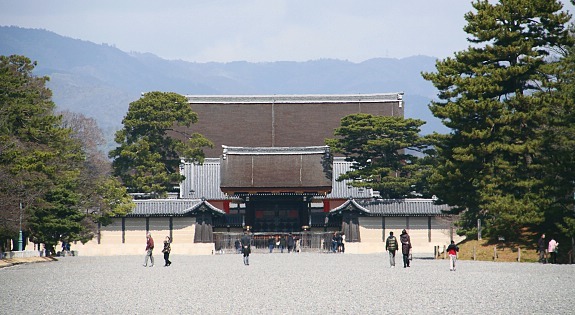 Important Notice
From later this year (possibly as early as August 2016), admission to Kyoto Imperial Palace will be simplified. Tourists will be able to explore the grounds on their own, and there won't be a need for prior reservations and participation in a guided tour anymore. The palace will newly be open from Tuesday to Saturday and closed on Sunday and Monday.
Admssion to the Sento Palace will still require prior reservations and participation in a tour, but the number of tours is expected to increase from two to five per day. The closing days will be modified in the same way as those for the Kyoto Imperial Palace.
The Kyoto Imperial Palace (京都御所, Kyōto Gosho) used to be the residence of Japan's Imperial Family until 1868, when the emperor and capital were moved from Kyoto to Tokyo. It is located in the spacious Kyoto Imperial Park (京都御苑, Kyōto Gyoen), an attractive park in the center of the city that also encompasses the Sento Imperial Palace and a few other attractions.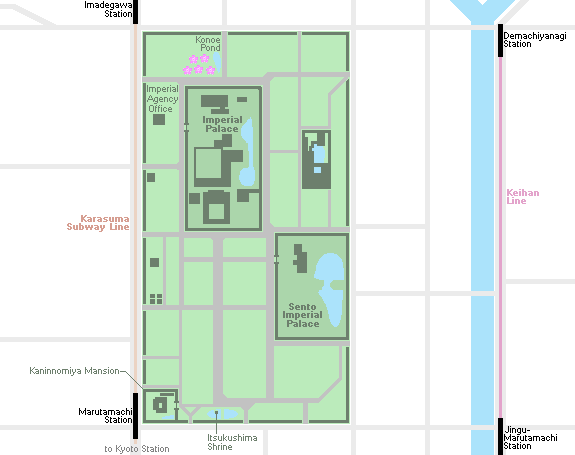 The current Imperial Palace was reconstructed in 1855 after it had burnt down and moved around town repeatedly over the centuries. The complex is enclosed by long walls and consists of several gates, halls and gardens. The enthronement ceremonies of Emperors Taisho and Showa were still held in the palace's main hall, but the present Emperor's ceremony took place at the Tokyo Imperial Palace.
The palace grounds can be entered only on guided tours (in English or Japanese) held by the Imperial Household Agency. Tours take about one hour and lead past the buildings and gardens, but none of the buildings can be entered. Advance reservations (see details below) are mandatory and can be made online or at the Imperial Agency Office, which is also located within the Kyoto Imperial Park.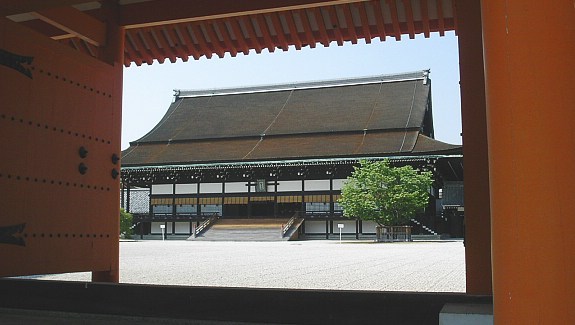 The Hall of State Ceremonies within the Kyoto Imperial Palace
Besides the Imperial Palace and the Sento Palace grounds, a few other historic sites are located within Kyoto Imperial Park, including the Kaninnomiya Mansion, a former residence of court nobles that is open to the public in the park's southwestern corner. Not far away stands a small branch shrine of Miyajima's famous Itsukushima Shrine on a small island of a pond.
The 1300 meter long and 700 meter wide park also serves as recreational space for both tourists and residents, featuring attractive, broad gravel paths, lawns and tree groves. A pretty group of weeping cherry trees stands beside Konoe Pond in the park's northwestern corner and is usually in bloom for two to three weeks from late March to mid April.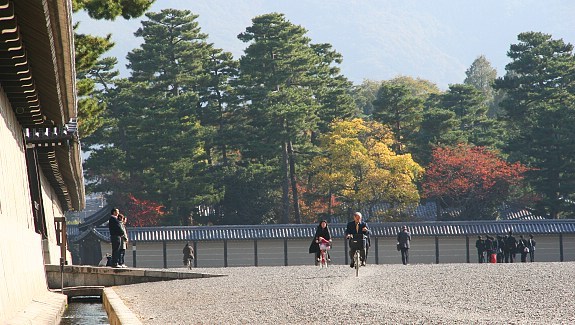 People walk and cycle along the gravel paths of the Kyoto Imperial Park