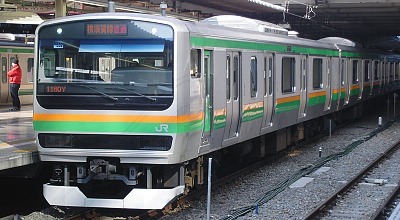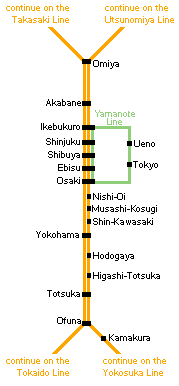 The Shonan Shinjuku Line (湘南新宿ライン, Shōnan Shinjuku Line) provides a direct connection from Shinjuku to Yokohama, Kamakura and the Shonan area of Kanagawa Prefecture south of Tokyo, as well as Saitama, Gunma and Tochigi Prefectures north of Tokyo.
Between Ikebukuro and Osaki, the Shonan Shinjuku Line runs parallel to the Yamanote Line, but stops only at Shinjuku, Shibuya and Ebisu Stations.
Roughly every second train on the Shonan Shinjuku Line operates as rapid train (kaisoku). Between Osaki and Totsuka, rapid trains stop only at Musashi-Kosugi and Yokohama. Special rapid trains (tokubetsu kaisoku; roughly one out of four trains) additionally skip Ebisu Station.
Below are more details about the stations of the Shonan Shinjuku Line in their actual order. Stations not served by rapid trains are colored lighter than the stations served by all trains.
| | |
| --- | --- |
| Further connecting to the Takasaki or Utsunomiya Line | |
| | Largest station in Saitama City. The shinkansen to/from northern Japan stop at Omiya Station. |
| | Akabane is a busy train station in northern Tokyo at the border to Saitama Prefecture. |
| | Ikebukuro is one of Tokyo's largest shopping and entertainment districts. Several suburban train lines commence at Ikebukuro Station. |
| | Shinjuku Station is Japan's busiest train station. It is located in the middle of the large Shinjuku business, entertainment and shopping district. Many suburban train lines commence at Shinjuku Station. |
| | Shibuya is a large shopping and business district particularly popular among the younger generations. Several suburban train lines commence at Shibuya Station. |
| | Closest station to Yebisu Garden Place. |
| | |
| | |
| | |
| | |
| | This is the main station of Yokohama, Japan's second most populated city. |
| | |
| | |
| | |
| | Ofuna is a large station on the border between Yokohama and Kamakura. |
| Further connecting to the Tokaido or Yokosuka Line | |
Tours and Travel Services