Nagoya: Getting there and around
How to travel between Nagoya and Kyoto
By shinkansen
Direct, 35-40 minutes, about 5500 yen, several trains per hour
Nagoya and Kyoto are major stations on the JR Tokaido Shinkansen. Nozomi trains require about 35 minutes to reach Nagoya from Kyoto, while Hikari and Kodama trains take between 40 and 60 minutes. The regular one way fare from Kyoto to Nagoya is 5170 yen for a non-reserved seat and around 6000 yen for a reserved seat. The Japan Rail Pass is valid on Hikari and Kodama trains, but not on Nozomi trains.
With the "Puratto Kodama Economy Plan", you can travel from Kyoto to Nagoya with a reserved seat on a Kodama train for only 4400 yen and will receive one drink for free. The "Puratto Kodama Economy Plan" has to be purchased at least one day before departure from JR Tokai travel agency.
By local JR trains
One transfer, 135 minutes, 2640 yen, several trains per hour
By local trains on the JR Tokaido Line, the one way trip from Kyoto to Nagoya takes about 2 hours and 15 minutes and requires a transfer of trains at Maibara Station. The one way fare is 2640 yen.
By bus
Direct, 2.5 hours, about 2500 yen, multiple buses per day
Multiple companies operate frequent daytime highway buses between Nagoya Station and Kyoto Station. The one way trip takes around 2.5 hours and costs about 2500 yen. A round trip ticket is available for around 4000 yen. Online reservations can be made through Japan Bus Online
Above fees and schedules are subject to change. Be sure to check current yen exchange rates.
Getting around
Nagoya and surroundings are served by multiple railway companies and six subway lines. Japan Railways (JR) including the Tokaido Shinkansen (bullet train), Meitetsu Railways, Kintetsu Railways, the Aonami Line and two subway lines converge at Nagoya Station.
A network of bus lines complements the rail network, but it is not easy to use for foreigners. The exception is the Meguru loop bus for tourists, which connects Nagoya Station with several of the city's main tourist attractions.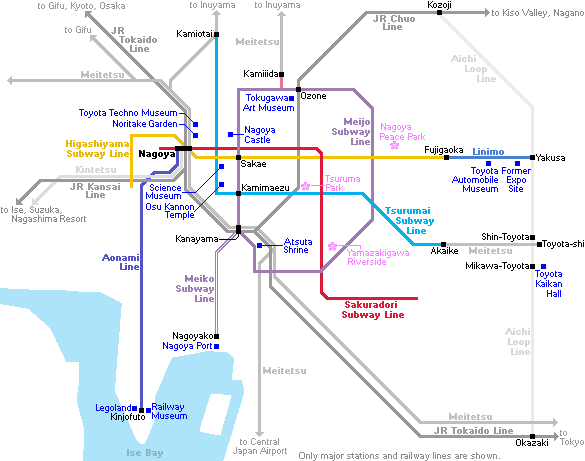 Nagoya Subway
The most convenient means of getting around Nagoya for foreign visitors are the city's six subway lines. Color coded and thoroughly bilingual, they are easy to navigate, and provide convenient access to most of central Nagoya's attractions.
Meguru Loop Bus
This loop bus line for tourists connects Nagoya Station with many of Nagoya's major sights, including the Toyota Techno Museum, Noritake Garden, Nagoya Castle, the Tokugawa Art Museum and Sakae. Buses operate every 20-30 minutes on weekends and every 30-60 minutes on weekdays, but they do not operate on Mondays (or the following day if Monday is a national holiday) when the museums are closed. The fare is 210 yen per ride or 500 yen for a day pass for unlimited rides on one calendar day.
JR (Japan Railways)
JR connects Nagoya via the Tokaido Shinkansen with Tokyo, Kyoto and Osaka. Other JR lines commencing or passing through Nagoya are the Tokaido Main Line, Chuo Line (to Kiso Valley, Nagano), Kansai Line (in direction of Ise) and Takayama Line (to Takayama). While they are useful for side trips out of Nagoya, the JR lines are not very useful for getting around the city of Nagoya.
Meitetsu (Nagoya Railways)
Meitetsu Railways operates numerous railway lines from Nagoya Station into Nagoya's suburbs and surrounding regions. Meitetsu's main station is located in the basement below JR Nagoya Station and is also known as Meitetsu Nagoya Station. Of interest to foreign travelers are the Inuyama Line (to Inuyama), Toyota Line (to Toyota) and the Airport Line (to Central Japan Airport).
Kintetsu Railways
Kintetsu Railways connects Nagoya Station with Ise and various cities in the Kansai region, including Nara and Osaka.
Linimo (Tobu Kyuryo Line)
The Linimo started service as Japan's first maglev train in March 2005. It operates between Fujigaoka and Yakusa Stations and provided access to the Expo 2005 site.
Passes and Tickets
Toica (by JR) and Manaca (by Meitetsu and Nagoya Subway) are the prepaid IC cards that can be purchased in Nagoya and used on virtually all trains, subways and buses in the Greater Nagoya region (and many other major cities in Japan) instead of cash. Furthermore, eight IC cards from other major cities of Japan can also be used on the trains and buses of Nagoya, including Suica, Pasmo, Icoca, Pitapa, Sugoca, Nimoca and Hayakaken.
Alternatively, there are several one-day passes available for getting around Nagoya:
Shoryudo Nagoya Subway & Bus 1 Day Pass (620 yen)
Not available to residents of Japan, this ticket provides unlimited use of subways and city buses (including the Meguru loop pass) on one calendar day. It can be purchased at Central Japan Airport and a small number of tourist information centers and ticket counters in central Nagoya (around Nagoya, Kanayama and Sakae stations).
One Day Subway Pass (760 yen)
Unlimited use of subways on one calendar day. Available at vending machines in subway stations and at ticket counters.
One Day Bus and Subway Pass (870 yen)
Unlimited use of subways and city buses (including the Meguru loop bus) on one calendar day. Available at vending machines in subway stations, at ticket counters and from bus drivers.
Donichi Eco Ticket (620 yen)
This one-day pass is valid only on Saturdays, Sundays, national holidays and on the 8th of every month. It provides unlimited use of subways and city buses (including the Meguru loop bus) on one calendar day. It is available at vending machines in major subway stations, at ticket counters and from bus drivers.
Questions? Ask in our forum.