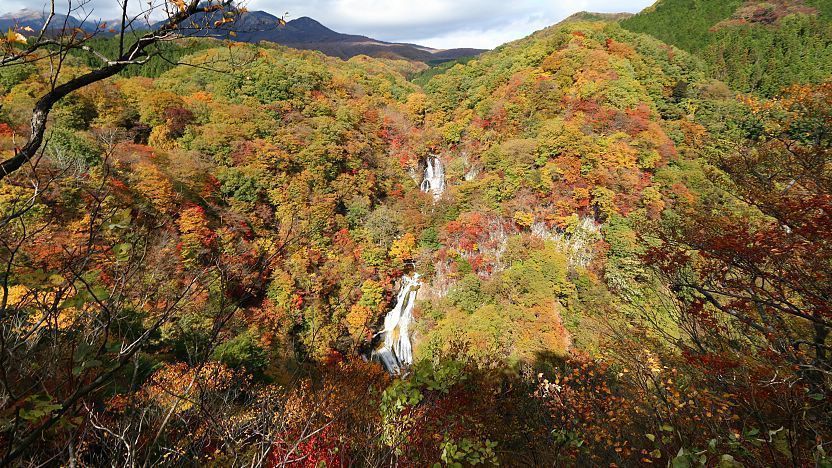 Kirifuri Waterfall (霧降の滝, Kirifuri no taki) is an impressive, 75 meter high, two-tiered waterfall located below the Kirifuri Highlands, a few kilometers northeast of the temples and shrines of Nikko. The sight of the elegant falls cascading down the mountain provides a nice contrast to the surrounding foliage, which is lush and green in spring and summer and displays fiery shades of red, orange and gold in autumn.
The name Kirifuri means "falling mist" after the fine mist that is created when the water crashes against the rocks at the bottom of the lower falls. The view may occasionally be obscured when mist or fog covers the valley. It used to be possible to hike down to the base of the waterfalls, but the trail down the mountain partially collapsed several years ago and has been closed ever since.
Instead, the waterfall can be seen from a wooden observation deck built high up on the mountain across the valley from the falls. The observation deck is located a ten minute walk down a mostly paved trail from the parking lot and bus stop, where you will also find two restaurants and public toilets. Autumn colors in the area are usually best around late October to early November.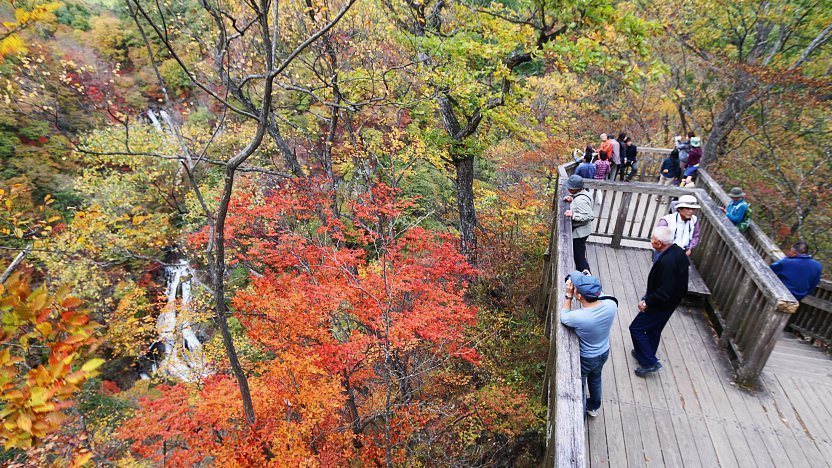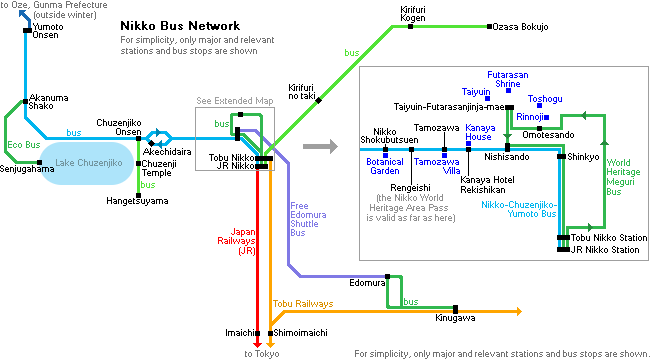 From April to late November, Kirifuri Waterfall is connected by bus from JR Nikko and Tobu Nikko stations about once per hour. Take a bus in direction of Kirifuri Kogen (霧降高原) and get off at Kirifuri-no-taki bus stop (霧降の滝) from where it is a ten minute walk to the observation deck . The one way bus ride takes about ten minutes and costs 340 yen and is covered by the Nikko All Area Pass. Note that the buses do not stop near the temples and shrines of Nikko, and they do not run from late November through March.
The "Kirifuri no taki Free Pass" is a discount bus pass that costs only 600 yen and is valid on one calendar day on buses between Nikko Station and the waterfall, as well as on the World Heritage loop buses in central Nikko.
How to get to and around Nikko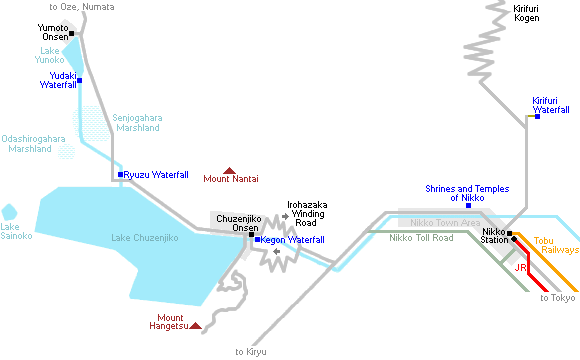 Questions? Ask in our forum.