The Sun Q Pass is a bus pass for unlimited use of most buses on Kyushu on three or four consecutive calendar days. The pass is valid on both local buses and long distance highway buses and can get travelers to most places around the island. The pass is sold inside Japan and can be used by both foreign tourists and residents of Japan. It is an interesting alternative to the Kyushu Rail Pass.
In addition to the "All Kyushu" version of the pass, there exist also 3-day versions for "Northern Kyushu" and "Southern Kyushu", which can be used just in the respective halves of Kyushu.
Sun Q Pass

All Kyushu

3 days

11,000 yen

4 days

14,000 yen

Northern Kyushu

3 days

9,000 yen

Southern Kyushu

3 days

8,000 yen
The map below shows major long distance bus lines which are covered by the Sun Q Pass: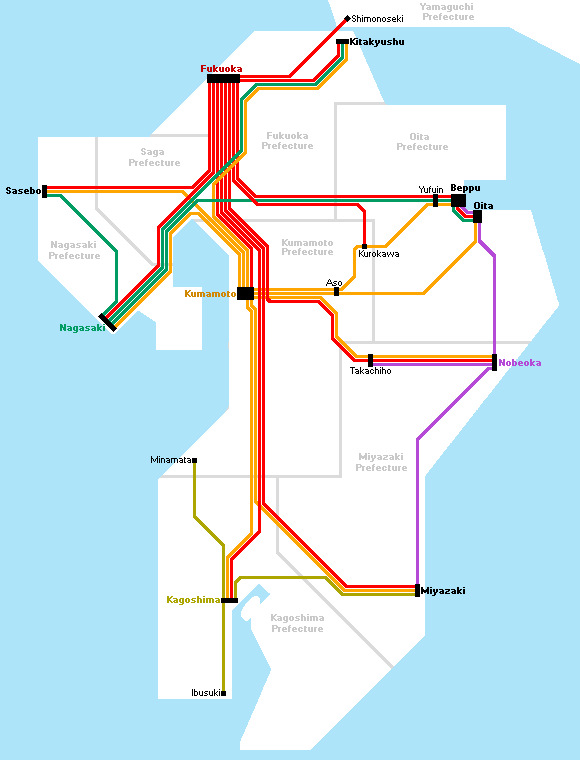 Validity
Unlimited use of local buses and highway buses of participating companies, which, according to the bus operators, account for over 2000 routes and 99 percent of all bus lines on Kyushu. The pass is not valid on bus lines which start or end outside of Kyushu, except a few lines to the Shimonoseki area on the westernmost tip of Honshu across the straight from Kyushu.
The pass is also valid on a small number of ferry lines, including the ferries between Kagoshima and Sakurajima and some ferries between Kumamoto and the Shimabara Peninsula.
Seat reservations can be made for free for long distance buses which require seat reservations.
The pass is valid on three or four consecutive days. A day is defined to start and end at 3am. If you board an overnight bus on the last day of your pass' period of validity, you are allowed to keep riding the bus until the following morning.
The "Northern Kyushu" pass is only valid in Fukuoka, Saga, Nagasaki, Oita and Kumamoto prefectures and the Shimonoseki area, while the "Southern Kyushu" pass is only valid in Kumamoto, Miyazaki and Kagoshima prefectures.
The pass can be used by foreign tourists and residents of Japan alike.
Pass holders are entitled to discounts and free gifts at designated sightseeing spots, hotels and restaurants across Kyushu.
Point of Sale
The Sun Q Pass is sold at bus terminals across Kyushu and at a few bus terminals in the rest of Japan. The pass can also be purchased through travel agents in Japan, however, in that case you will receive a voucher that has to be exchanged to the actual pass in Kyushu before use.
Assessment
In Kyushu, highway buses are often an attractive alternative to trains, because buses tend to be considerably cheaper than express trains and they are about equally fast as trains (except shinkansen). On some routes, buses are even faster. The Sun Q Pass makes bus travel in Kyushu easier and more convenient and can also make it cheaper.
However, for the pass to pay off, the pass holder has to cover long distances within a short time period. For example, even a round trip between Fukuoka and distant Kagoshima still comes cheaper by regular ticket (8,000 yen) than by the 3-day pass (10,000 yen). On the positive side, the pass also covers most urban and local bus transportation and provides comfort over purchasing single tickets.
Alternative Tickets
The Kyushu Rail Pass is the almost identical offer for trains in Kyushu. Depending on the individual itinerary, either pass could be more suitable. Unlike the Sun Q Pass, the Kyushu Rail Pass is not available to residents of Japan.
Questions? Ask in our forum.