Shoryudo Highway Bus Ticket
The Shoryudo Highway Bus Ticket is a bus pass available exclusively to foreign travelers, which provides unlimited use of designated buses in the Chubu Region as well as airport access. There are three versions: two 3-day passes and a 5-day pass with a variety of coverage areas.
Shoryudo Highway Bus Ticket

3 days - Takayama, Shirakawago, Kanazawa

9,000 - 10,000 yen

3 days - Matsumoto, Magome, Komagane

8,000 yen

5 days - Wide Area

14,000 yen
Validity
The map below shows the bus lines covered by the Shoryudo Highway Bus Ticket: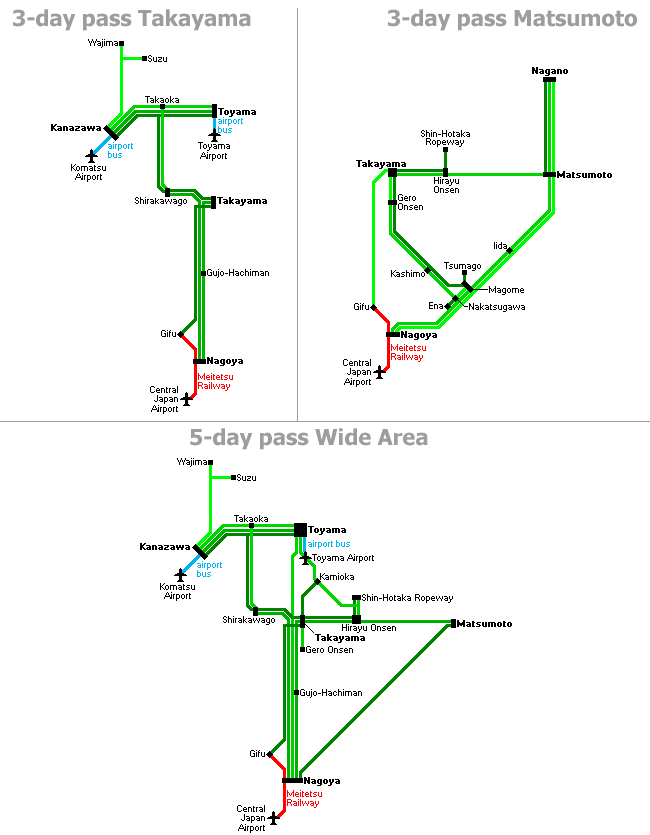 Unlimited use of highway and local buses shown on the map above.
Two tickets good for airport transfer to/from Central Japan Airport (by Meitetsu Railway), Toyama Airport (by bus to/from Toyama Station), and/or Komatsu Airport (by bus to/from Kanazawa Station).
The Shoryudo Highway Bus Ticket is valid for three or five consecutive days. The validity is based on calendar days (midnight to midnight) as opposed to 24-hour periods.
Only foreign visitors to Japan (on temporary visitor status) can use the pass. It cannot be used by residents of Japan.
The pass can only be used by a single person. It cannot be transferred between multiple persons. The pass holder has to carry his/her passport at all times.
Additional Notes
Advance reservations are required to ride some of the buses. Reservations can be made at the ticket windows of bus terminals (such as the Meitetsu Bus Center in Nagoya, the Takayama Nohi Bus Center or the Hokutetsu bus terminal in front of Kanazawa Station) up to the time of departure.
Points of Sale
The Shoryudo Highway Bus Ticket can be purchased through travel agents outside of Japan. You will initially receive a voucher that has to be exchanged for the actual pass at a designated exchange location at Central Japan Airport, Nagoya, Kanazawa, Takayama, Toyama or Komatsu Airport. Only the 5-day pass can also be exchanged in Matsumoto. At the time of purchase, you will specify a starting date for the pass. The exchange order must be redeemed by this date.
Assessment
The Shoryudo Highway Bus Ticket is a good deal for travelers interested in visiting the region covered, especially if starting and ending in Nagoya. It easily pays off in just a few bus rides and is likely to provide considerable savings over regular tickets.
Alternative Tickets
The Takayama-Hokuriku Area Tourist Pass is more expensive but also includes travel between Kanazawa and Kyoto/Osaka over a total of five consecutive days. Other passes of interest to travelers to the region may include the JR Hokuriku Area Pass and JR Kansai Hokuriku Area Pass.
Questions? Ask in our forum.