Osaka: Getting there and around
How to travel between Osaka and Tokyo
By shinkansen
Direct, 155-175 minutes, about 14,000 yen one way, multiple connections per hour
Tokyo (Tokyo and Shinagawa Stations) and Osaka (Shin-Osaka Station) are connected with each other by the JR Tokaido Shinkansen. Nozomi trains require about 155 minutes to reach Shin-Osaka Station from Tokyo, Hikari trains about three hours and Kodama trains about four hours.
The regular one way fare is 13,870 yen by non-reserved seat or around 14,500 yen by reserved seat. A 7-day Japan Rail Pass costs about the same as regular round trip tickets. The Japan Rail Pass is valid on Hikari and Kodama trains, but not on Nozomi trains.
Only available to foreign passport holders, the "Shinkansen Round Trip Package" provides a round trip within seven calendar days by non-reserved seat on any train between Tokyo and Shin-Osaka for around 23,000 yen. The ticket can be purchased at JR Tokai Tours travel agencies.
With the "Puratto Kodama Economy Plan", you can travel between Tokyo and Osaka by reserved seat on a Kodama train for only 10,700 yen, but the plan has to be purchased at least one day in advance from JR Tokai Tours travel agencies.
The Tokyo-Osaka Hokuriku Arch Pass is a rail pass that allows holders to travel between Tokyo and Osaka via Kanazawa, using the Hokuriku Shinkansen. It is not the fastest way to travel between Tokyo and Osaka, but it allows pass holders to visit the less-explored Hokuriku Region along the way. At 24,440 yen for seven consecutive days, the pass is cheaper than a 7-day Japan Rail Pass.
By highway bus
Direct, 8 hours, 3,00-20,000 yen one way, multiple daytime and overnight connections per day
The one way trip from Tokyo to Osaka by highway bus takes about 8 hours. There are daytime and overnight buses. Fierce competition on the Tokyo-Osaka route has produced a wide variety of comfort levels (from discount to super premium buses) and an abundance of low priced offers. Typical one way fares for discount buses, such as Willer Express, start from around 3000 yen; while premium buses charge up to 20,000 yen. If used effectively, the Japan Bus Pass can also reduce the cost for the bus trip to around 3000 yen. Online reservations can be made through Willer and Japan Bus Online.
By air
2-3 transfers, 3-4 hours, 6,000-20,000 yen one way, multiple flights per day
Multiple airlines operate between Tokyo and Osaka. A majority of flights use Tokyo's Haneda Airport and Osaka's Itami Airport, but a smaller number of flights also serve Tokyo's Narita Airport and Osaka's Kansai Airport. The regular one way fare by conventional airlines is about 26,000 yen, however, few travelers pay more than 15,000 yen thanks to various discount fares. One way fares by discount airlines start from around 4500 yen, but most are using the less centrally located Narita Airport and Kansai Airport. Flight duration is one hour.
By car
6 hours without breaks, around 13,500 yen one way in expressway tolls
Driving between Tokyo and Osaka via the Tomei and Meishin Expressways takes about six hours without breaks and traffic jams. The expressway toll is around 13,500 yen one way.
By local trains
4 transfers, 9-10 hours, 2370-8750 yen one way
By local trains, the one way trip from Tokyo to Osaka takes nine to ten hours and typically involves about four transfers of trains. The regular fare is a relatively expensive 8910 yen, however, with a Seishun 18 Kippu you could theoretically do the trip for as little as 2410 yen.
Above fees and schedules are subject to change. Be sure to check current yen exchange rates.
Getting around
Osaka has two major city centers and four major train stations. The two city centers are nicknamed Kita ("North") around Osaka/Umeda Station and Minami ("South") around Namba Station. While Kita is a large shopping and business area, Minami is Osaka's most famous entertainment district.
JR Osaka Station is located in the center of the Kita district. Two other railway companies and three subway lines have their own stations in the vicinity of JR Osaka Station. Note that some of them are named after the Umeda district rather than Osaka. The shinkansen trains stop not at Osaka Station, but at Shin-Osaka Station, one station north of Osaka Station by JR train.
In the Namba area (Minami), three railway companies (JR, Nankai and Kintetsu) and three subway lines have their separate stations, all named Namba Station. The fourth of Osaka's major railway stations is Tennoji Station in the southeast of central Osaka. It is served by JR, Kintetsu Railways, the Hankai Tramway and two subway lines.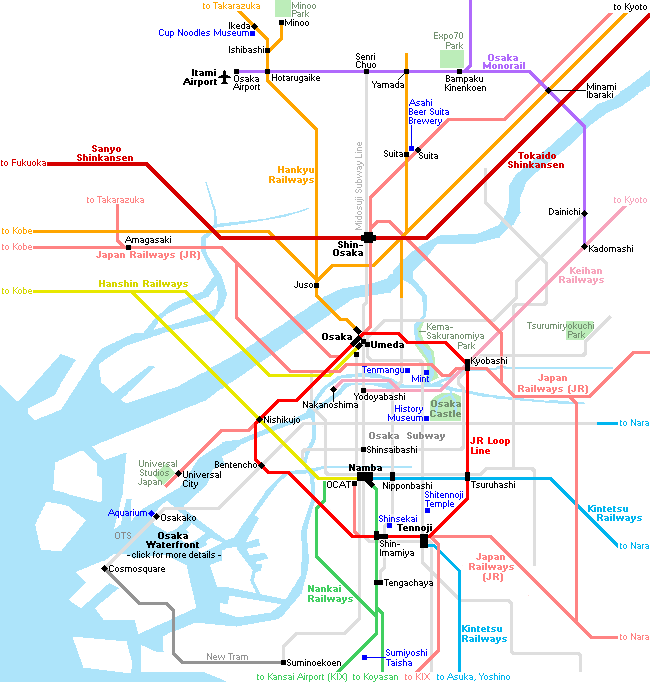 The city of Osaka is served by over seven different railway and subway companies. Most relevant to foreign visitors of Osaka are the subway lines and the lines operated by JR West. The lines operated by the other private railway companies are useful for accessing neighboring cities and regions.
Passes and Tickets
See also our separate page about the various passes available for the Greater Osaka Region.
The prepaid IC card available in Osaka is called Icoca. It does not give you any discounts over regular tickets, but it makes the process of taking trains easier, as you do not always need to buy a ticket before riding a train. Icoca cards can be purchased through ticket machines at JR stations. Local non-JR railway companies offer their own IC card called Pitapa; however, Pitapa is a postpaid card that works more like a credit card and is targeted at residents rather than tourists.
Icoca and Pitapa can be used on most trains and buses in the Greater Osaka region (and many other major cities in Japan). Additionally, eight other IC cards from other major cities of Japan can also be used on the trains and buses of Greater Osaka, including Suica, Pasmo, Kitaca, Toica, Manaca, Sugoca, Nimoca and Hayakaken.
The Kansai One Pass is a special version of Icoca exclusively for foreign tourists that additionally qualifies for discounts at various attractions in the Kansai Region. It is available for sale at Kansai Airport and major railway stations in the Kansai Region.
Furthermore, the following one day passes are available for the Osaka area:
Osaka Amazing Pass (1-day: 2800 yen, 2-days: 3600 yen)
The Osaka Amazing Pass (formerly: Osaka Unlimited Pass) provides unlimited use of subways and city buses within Osaka City on one or two consecutive calendar days, plus free admission to many of Osaka's popular tourist attractions such as Osaka Castle and the Umeda Sky Building. The one-day pass additionally covers non-JR trains in central Osaka. Sales locations include tourist information centers and travel agencies. The pass is a very good deal if visiting several of the tourist attractions covered.
Osaka One-Day Enjoy Eco Card (800 yen on weekdays, 600 yen on weekends and public holidays)
Unlimited use of subways, city buses and the New Tram (but excluding the OTS Line) on one calendar day. The pass also provides discounts on admission to designated sightseeing spots. It can be purchased at subway stations and kiosks. The pass is a good value and easily pays off, especially on weekends and if visiting spots with discounted admission.
Questions? Ask in our forum.
Kaneyoshi Ryokan

A modern Japanese inn in Dotombori. the center of Osaka. 2 subway stations nearby. Close to many shops and Osaka Castle.

View site

Sponsored
Top rated in Osaka
powered

by