Shinsekai
Nostalgia evoking district around Tsutenkaku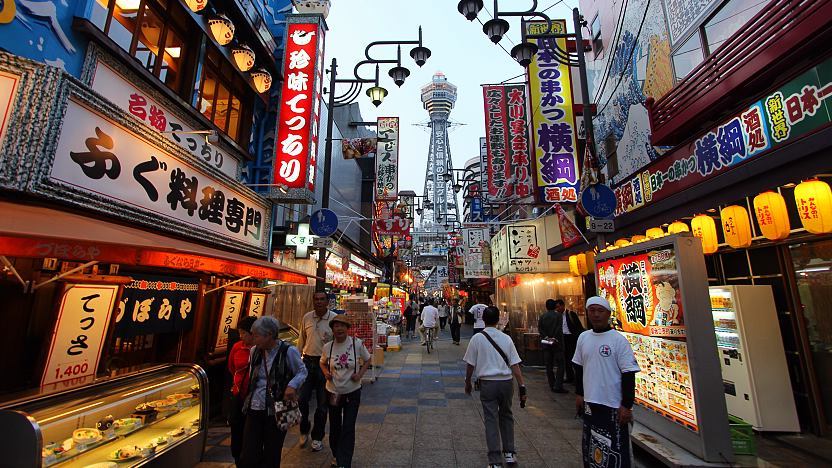 Shinsekai (新世界, lit. "New World") is a district in Osaka that was developed before the war and then neglected in the decades afterwards. At the district's center stands Tsutenkaku Tower, the nostalgia-evoking symbol of Shinsekai.
The area was developed into its current layout following the success of the 1903 National Industrial Exposition, which brought over five million people to the neighborhood within just five months. Shortly after the expo closed its doors, work began to improve and update Shinsekai.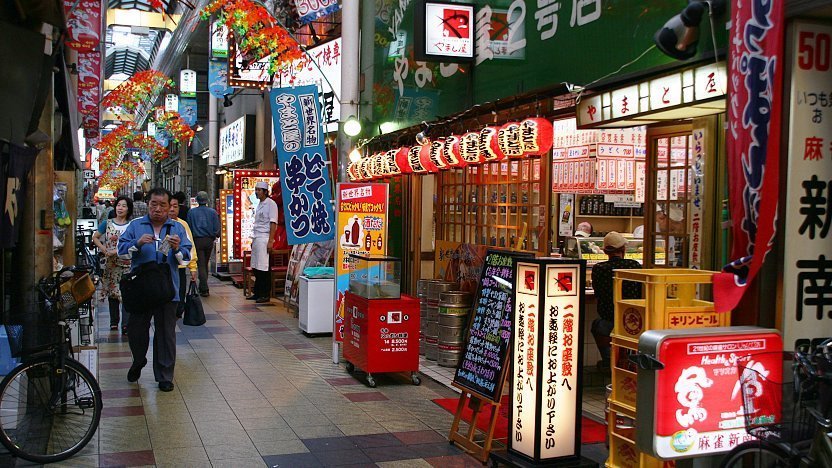 Paris was chosen as the model for Shinsekai's northern half, while the southern portion was built to imitate Coney Island in New York. Tsutenkaku Tower was constructed in 1912 after Paris' Eiffel Tower. Although it was scrapped during WWII, the tower was reconstructed soon afterwards in 1956. The current tower is 103 meters high, with the main observatory at a height of 91 meters. In addition, the tower offers an open-air deck on top of the main observatory and a 60 meter long slide at the base of the tower.
Another noted attraction is kushikatsu, one of Osaka's best known specialties. It is a dish, composed of various skewered, battered and deep fried foods. Varieties on offer range from chicken and beef, to pumpkin and asparagus, to the banana and ice cream dessert varieties. Many of Shinsekai's kushikatsu restaurants are open 24 hours, but only truly come alive when the lights come on at night.
Shinsekai is also home to Spa World, a huge bath complex with a large number of pools on a European-themed floor and an Asian-themed floor. The floors are switched between genders each month, and bathing is enjoyed naked. Natural hot spring water is pumped up from far below the earth's surface.
Today, Shinsekai has a reputation as one of Japan's more seedy and dangerous neighborhoods, a fact that is more reflective of the country's high standard of safety than anything else. Nevertheless, there is a sizeable homeless population around Shinsekai, and the neighborhood south of the JR railway tracks is one of the few areas in Japan where open prostitution occurs without much police interference.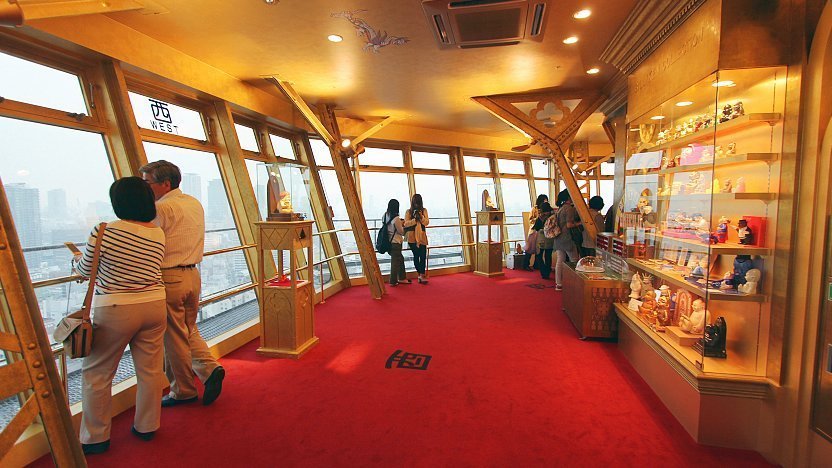 Shinsekai is a short walk from Shin-Imamiya Station on the JR Osaka Loop Line, Dobutsuen-mae Station on the Midosuji and Sakaisuji subway lines, and Ebisucho Station on the Sakaisuji Subway Line.
How to get to and around Osaka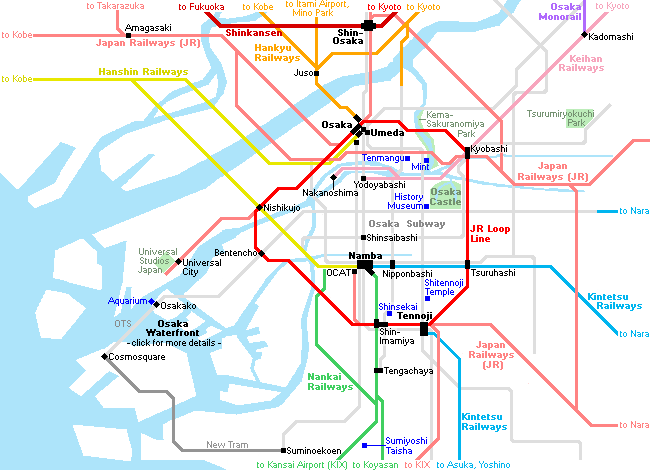 Tsutenkaku Tower
Hours
10:00 to 20:00 (entry until 19:30)
Admission
900 yen (additional 300 yen for the open-air deck and 1000 yen for slide)
800 yen if purchased through
Klook
Buy ticket online
Spa World
Hours
10:00am to 8:45am (on the following morning)
Closed
Infrequent, irregular closures for inspection
Admission
1500 yen (plus 1450 yen between midnight and 5am)
Questions? Ask in our forum.
Kaneyoshi Ryokan

A modern Japanese inn in Dotombori. the center of Osaka. 2 subway stations nearby. Close to many shops and Osaka Castle.

View site

Sponsored
Top rated in Osaka
powered

by