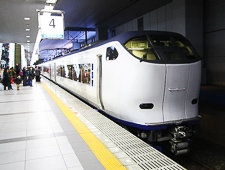 JR Limited Express "Haruka"
About 2000 yen, 30 minutes to Tennoji
About 2500 yen, 50 minutes to Shin-Osaka
About 3000 yen, 70 minutes to Kyoto
Departures every 30 minutes
The Haruka is a comfortable
train
for travelers to and from the airport, which connects to
Tennoji
(a large station in southern Osaka), Shin-Osaka (the
shinkansen
station of Osaka) and Kyoto. Reserved and non reserved seats are available. Thanks to the
Icoca & Haruka
discount ticket, the Haruka can also be a relatively economical option.