How to travel between Hakone and Fuji Five Lakes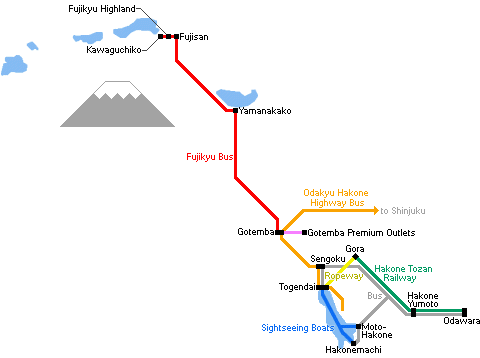 Take the Odakyu Hakone Highway Bus from Togendai or Sengoku in the Hakone area to Gotemba Station (25-35 minutes, 710-1020 yen, 2 buses per hour) and then the Fujikyu Bus from Gotemba Station to Kawaguchiko Station in the Fuji Five Lake area (1 hour, 1510 yen, 1-2 buses per hour, see timetable).
The Japan Rail Pass is not valid on either bus, while the Hakone Free Pass is valid on the Odakyu Hakone Highway Bus until Gotemba but not on the Fujikyu Bus.
Above fees and schedules are subject to change. For the current yen exchange rate, click here.
Orientation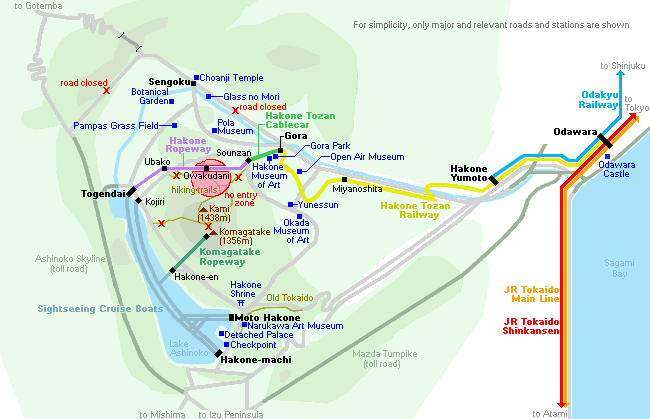 The municipality of Hakone covers a mountainous region with several small towns, among which Moto-Hakone and Hakone-machi at the shores of Lake Ashi and the hot spring town of Hakone-Yumoto down in the valley, are the region's main transportation hubs.
An efficient network of buses, trains, cablecars, ropeways and sightseeing boats, as well as some attractive, easy-to-use passes (see below) make Hakone a great place to explore by public transportation. A popular way of seeing Hakone is by circling the region by five different means of transportation, also known as the Hakone Round Course.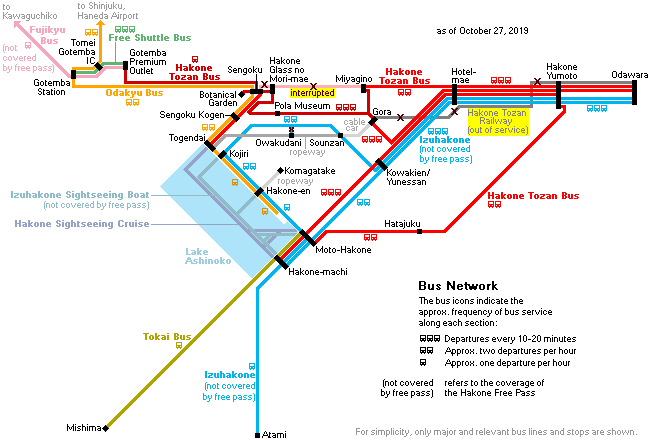 Passes and Tickets
A variety of easy-to-use passes make access to and transportation around Hakone easy:
Hakone Free Pass (from 4600 yen)
The Hakone Free Pass provides two or three days of unlimited use of all Odakyu affiliated trains, buses, boats, cablecars and ropeways in the Hakone area. It optionally, also includes a round trip between Tokyo and Hakone.
Fuji Hakone Pass (from 6740 yen)
The Fuji Hakone Pass covers not only transportation around Hakone, but also transportation to and around the Fuji Five Lake region at the northern base of Mount Fuji on three days. It also optionally includes transportation from Tokyo and back.
Hakone Kamakura Pass (7000 yen)
The Hakone Kamakura Pass provides three days of unlimited use of trains on the entire Odakyu rail network, transportation around Hakone, as well as access to Kamakura.
External Links and Resources