Enoura Observatory
Observatory combined with contemporary art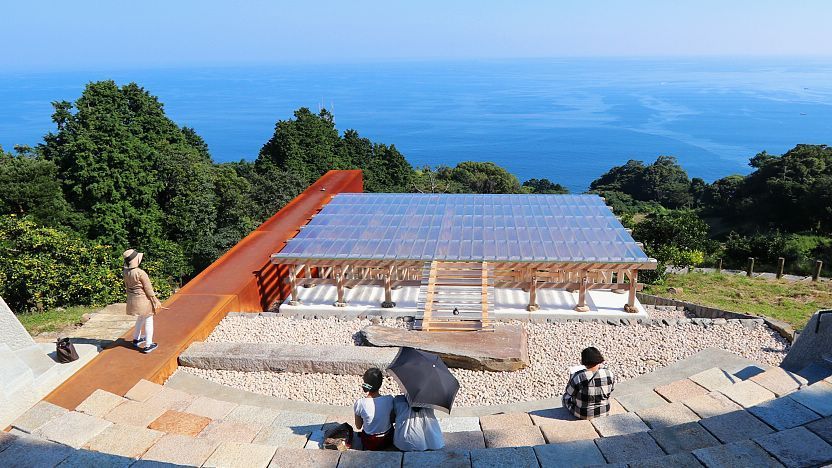 Enoura Observatory (Ź]öVëYŬîˇĆŐ, Enoura Sokkōjo) is a unique outdoor museum, featuring contemporary art installations, fascinating architecture and nice observation decks in the coastal hills south of central Odawara City, not far from Hakone. The artwork is designed to blend into the surrounding terrain, and multiple structures are aligned with respect to the sun.
The spacious observatory overlooks the Pacific Ocean and is separated into two sections. The main Meigetsu Gate Area is the site of the art gallery and the observation platforms. The 100 meter long gallery and its viewing platform are aligned to the sunrise on the summer solstice, while a steel tunnel and a glass stage are built to face the sunrise on the winter solstice. In addition, stones and stone sculptures from all across Japan can be found here.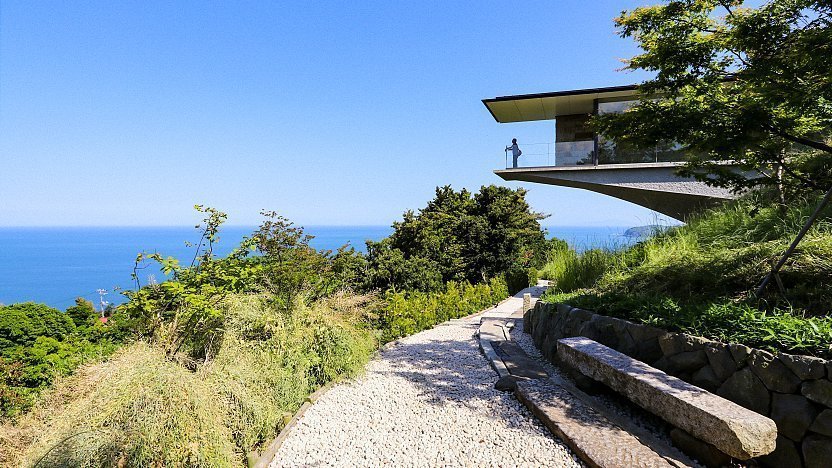 The Bamboo Grove Area makes up a secondary part of the premises and is located about a 5-10 minute walk away. Like its name suggests, the area is forested. Besides a bamboo grove there are citrus trees and evergreen trees that surround the sights. Walking paths lead through the area and include some slopes and steps. Among the area's highlights are an installation called "Mathematical Model 0010" and a shed that contains fossils and excavated tools.
Exploring the Enoura Observatory at a leisurely pace takes about 1-2 hours. Advance reservations are required, and there are two admission times to choose from. Upon arrival, visitors are asked to go to the reception building first to register and receive an informative guidebook before starting their individual exploration of the premises.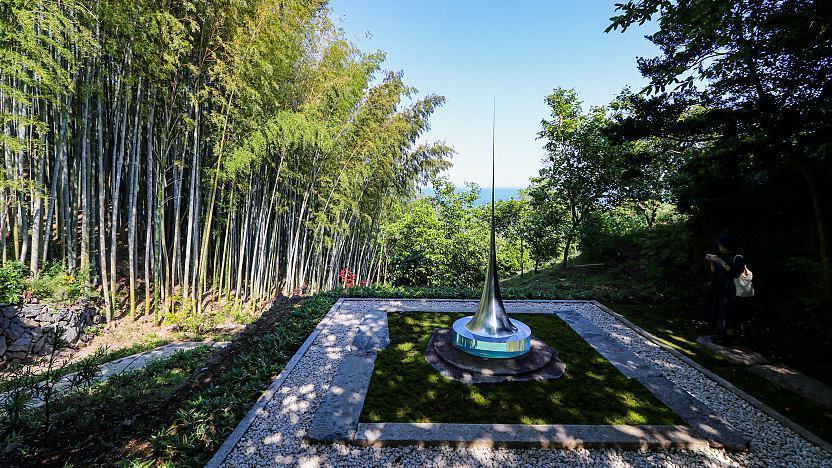 Enoura Observatory is best accessed from Nebukawa Station (8 minutes, 200 yen one way from Odawara Station) on the JR Tokaido Main Line. A free shuttle bus operates between the station and the observatory, and it is best to confirm the bus departure times on the official website before going. Alternatively, it takes about 45 minutes to walk to the observatory from the station.
How to get to and around Hakone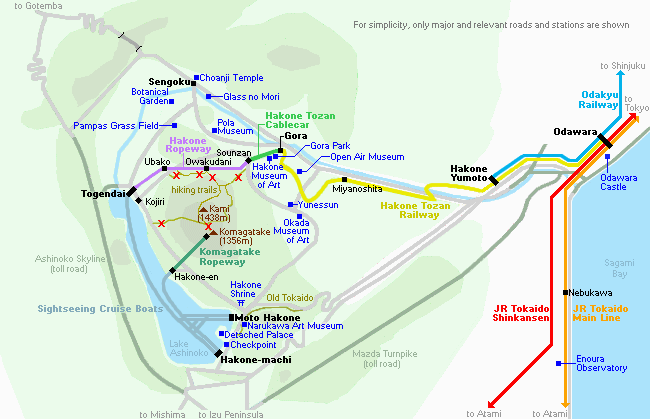 Hours
Two admission times a day: 10:00 to 13:00 and 13:30 to 16:30
Advance reservations are required.
Closed
Tuesdays, Wednesdays and
New Year
holidays
Questions? Ask in our forum.
Kijitei Hoeiso

A peaceful ryokan with private outdoor onsen baths. Surrounded by beautiful nature. 10min from Hakone Yumoto Sta by bus. Wi-Fi available. English speaking staff.

View site

Sponsored
Top rated in Hakone
powered

by