Nagasaki: Getting there and around
How to travel between Nagasaki and Tokyo
By train
Take the JR Tokaido/Sanyo Shinkansen from Tokyo to Fukuoka's Hakata Station and transfer to the JR Kamome limited express train to Nagasaki.
When using a direct Nozomi train along the Tokaido/Sanyo Shinkansen, the entire journey takes about 7.5 hours. Japan Rail Pass holders using Hikari and Sakura trains, will require about 8.5 hours and an additional transfer of trains at Shin-Osaka Station. The one way fare is around 26,000 yen, which compares to 29,650 yen for a 7-day Japan Rail Pass. The rail pass is valid on Hikari and Sakura trains, but not on Nozomi and Mizuho trains.
By air via Nagasaki Airport
JAL, ANA and Solaseed are operating frequent flights between Tokyo's Haneda Airport and Nagasaki Airport, while Jetstar and Peach connect Nagasaki with Narita Airport. Flight time is approximately two hours. The regular one way fare of JAL and ANA is around 44,000 yen, but discount offers are usually available for around 13,500 to 33,000 yen. The fares of Solaseed are typically 20 percent lower than the ones by JAL and ANA, while fares by Peach and Jetstar start around 6,500 yen one way.
Nagasaki Airport is located 45 minutes outside of central Nagasaki by bus. The ride costs 1000 yen one way.
By air via Fukuoka Airport
The Tokyo-Fukuoka route is the one of the world's busiest air route. Accordingly competition is fierce, resulting in the probability that flying from Tokyo to Fukuoka followed by a bus trip to Nagasaki comes cheaper than flying directly into Nagasaki Airport. From Fukuoka Airport, buses depart to Nagasaki every hour. The one way trip from Fukuoka Airport to Nagasaki takes 2.5 hours and costs 2620 yen.
Above fees and schedules are subject to change. For the current yen exchange rate, click here.
Getting around
Nagasaki is most easily navigated by tram and on foot. The city center with most major tourist attractions is situated about one kilometer (or five minutes by tram) southeast of Nagasaki Station. Among the major sights, only the Peace Park is not centrally located, several kilometers (or ten minutes by tram) north of Nagasaki Station in the Urakami district.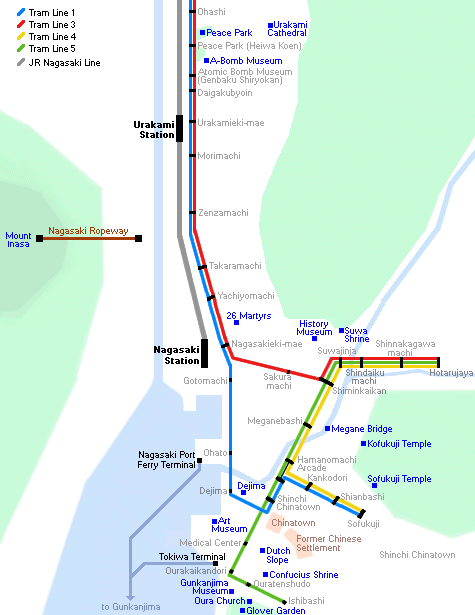 Trams
Nagasaki is served by four tram lines. Operated by Nagasaki Electric Tramway, the tram lines provide easy access to most of the city's main attractions and run approximately every 5-8 minutes from 6:00 to 23:00.
Enter the tram through the rear door and exit through the front door. Pay the driver when exiting. One ride costs a flat 130 yen per ride regardless of how far you travel. A 1-day pass for unlimited use of trams on one calendar day is available for 500 yen.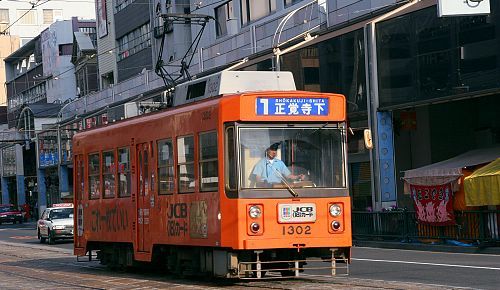 The tram network is designed in a way in which it is possible to reach almost any tram stop from any other tram stop without the need of a transfer.
Only at Tsukimachi tram stop, it is sometimes necessary to transfer between lines 1 and 5. Therefore, transferring passengers can ask for a transfer ticket when exiting a tram at Tsukimachi in order to avoid paying twice. Hand the transfer ticket to the driver of the second tram when exiting.
Buses
Nagasaki is also served by a network of city buses, operated by Nagasaki Bus. However, the average visitor is unlikely to use buses, except maybe for accessing Mount Inasa.
Nagasaki Airport
Nagasaki Airport is located about 30 kilometers northeast of the city center. The one way journey from the airport to Nagasaki Station by bus takes 45 minutes and costs 1000 yen. There are departures every twenty minutes.
Questions? Ask in our forum.