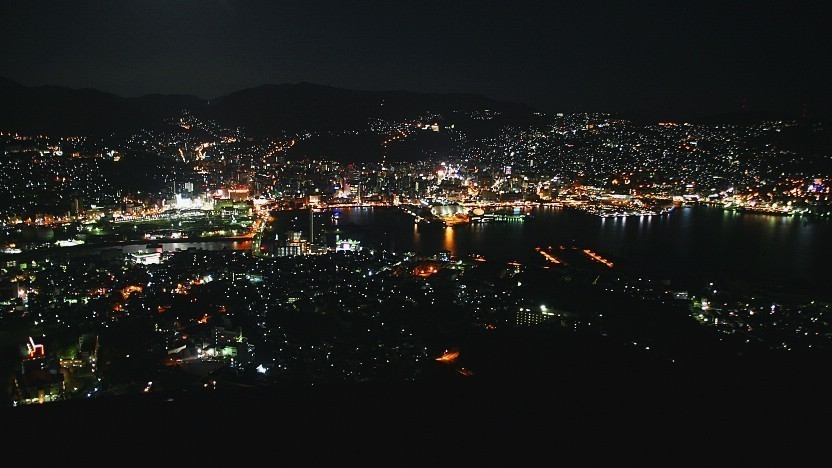 Mount Inasa (稲佐山, Inasayama) is a 333 meter high mountain close to Nagasaki's city center.
The summit can be reached by ropeway, bus or car and offers great views over the city. In fact, the night views from Mount Inasa are ranked among Japan's three best night views besides the views from Mount Hakodate and Mount Rokko. Several television and radio antennas and an observation deck with restaurant are located at the summit.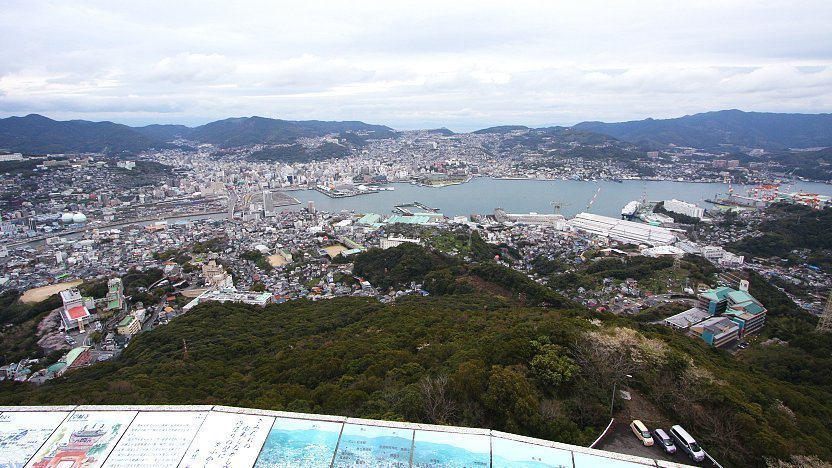 By ropeway
The ropeway ride takes five minutes and costs 730 yen (one way) or 1250 yen (round trip). A discount coupon is available online. Operation hours are from 9:00 to 22:00. There are occasional periods when the ropeway is not running due to maintenance. Gondolas depart every 15-20 minutes. The ropeway's lower station can be reached in less than ten minutes from Nagasaki Station by frequently operating Nagasaki Bus, by taxi, or in a 15 minute walk from the Takaramachi tram stop.
By car or taxi
The car ride from Nagasaki Station takes roughly 15 minutes, while a taxi ride costs around 2000 yen one way. Parking is available around the summit of Mount Inasa. A small, paid parking is located at the summit, but is closed to regular cars on Saturday evenings and in the evenings during major holidays. A larger, free parking lot is found a 15-20 minute walk down from the summit. The "Slope Car" a monorail-like means of transport runs between the free parking lot and the summit (9:00 to 22:00, 300 yen one way, 500 yen round trip).
By bus
Nagasaki Bus runs 1-2 buses per hour between Nagasaki Station and Inasayama bus stop (15 minutes, 190 yen one way), but note that it is still a 15 minute climb from the bus stop to the summit.
How to get to and around Nagasaki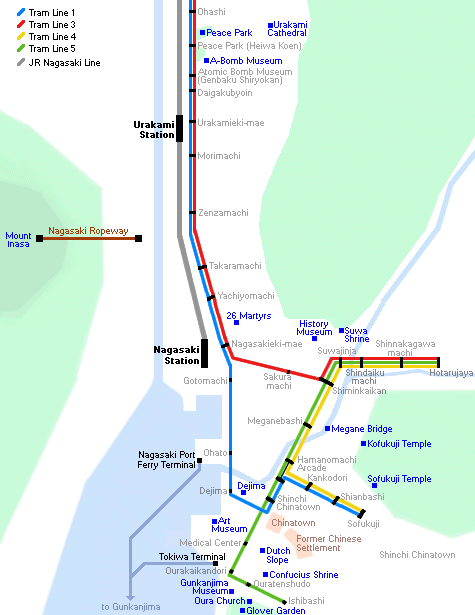 Questions? Ask in our forum.