Okinawa Islands (Okinawa Shoto)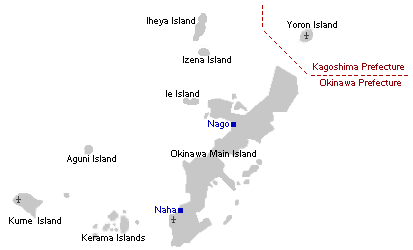 The Okinawa Islands (沖縄諸島, Okinawa Shotō) are a group of about two dozen islands around Okinawa Main Island (Okinawa Honto). They are one of three major island groups making up the Okinawa Prefecture, alongside the Miyako Islands and Yaeyama Islands further south.
Okinawa Main Island, the former center of the Ryukyu Kingdom, is home to more than half of the prefecture's population, as well as the prefectural capital Naha and the US military bases. It is the prefecture's busiest and most developed island.
The other islands in the Okinawa Shoto are much smaller than the main island, and several of them are uninhabited. Many of the smaller islands, such as Kume Island and the Kerama Islands, offer great snorkeling and diving and a more laid-back, traditional pace of life.
Top spots in Okinawa Islands
Questions? Ask in our forum.
Hotels around Okinawa Island
Top rated on Okinawa Island
powered

by
We couldn't find any listings at this budget level.
Try choosing a different budget.