How to get to Naha
Please refer to our Okinawa Main Island access page for access details.
How to get around Naha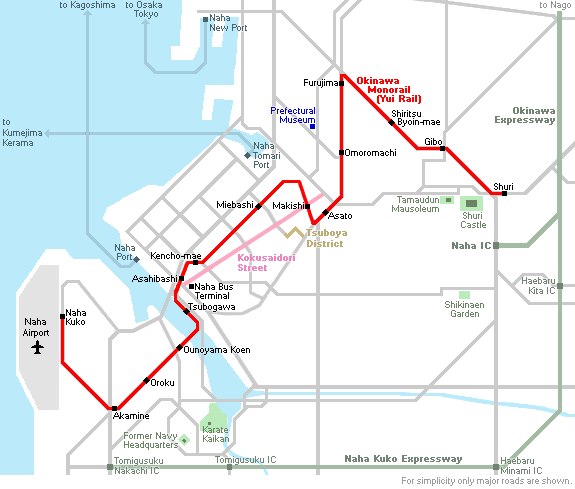 The Okinawa Monorail, popularly known as Yui Rail, provides tourists with access to most of Naha's main attractions. The single monorail line operates between Naha Airport and Shuri Station, a 15-20 minute walk from Shuri Castle, and runs through the city center, meeting the Kokusaidori twice at Asahibashi Station and Makishi Station. Asahibashi Station is also close to the Naha Bus Terminal.
A 1-day pass (800 yen) and 2-day pass (1400 yen) provide unlimited use on the Okinawa Monorail for a 24 or 48 hour period respectively. The passes include discounts on admission fees to many attractions, including Shuri Castle, the Tamaudun Mausoleum, Shikinaen Garden, the Prefectural Museum and the Former Navy Underground Headquarters.
Besides the monorail line, Naha is served by a dense bus network which can be a little bit daunting to use by foreign tourists. The center of the bus network is Naha Bus Terminal next to Asahibashi Station on the Okinawa Monorail at the western end of Kokusaidori Street. There is a flat fare of 230 yen per ride in central Naha (except for buses 7, 8 and 10 which can be cheaper). Outside of central Naha, the fare is based on the distance traveled and paid when exiting the bus.
A rental car is convenient but not necessary if visiting only Naha, as public transportation is relatively convenient. However, when also venturing outside the city, a rental car is the recommended means of transportation as buses tend to be slow and difficult to use. Note that traffic can be very heavy in central Naha, especially during the morning and evening rush hours on weekdays. Drivers should also be aware of scooters, which often pass standing or slowly moving cars at high speeds.
External Links and Resources
Hotels
around Okinawa Island
Tours and Travel Services