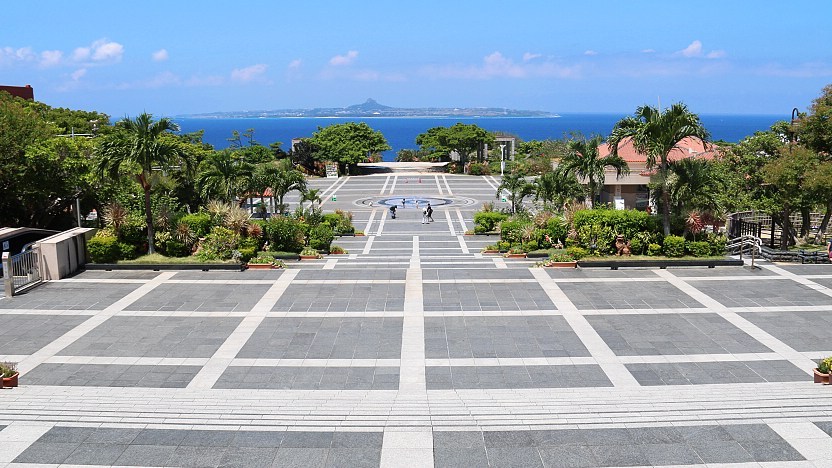 The Ocean Expo Park (海洋博公園, Kaiyōhakukōen) is a large park on the tip of the Motobu Peninsula in northern Okinawa Honto, which was built in 1976 to commemorate the Okinawa International Ocean Expo held there a year earlier. The park's main attraction is the Churaumi Aquarium, Japan's best aquarium.
The park stretches about three kilometers along the coast and is so extensive that small shuttle buses operate between the park's attractions at least twice per hour and for 200 yen for a 1-day pass or 100 yen for a one way journey. The various sites and facilities are also connected by attractive walking paths.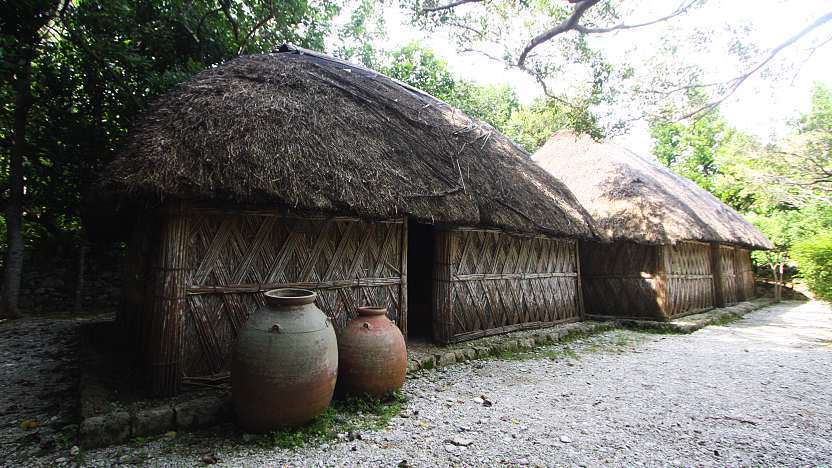 Apart from Churaumi Aquarium, there are a number of other interesting facilities in the park:
The spacious Oceanic Culture Museum, located just beside the park's central gate, exhibits ship replicas and other informative displays about ocean-based cultures from Asia and the South Pacific, including a giant replica of a Lakatoi canoe from Papua New Guinea and a trade ship used for travel between the Ryukyu Kingdom and other Asian countries. The museum also includes a planetarium.
Just next to the museum stands the Native Okinawan Village, a small open air museum with over twenty residences and other buildings from different time periods and regions of Okinawa. There is no admission fee and no staff, and visitors are free to wander between the buildings.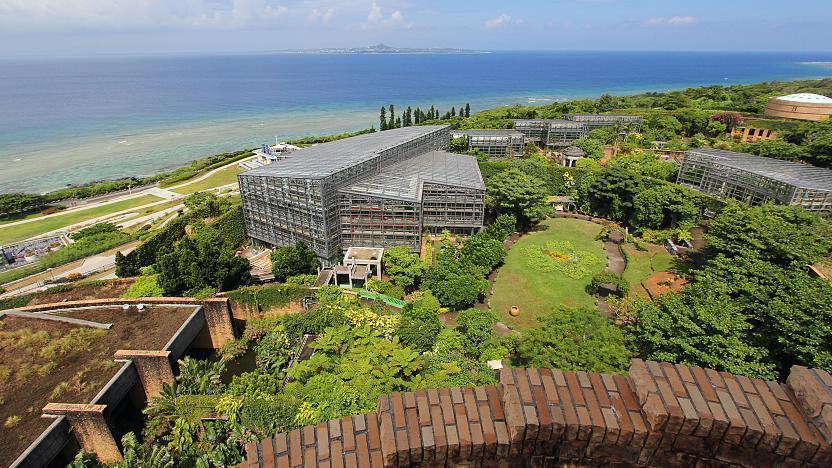 A variety of tropical plants can be seen across the Ocean Expo Park along the walking trails and in two arboretums. Furthermore, there is the Tropical Dream Center, a well maintained botanical garden with a wide range of tropical trees and plants in multiple greenhouses. The center also features a 36 meter tall observatory tower that resembles the Tower of Babel.
At the northern end of the Ocean Expo Park lies Emerald Beach, an attractive sand beach. Emerald Beach is divided into three separate areas that each face into a different direction: a beach for playing and swimming, a beach for resting and a beach for viewing.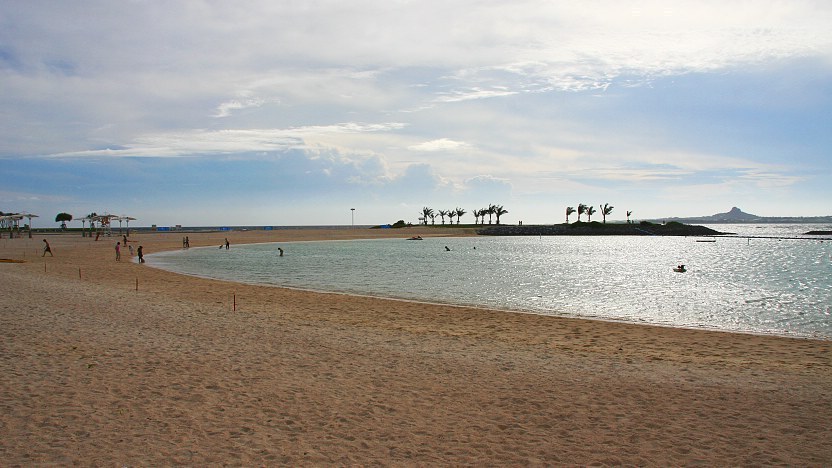 The Ocean Expo Park is located on the Motobu Peninsula in northern Okinawa Honto, about 90 kilometers from Naha.
By direct bus from Naha
The Okinawa Airport Shuttle, the Yanbaru Express and bus line 117 directly connect the airport and city center of Naha with the Ocean Expo Park. The one way trip takes a little over two hours and costs 2000 yen on the Okinawa Airport Shuttle and the Yanbaru Express and 2440-2550 yen on bus 117. There are 1-2 buses per hour. In central Naha, the Airport Shuttle and Yanbaru Express stop at the Prefectural Office (県庁北口, Kenchō Kitaguchi) while bus 117 stops at the Naha Bus Terminal.
By bus from Nago
Most buses along the lines 65 and 66 connect Nago with the Kinen Kōen-mae (記念公園前) bus stop in front of the Ocean Expo Park (50 minutes, 900 yen one way, 1-2 buses/hour). Note that about one out of three buses runs on a slightly different route that does not serve the expo park.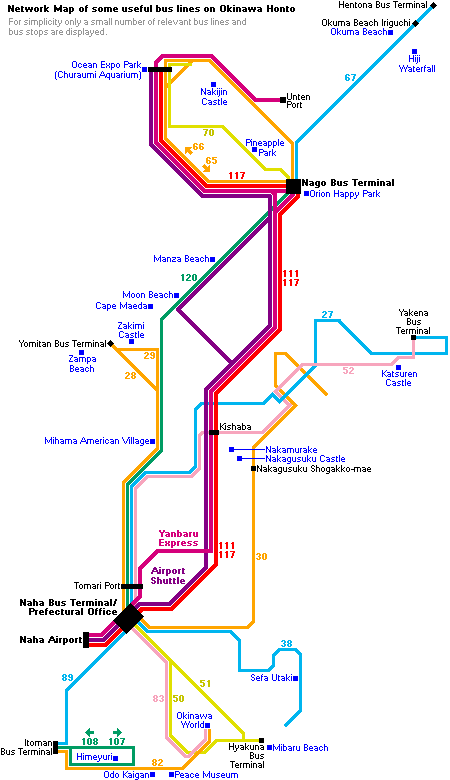 By car
By car, take the Okinawa Expressway from Naha all the way to its northern end near Nago (1040 yen one way) and then follow regular roads across the Motobu Peninsula to the Ocean Expo Park. In total, the journey takes about two hours one way (more during rush hours).
How to get to and around Okinawa Honto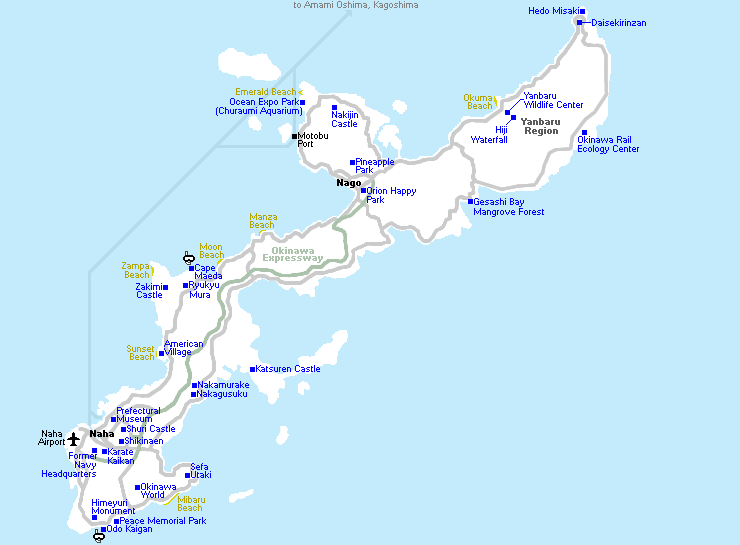 Hours
8:00 to 19:30 (until 18:00 from October to February); individual attractions typically open half an hour later and close half an hour earlier.
Closed
First Wednesday of December and the following day.
Admission
Entry into the park is free, but some attractions require admission:
1880 yen (Churaumi Aquarium)
760 yen (Tropical Dream Center, 50% off for aquarium ticket holders)
190 yen (Oceanic Culture Museum)
Typical Visit Duration
1-4 hours (depending on attractions visited)
Questions? Ask in our forum.
Hotels around Okinawa Island
Top rated on Okinawa Island
powered

by