How to access the Sanriku Coast
The Sanriku Coast covers a large geographic area that extends from Aomori to Iwate and Miyagi prefectures. As such, there is no single access point for the entire region. Instead, most people will enter the coastal areas via one of three major cities, Sendai, Ichinoseki or Morioka, which lie along the Tohoku Shinkansen.
Please see the individual city pages for access details: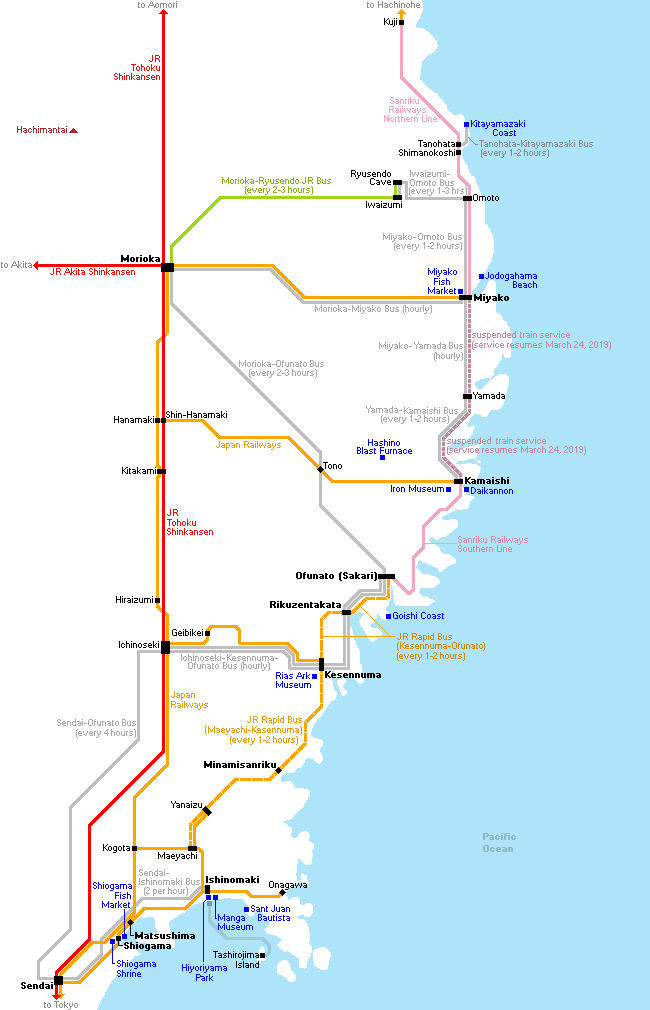 Above fees and schedules are subject to change. For the current yen exchange rate, click here.
Orientation
The Sanriku Coast stretches over 250 kilometers from north to south. Before the 2011 earthquake and tsunami, railways operated almost along the entire coastline; however, many sections of these train lines were damaged badly by the tsunami and have only partially reopened. Two railway companies operate lines along the coast: JR East and Sanriku Railways:
Japan Railways (JR East)
Instead of repairing damaged coastal lines, JR East transformed the train lines south of Ofunato (Sakari Station) into rapid bus lines (BRT) that partially use dedicated roads converted from former railway tracks. The Japan Rail Pass, JR East Tohoku Area Pass, Seishun 18 Kippu and some other regional JR passes are valid on these buses. JR East also operates the train lines that connect coastal cities with the interior.
Sanriku Railways
This private railway company operates two lines: the Northern and Southern Lines, which were both damaged by the tsunami. Service along the entire lines was resumed in April 2014. Sanriku Railways will take over operation of trains between Miyako and Kamaishi, a section that was badly damaged by the tsunami and is scheduled to be reopened on March 24, 2019.
Even before March 2011, public transportation along the Sanriku Coast had been rather infrequent and slow. Therefore, rental cars can provide a lot of comfort and flexibility. Rental car outlets are found in Morioka, Ichinoseki and Sendai, as well as in many of the smaller cities in the region. Driving along the Sanriku Coast is relatively slow as the cities are spread out; however, the Sanriku Expressway is gradually being extended, speeding up travel along the coast. The expressway is toll-free north of Ishinomaki.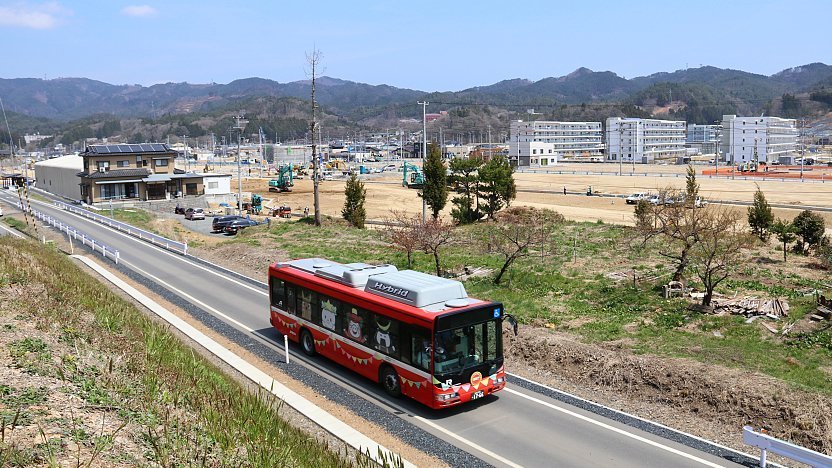 Tours and travel services