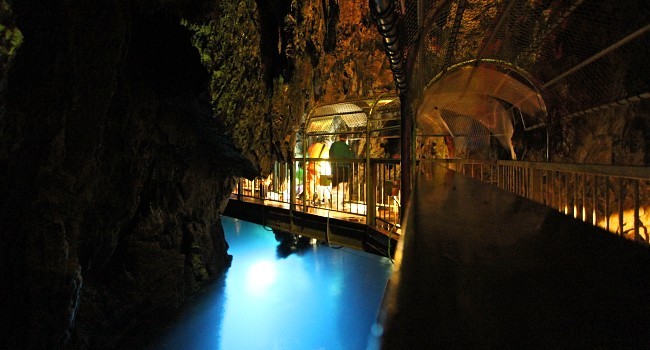 Ryusendo Cave (Ś┤ɲô┤, Ryūsendō) is an extensive limestone cave in the mountains of Iwaizumi Town in Iwate Prefecture and regarded as one of Japan's three great limestone caves. It is estimated that the caverns extend nearly 5000 meters into the mountainside, about 3500 meters of which have been explored to date since surveys began in the 1920s. Large volumes of clear, blue water gush forth from the cave's depths, forming an underground river and four underground lakes in the caverns.
Nearly 700 meters of Ryusendo Cave are open to the public and made accessible via elevated walkways, bridges and stairs. Though adventurous, the path through Ryusendo is well developed and easy to navigate. The caverns are relatively spacious and only moderately constricting at times. Visitors can walk along the underground river that flows through the cave entrance, and explore several open caverns and high vaulted galleries on their way to the underground lakes further back.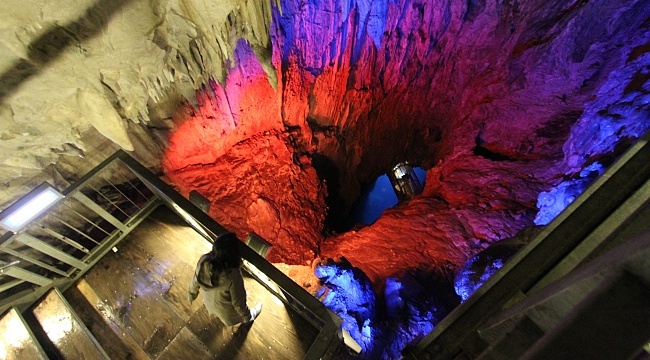 Three of Ryusendo's lakes, which measure 35, 38 and 98 meters deep respectively, can be viewed. Special underwater lights are suspended deep into the lakes and give the water a mysterious blue glow. Ryusendo has one additional lake which is closed to the public. This fourth lake is 120 meters deep and is the deepest recorded underground lake in Japan.
After visiting the lakes, the route leads up several flights of stairs to a chamber that is just 35 meters below the surface of the mountain. Along the way are viewing platforms from where visitors can peer down from the tops of the caverns. Several varieties of bats, including rare and protected species, live in the caves and may be seen hanging from the ceilings.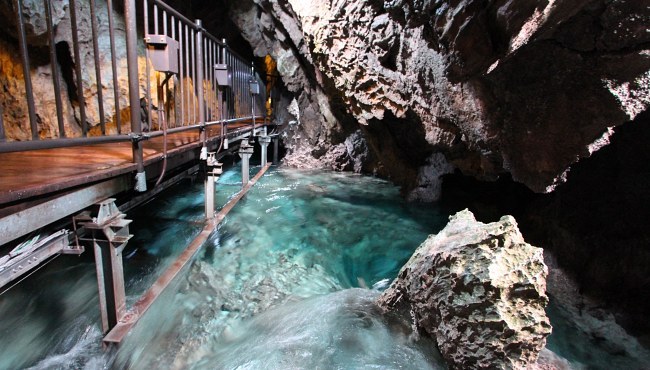 Ryusendo Cave lies two kilometers outside of the town center of Iwaizumi Town. The town used to be connected to the railway network by the JR Iwaizumi Line, however, service along the line was discontinued after a landslide. The easiest way to get to the cave by public transportation now is by bus from Morioka or Miyako:
From Morioka
Four direct buses by JR Tohoku Bus operate daily between Morioka Station and the Ryusendo Cave. The one way trip takes about 135 minutes and costs 2710 yen. The trip is fully covered by the Japan Rail Pass and JR East Tohoku Area Pass.
From Miyako
Four non-JR buses per day operate between Ryusendo Cave and Omoto Station (25 minutes, 620 yen), from where Sanriku Railway trains run down the coast to Miyako City (35 minutes, 930 yen, departures every 2-3 hours). Neither the bus nor the train are covered by any JR passes.
How to get to and around the Sanriku Coast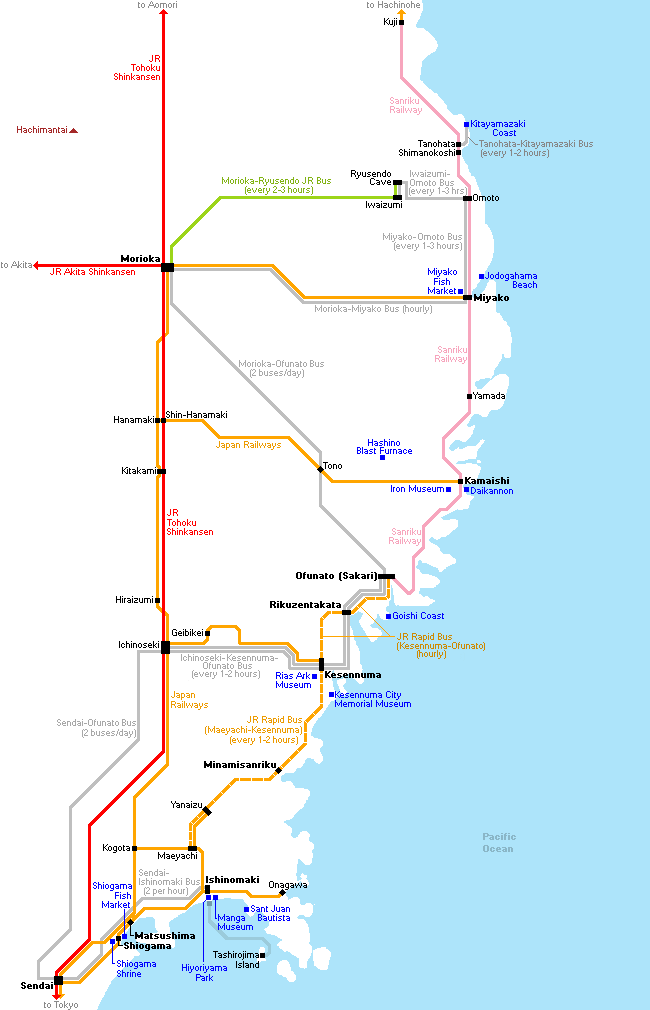 Hours
8:30 to 17:00 (until 18:00 from May to September)
Questions? Ask in our forum.