Kitayamazaki (北山崎) is an eight kilometer long stretch of coastline in northern Iwate Prefecture. Part of the Sanriku Recovery National Park, it features sheer, 150-200 meter high cliffs.
The best place to see the Kitayamazaki Coast is from the Kitayamazaki Observatory, a park at the northern end of the coastline where there are three observation decks from which to take in the breathtaking views. The park offers visitors a small selection of souvenir shops and restaurants, as well as a small network of walking trails that lead to the various observation decks.
About ten kilometers south of the Kitayamazaki Coast is another striking coastline known as Unosu Cliff. This four kilometer stretch of coast features five, nearly identical, 200 meter high cliffs neatly lined up in a row. Visitors can view the cliffs from an observation deck from the south. Unosu means "cormorant's nest cliff", and visitors can spot various birds such as cormorants, eagles and ospreys nesting along the rock.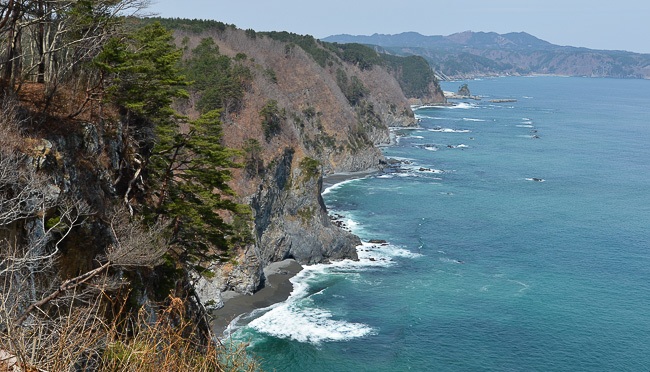 A rental car is highly recommended for visiting the Kitayamazaki Coast due to the infrequent public transportation options that are available. Rental car outlets can be found around Morioka and Miyako stations.
By public transportation
Take the Sanriku Railway Northern Line from Miyako to Tanohata Station (45 minutes, 990 yen). From Tanohata Station, there are infrequent share taxis that run according to a timetable to the Kitayamazaki Coast (20 minutes, 800 yen one way per person). Alternatively, a regular taxi ride costs about 3500 yen per taxi.
How to get to and around the Sanriku Coast